July 13, 2011
Top Gear S17E03
I greatly enjoy watching
Top Gear
. Clarkson, May and
Hamster
Hammond play off each other incredibly well, leading to great hilarity, at times reaching
Monty Python
levels of humor quality. Then of course, there's the cars, and the envy... after all, they've got the greatest job in the world, and they know it, and they don't take it for granted.
Which makes the "highlight" of this past Sunday's episode so excruciating to talk about. You see, this week they put a F1 Star in the (old) Reasonably Priced Car. In the past, they've had Mark Webber, Lewis Hamilton and Jenson Button, amongst others, hop into the Suzuki Liana and turn a few laps on the Top Gear Test Track. The last F1 driver to appear was Rubens Barrichello, and
we all remember what happened
that time... and the
t-shirts he had made
up. But this time, there was a different feeling in the studio... a feeling of dark menace.
Which turned out to be entirely appropriate, for when he was younger he cavorted and gamboled with Slappy Schumacher itself.
He is now a couple of years older, and instead of a kart, he now drives this: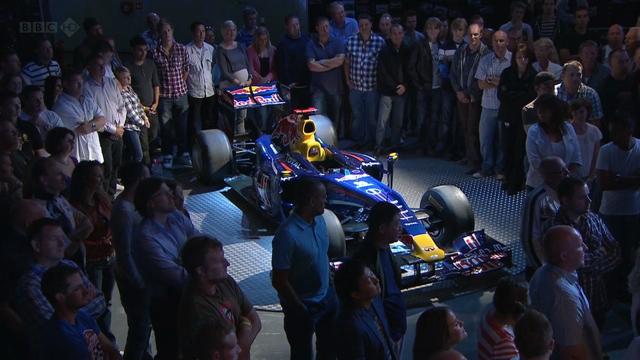 ...and I began to weep. Can I never escape from the menace of...
...Seb Vettel?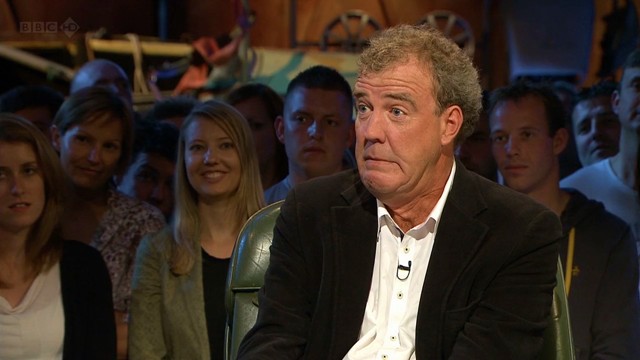 Even Clarkson was appalled by the palpable evil that had slimed its way into the Top Gear studio. But that was nothing compared to the way I felt. Vettel is well on his way to ruining F1 for me with his dominant performance to date... the
last
thing I needed to see was his bloodcurdling visage appearing on my computer during
Top Gear
. Yes my friends, the End of Times is nigh.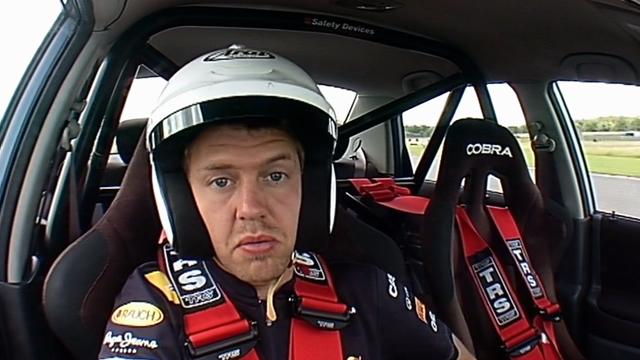 The Cruel One strapped into the Liana and set off for his lap around the track. And how'd he do?
Sunuva
beechmartin!
Isn't it enough that he's won six times this season and finished second the other three races, he has to come on that little motoring show and post the fastest lap by a F1 driver too? Hot tears of frustration rolled down my face, they did. I hate Seb Vettel with the fire of a thousand suns.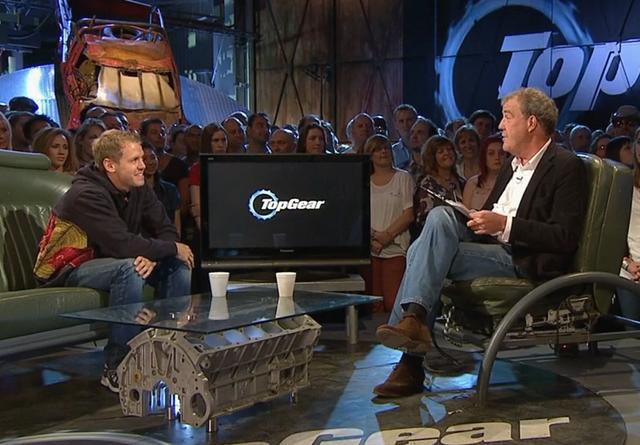 (For the record: Vettel was actually a charming guest, funny, self-effacing, "in on the joke," as it were. He's actually a big fan of
Top Gear
, it turns out. Probably the most entertaining of the F1 drivers that have been on the show. I still wish that he was slower than Barrichello, if only that he'd have to wear the "I didn't beat the Stig" t-shirt...)
Posted by: Wonderduck at 09:28 PM | Comments (1) | Add Comment
Post contains 430 words, total size 3 kb.
1
This year he's got the magic.
Posted by: Steven Den Beste at July 13, 2011 11:27 PM (+rSRq)
Comments are disabled. Post is locked.
24kb generated in CPU 0.03, elapsed 0.096 seconds.
53 queries taking 0.0786 seconds, 276 records returned.
Powered by Minx 1.1.6c-pink.