May 23, 2011
F1 Update!: Spain 2011
A gorgeous day in Barcelona, but would the sun shine on Mark Webber, or would someone else steal the light and win today? THIS is
your
F1 Update! for the 2011 Grand Prix of Spain!
*LIGHTS OUT
: With the Red Bull teammates locking out the front row, it was pretty much a given that one of them would be leading the pack into the first turn. After all, they've got the best car, Seb Vettel is arguably one of the best drivers in the field, and Webber is hardly a slouch himself. Still, with an iffy KERS unit, one could see Lewis Hamilton's McLaren sweep by them both from third. But nobody expected what actually occurred as the Ferrari of HWMNBN, perhaps powered by the cheers of the Spanish crowd, blew past them all to take the lead going into Turn 1. More surprisingly, he held the lead after the first lap, then the second, then the third... while he didn't run away from Vettel and Hamilton, second and third respectively, neither did he yield any time to them. He had roughly a half-second lead on the Red Bull, who had a half-second lead on the McLaren. That trio did manage to pull away from Webber in fourth, to the tune of maybe five seconds.
*THAT'S THE PITS
: Seb Vettel dove into the pit lane for new tires on lap 9, apparently just before they fell off the cliff and became a hindrance. Lewis Hamilton, on the other hand, stayed out until lap 11, running a lap or two after his tires went bad. HWMNBN still held the lead, much to everybody's shock and horror. On lap 18, Vettel came back in for another set of new tires, again before their performance fell off. When HWMNBN came in a lap or two later, he wound up on the losing end of the pit rotation, as the Red Bull passed him just as he exited the pits. Hamilton had the lead, maybe one that was big enough for him to hit the pits, change shoes and rejoin before the reigning Driver's Champion went by... but McLaren kept him out there too long. When his pit stop finally occurred, he came back onto the track in second. We here at F1U! were impressed by Red Bull's strategy: they didn't worry about tire wear, because they knew they wouldn't be keeping their man out there long enough for it to affect their pace. Of course, that can only work when you've got relatively unused sets of soft tires... which, after Quals, they in fact had. At this point, the F1U! crew were sure the young German would power off into the sunset for an easy win.
*MEANWHILE
: Sitting at the back of the grid at the start was Renault's Grizzly Nick Heidfeld. Relegated there by dint of an exhaust fire in P3 that prevented him from taking place in Quals, it was obvious to everybody that he'd be a fox amongst the chickens once the race started. Indeed, very quickly he went from 24th and dead last to 17th on the first lap, all the while on the new super-hard tires. In fact, he stayed out for 22 laps, during which time the guys up front stopped twice. He then had three sets of soft tires to go 44 laps. The chuckling and metaphorical rubbing of hands with glee were obvious on the Renault pitwall.
*YOU MANGY

CURS

KERS
: Back up at the front, the F1U! crew were astounded to see that leader Seb Vettel did not, in fact, power away from Lewis Hamilton. Indeed, after the last set of pitstops had been completed, with both drivers going onto the super-hard tires, the McLaren slowly began to reel in the Red Bull. By lap 55, the gap was about a half-second and often closer. The KERS unit in Vettel's car was to blame, apparently overheating after being used for a couple of laps. The pit lane would then tell him to switch it off so it could cool down. Eventually it'd be okay to use again... at which point it would overheat after a couple of laps. Rinse, repeat
ad infinitum
.
*FINALLY
: Hamilton's frustration must have been terrible. In the last couple of turns of each lap, Vettel would open the lead
just
enough to make the run down the front straight, even with DRS and KERS, a long stern chase that would end with the McLaren a bit too far back to make a passing attempt into Turn 1. If he had been on the soft tires, he could have braked later, maybe carried a little bit more speed into the first turn, and made the pass easily. But the McLaren had the less grippy super-hard shoes on, making it academic. The rest of the lap would be spent closing up on the Red Bull, only to see all the work go away in the last turns. No flaw in the McLaren, just that for some reason, Vettel could make the Red Bull work better in those last bends. As their grim duel continued on, the duo managed to lap the field through fifth place HWMNBN's Ferrari when the race ended. Hamilton did everything he could to catch the reigning Driver's Champion, but nothing he tried was successful. When the Red Bull finally crossed the line, there was the McLaren trailing behind by .6 of a second. A truly sterling race from both drivers. Third place Jenson Button followed along over 35 seconds later, with Mark Webber finishing up 12 seconds after that.
*AND THEN...
: Further down in the pack, Grizzly Nick Heidfeld had been chewing up the rest of the field like the beast that gave him his nickname. Particularly on the final stint, when he was the only car in the field on a brand new set of soft tires (everybody else on softs were running scuffs, or "pre-used" tires), did Heidfeld go berserk, showing what "two seconds per lap" really means. He managed to end up in eighth, and given another couple of laps he probably would have passed both members of Team Mercedes. All of this leads one to wonder why the teams even bother to go out in Quals anyway?
*DRIVER OF THE RACE
: Yes, he has the best car. Yes, he's arguably the best driver. Seb Vettel actually had to
drive
today, as opposed to coasting the entire race. The result? A hard-fought win in a balky car that was probably a smidge slower than his rival. One small mistake and he would have been relegated to the second step on the podium... except he never made that mistake. Vettel deserves this award, perhaps more than ever before. The predictable Honorable Mention goes to Grizzly Nick Heidfeld for picking up 16 places during his charge from the rear.
*TEAM OF THE RACE
: McLaren wound up second and third on the podium, had a great shot at winning the whole thing, and out-thought their main rivals on tire strategy. If Lewis Hamilton had the tire babying skills of his teammate Jenson Button, he probably would have won. Still, they put a scare into Red Bull, and made sure their main opponent knew that they have a fight on their hands the rest of the way... at least until Red Bull gets their KERS unit reliably working.
*MOVE OF THE RACE
: Mark Webber had been trailing behind HWMNBN for a few laps, reeling the Ferrari in despite the two having tires with the same amount of wear. As the pair approached Turn 10 on lap 35, Webber made his move.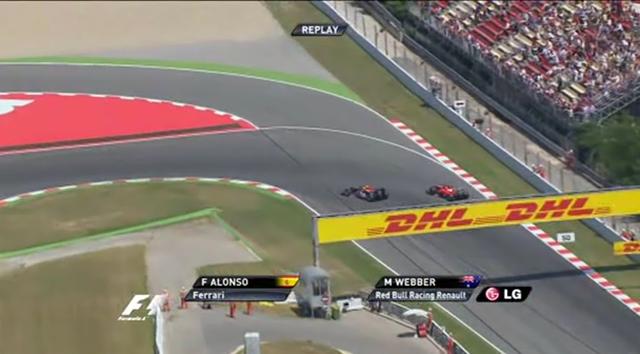 From waaaay back, the Aussie braked about as late as you can and possibly later, throwing out the anchor, deploying the parachute, dragging his feet, and anything else you can think of to slow down. HWMNBN must have been shocked at how quickly the Red Bull zipped by. However, the two-time World Champion quickly got his head back into the game.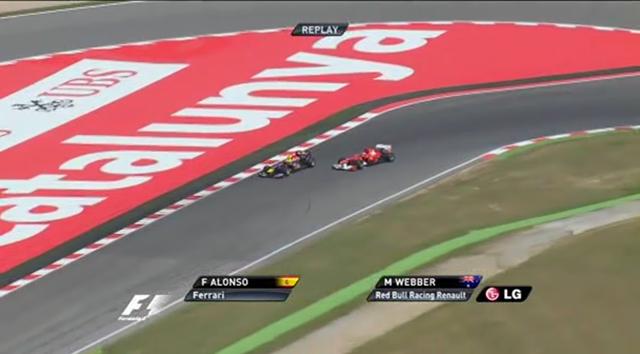 Turning inside Webber, HWMNBN took a shorter (but slower) line through the turn and got back on the gas while the Red Bull pilot gathered in the parachute and anchor. The two sprinted down to Turn 11... another left-hander.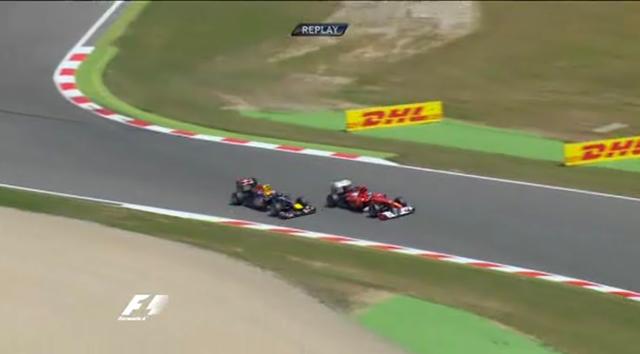 This time, the Ferrari was in the better position and retook the place from the Red Bull. A brilliant piece of driving from both men, Webber for the initial pass, HWMNBN for the re-pass. A well-deserved shared MotR for the two!
*MOOOOOOO-OOOOVE OF THE RACE
: Felipe Massa had been having a miserable weekend. First, Quals simply sucked, qualifying eighth while his teammate took fourth on the grid. The once the race started, he simply couldn't get his Ferrari F150 Italia to perform, languishing in eighth before starting a slow slide down the field. The unforced error that led to a spin on Lap 38 mercifully didn't cost him any places, but must have just made an awful day even worse. The ugly grinding sound in his gearbox couldn't have made him feel any better. It probably came as a relief when he beached himself.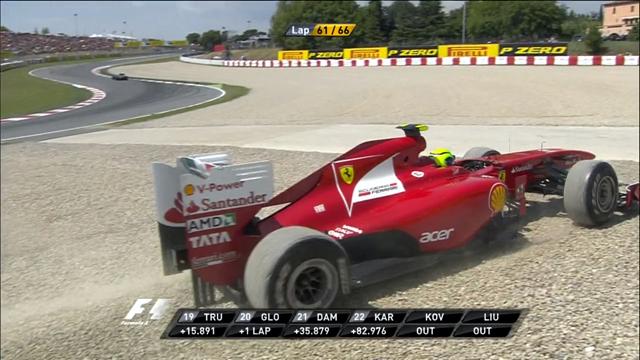 Intentionally, I might add. His gearbox wasn't going to make it another five laps. Really, he doesn't deserve this... so instead, I'm going to give it to a special surprise winner!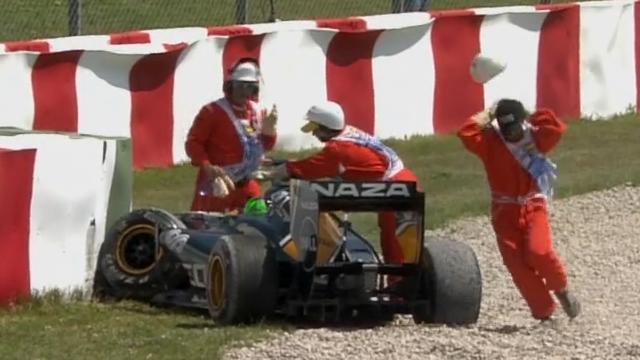 Yes, that's right, I'm giving the Moooooo-oooove of the Race to the cornerworker who managed to lose both his safety helmet AND his ballcap as he ran around the back of Heikki Kovaleinninninnie's car. Well done!
*SELECTED DRIVER QUOTES OF THE RACE
:
"
A-ring-ding-ding-ding-ding
!" - Seb Vettel (
note: real quote over the radio. Yes, really
)
"Dig my awsum kewl shadez?" - Lewis Hamilton
"Do you know me? You should. I'm the 2009 World Driver's Champion. In case you don't recognize me, don't worry, nobody else does anymore either." - Jenson Button
"I don't think my start was hideous, but HWMNBN got a phenomenal one." - Mark Webber (
note: real quote. And it was, Mark.
)
"
Oh hi, Mark
." - HWMNBN
"This is my worst finish at Spain ever. Yeah,
glory days
, well, they'll pass you by." - Slappy Schumacher
"I had fun racing Slappy, though I couldn't race him really, because he'd have me killed." - Nico Rosberg (
note: mostly real quote
)
"I'm glad I won Steve Matchett a free dinner with my performance today." - Grizzly Nick Heidfeld
"My (ahem) first points in F1. Never mind that Australia race." - Sergio Perez
"YOU SHALL NOT PAoh who am I kidding?" - Gandalf Kobayashi
"How the h*ll did Nick do better than me???" - The Red Menace
"Did you realize that I'm Scottish? With that last name?" - Paul di Resta
"
Handcuffs in my locker
. Very funny. Very f'n funny." - Adrian F'n Sutil
"Force India and Sauber beat us fair and square. I'll just nip off and shoot myself now, shall I?" - Seb Buemi
"I beat my teammate, which isn't surprising as he's driving a
Rascal
these days." - Archbishop Desmond Maldonado
"This was not a good race for us." - NKOTT (
note: real quote
)
"If the car doesn't improve, I'm not resigning with Williams." - Rubens Barrichello (
In reply: "If the driver doesn't improve, Williams won't resign Rubens." - Sam Michael
)
"We're almost to the point where we can race with the former backmarkers! Oh god." - Jarno Trulli
"Does anybody really read this far down? Aardvark okapi cheeseburger whistlestop humdinger." - Timo Glockenspiel
"At least nobody calls you 'Custard.' " - Custard d'Ambrosio
"Or 'Kittylitter.'" - Narain Kittylitter
"I hate Spain. Hate it. Hate it. And just to make matters worse, HWMNBN is from here. HAET!!!" - Felipe Massa
"Nice job with the helmet, dude. Oh, and AIEEEEEEEEEE!" - Heikki Kovaleinninninnie
"I passed a couple of Virgins into the first turn... and that's not code for something." - Vitantonio Liuzzi
Finally, this is done. Sorry about the delay, and we'll see you next weekend for the Grandest Grand Prix of the all, MONACO!
Posted by: Wonderduck at 08:17 PM | Comments (1) | Add Comment
Post contains 1996 words, total size 14 kb.
1
Bravo!!! Well worth waiting for!
Posted by: Mallory at May 24, 2011 09:15 AM (WJ2qy)
Comments are disabled. Post is locked.
35kb generated in CPU 0.03, elapsed 0.0966 seconds.
53 queries taking 0.0774 seconds, 276 records returned.
Powered by Minx 1.1.6c-pink.