August 09, 2011
The Muroc Maru
Over the years, practice targets have taken many forms. Watermelons, poles stuck in the ground, human silhouettes, bulls-eyes, "black dots," on and on. One of the most...
unique
... was finished in 1943.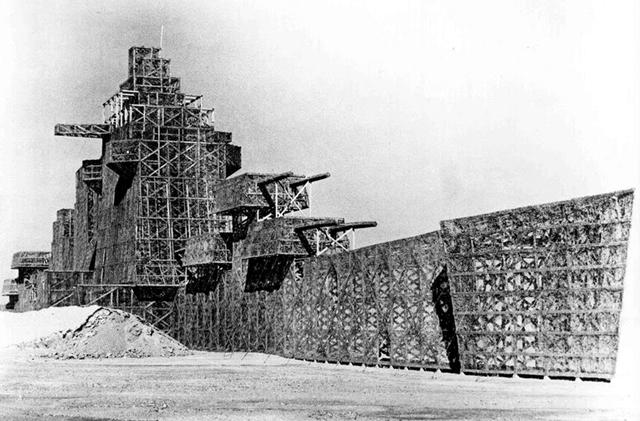 Army Air Forces Temporary Building (Target) T-799, dubbed the "Muroc Maru", was constructed on the grounds of Muroc AAF Base for the then princely sum of $35000. Built out of 4x4 lumber and chicken wire, then covered with tar paper and liberally coated with ground-up chicken feathers, it was the spitting image of an Imperial Japanese Navy
Takao

-class heavy cruiser
. Sand berms were added to give the appearance of a wake.
Probably the largest single-structure target ever built at 650 feet long, the Muroc Maru was used for identification training, strafing and skip-bombing practice. Unfortunately, the chicken feathers could not hold up to the hot winds and .50cal slugs and usually disintegrated or blew away.
Built at one end of Rogers Dry Lake on the Muroc base complex, it often gave pilots the impression of movement from heat distortion coming off the lakebed. It also caused some consternation amongst drivers passing by to the north, to whom it looked exactly like a ship sailing in the desert.
The Muroc Maru stayed in position until 1950, when it was declared a flight hazard and taken down (sunk?). Reportedly the Army engineers had quite the time of it from all the unexploded ordinance in the vicinity. All that remains today are a few tons worth of nails and staples and some sand berms.
Posted by: Wonderduck at 06:40 PM | Comments (5) | Add Comment
Post contains 256 words, total size 2 kb.
Posted by: The Old Man at August 10, 2011 01:20 PM (TcNy+)
Posted by: Wonderduck at August 11, 2011 10:01 PM (KBBJ+)
Posted by: Maureen at August 11, 2011 10:39 PM (BB7+i)
Posted by: Wonderduck at August 12, 2011 06:58 AM (KBBJ+)
Posted by: cxt217 at August 12, 2011 12:15 PM (obaoh)
Comments are disabled. Post is locked.
20kb generated in CPU 0.0103, elapsed 0.0997 seconds.
46 queries taking 0.0923 seconds, 166 records returned.
Powered by Minx 1.1.6c-pink.