July 24, 2011
F1 Update!: Germany 2011
Grey, leaden skies hovered over the Nurb Jr today. Every member of every team kept one eye cocked to the heavens looking for the first hint of rain, and wet weather tires were never far from reach. Would they be needed? THIS is
your
F1 Update! for the 2011 Grand Prix of Germany.
*NOPE
: While the clouds overhead kept everybody on their toes all day by squirting tiny amounts of moisture at the racing tarmac, it never progressed to the point where the galoshes had to come out. The hob this played with team strategies was tremendous (as we'll see later). Everybody knew it was coming, everybody was planning for it, and nobody ever got it.
*THE BAD OLD DAYS... NOT

SO

BAD ONCE IN A WHILE
: Judging the 2011 German Grand Prix is somewhat difficult. Those expecting a pass-fest full of excitement and NASCAR-like swapping of places didn't get it, and thus will decry the race at boring. They might even be correct. What we got today was an old-fashioned race of dueling pit strategies, seeing who could make their soft tires last the longest while trying to stay off the hard compound tires Pirelli brought to the track. The hards had two problems this weekend. While they could last forever on the non-abrasive surface at Nurb Jr (Pirelli estimated that they'd be able to go 100 laps), they had no grip whatsoever. The second problem was that the grip was made even worse by the chilly temperatures. It was 54 degrees at race time, and the track surface wasn't much warmer. Getting heat into the tires proved to be awfully difficult today.
*THE START'S THE KEY
: In most respects, the race today was decided when the lights went out. Polesitter Mark Webber had another of his patented Lousy Starts
©
, losing the lead to Lewis Hamilton before the first turn. He would never legitimately hold the lead again. When Seb Vettel spun on Lap 10, he fell from third to fourth place, but 12 full seconds back and would never be a threat. It became a race between Hamilton and Ferrari's HWMNBN, with Webber grimly hanging on, ready to take advantage of any mistake... and maybe drive somebody
into
one.
*MIDRACE
: It became clear that some drivers were banking on rain. Adrian Sutil didn't make his first stop until Lap 24, Jenson Button until Lap 25. Both were as high as fourth place, and both looked to be ready to score some serious points, but Button blew a hydraulic line and had to retire on Lap 36. Up front, Hamilton, HWMNBN and Webber were basically racing in the pit lanes: whichever's mechanics could get them in and out the fastest would win.
*ENDGAME
: In the end, nothing could deny Lewis Hamilton his second win of the season. HWMNBN finished less than four seconds behind in second, with Webber almost six seconds adrift of the Ferrari. Behind them however, Ferrari's Felipe Massa and Red Bull's Seb Vettel were in quite a little duel... and an eye-opening one it was. Vettel was obviously faster than the Ferrari, yet he could do
nothing
with the Brazilian. The media has been saying for quite some time that Seb Vettel is a great driver from the lead, but put him back in the pack and he's merely average, with an amazing penchant for some awfully clumsy driving (see Turkey 2010). As it turned out, Massa led Vettel until the final lap, when the two
had
to pit and put on hard tires to satisfy the sporting regulations. They came in nose-to-tail, about a half-second separating them. They left the pits with Vettel holding a nearly two second lead over Massa, courtesy of a miserable 5.5-second tire change from Ferrari. They finished over a half-minute behind the winner. Force India's Adrian Sutil, stretching his tires to the limit, brought it home in sixth, almost 90 seconds back. Nobody else was on the same lap.
*AFTERWARD
: Shortly after crossing the finish line, the Ferrari of HWMNBN ran out of fuel and coasted to a stop somewhere on the course. Mark Webber, right behind him, decided to stop and give him a lift back to the pit lane.
We here in the US never saw it.
*DRIVER OF THE RACE
: Lewis Hamilton. At the start of the race weekend, Hamilton was quite vocal about his chances: slim-to-none. The car just didn't have the pace. After Quals, he was saying that it was the the best lap he'd ever turned, and that there wasn't anything else in the car... and all he could manage was second place. Hamilton won the race, set fast lap, and led more laps than anybody today. Either he did a fantastic job or his car is better than he thinks. Or both.
*TEAM OF THE RACE
: McLaren. When they had to perform, they did. They consistently made the right strategy calls at the right time, their mechanics were flawless, and the drivers made their plans work. That Jenson Button lost hydraulic line knocked him out of the race is the only black mark on a sterling day. Ferrari's mechanics lost Massa a position on the last lap, Red Bull kept Mark Webber out a lap or two too long on his final stop, costing him any chance at second. Only McLaren kept it together.
*MOVE OF THE RACE
: On Lap 32, Lewis Hamilton pitted from the lead and came out in 2nd place behind HWMNBN. The gap between the two was very close to the pit lane "delta time," or how long it would take to drive into the pit lane, change tires, then drive off the pit lane. The next lap, the Ferrari driver pulled in for new tires. He got out ahead of the charging McLaren, but the Glare on Wheels had the momentum.
The Ferrari had problems getting the power down; the one drawback of brand new tires is that, until they get heat in them, they aren't particularly sticky. No grip = no power.
Heading into Turn 2, Hamilton put his foot down and began to charge around the outside of the turn... not the easiest way to make a living, particularly when you've got a squirrely Ferrari a foot or so to your left.
Outpowering the red car through the outside of the turn, Hamilton showed all sorts of guts and racing skill. His reward? First place, and the MOTR.
*MOOOOOOO-OOOOVE OF THE RACE
: On Lap 11, Renault's Grizzly Nick Heidfeld was harassing Toro Rosso's Seb Buemi back in the order. It was clear that Heidfeld was faster and was surely the better driver. All Buemi had in his favor was a lead and an aggressive desire to keep the Renault behind him. When Grizzly Nick made his move to the outside going into a chicane, Buemi threw a block that would have made Merlin Olson proud. However, blocking in F1 shouldn't be a contact sport, and Buemi turned it into one. The result was
not
pretty.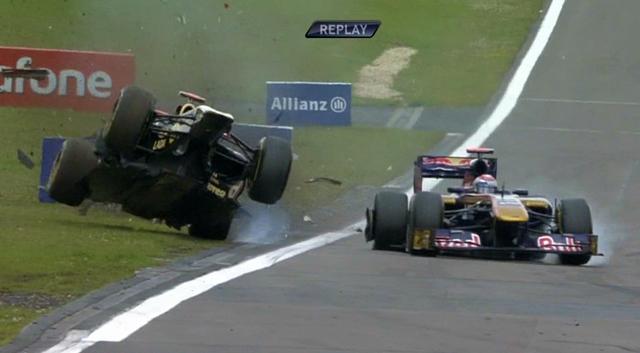 Buemi ended up with a punctured rear tire and a five gridspot penalty for next week's race in Hungary. Grizzly Nick ended up in the kittylitter with a broken car. If anything good came of this clumsy Mooooo-ooove, it was that we got to see this camera shot: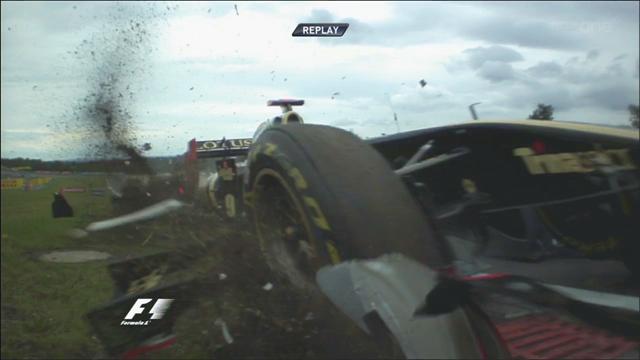 *SELECTED DRIVER QUOTES OF THE RACE
:
"He may have the points lead, but I sure as hell am a better driver." - Lewis Hamilton
"Taxi!" - HWMNBN
"That'll be $22.50. Where do you keep your wallet in that firesuit?" - Mark Webber
"I don't care if Hamilton is a better driver. If I have the points lead at the end of the season, I'm still the champion." - Seb Vettel
"At the final pit stop there was a problem with the wheel nut on the left rear which cost me a few seconds: these things happen and recrimination achieves nothing. But they do make me feel better." - Felipe Massa (
note: mostly real quote
)
"So ronery." - Adrian F'n Sutil.
"Why the hell didn't it rain?" - Nico Rosberg
"Rain would have been nice." - Slappy Schumacher
"Bad qualifying, but I still got points. That works." - Gandalf Kobayashi
"I will crush you! One point at a time." - The Red Menace
"Did I do anything of note today?" - Sergio Perez
"Good strategy but a lousy setup does not make for a fun day." - NKOTT
"I can't believe I let a Toro friggin' Rosso finish ahead of me." - Paul di Resta
"Can a pastor swear? Okay, what the $*@)#$*! is wrong with this car?" - Druid Maldonado
"Heidfeld drove into me. Simple as that." - Seb Buemi (
note: real quote
)
"So, so ronery." - Heikki Kovaleinninninnie
"On the plus side, I've signed a contract extension, so I've got a race seat for the rest of my career. On the negative side, it's with Virgin." - Tim O'Glockenspiel
"I want to stay as close to Timo as possible. Wink wink, nudge nudge." - Custard d'Ambrosio (
note: real quote
)
"It was good to finish." - Daniel Ricciardo (
note: real quote. Little victories, little victories
.)
"Why do I have a feeling Jarno'll be back next week?" - Cowboy Karun Chandhok
"What do you mean, you didn't realize I DNF'd?" - Vitantonio Liuzzi
"I lost power steering. You may think it's easy to drive without power steering at high speed, but you'd be very very wrong." - Jenson Button
"Oil leak. God, I hate my miserable life." - Rubens Barrichello
"Oh, yeah, I drove into Buemi... after he swerved across the road twice to block me. I don't care if he
is
Swiss, this is Germany; I'm going to go down to his pit stall and go all blitzkriegy on his face." - Grizzly Nick Heidfeld
So that's it for Germany. Tune in next weekend for the always exciting and spectacular Grand Prix of Hungary! The raw emotions are almost palpable! See you then!
Posted by: Wonderduck at 08:49 PM | Comments (4) | Add Comment
Post contains 1667 words, total size 12 kb.
1
Was Webber offering a "taxi" ride to Alonso a gesture aimed at Red Bull? Just curious.
Posted by: Mallory at July 25, 2011 10:05 AM (WJ2qy)
2
tv showed webber in 3rd gear at the start. any explanation?
Posted by: dogbox at July 26, 2011 05:05 PM (+YlqZ)
3
Dogbox, do you have a non-HD tv?
Here is a screencap
(edited to 640x360) of the Beeb's HD feed from the replay of Webber's start. It was taken as he begins to move off the line.
The center graphic reads "1", or first gear. The commentators on BBC Radio 5 (who are almost as good as the L.A.T.) said that he didn't keep the revs high enough at the start, so the whole thing bogged down.
Just another Mark Webber Lousy Start
©
is all.
Posted by: Wonderduck at July 26, 2011 05:55 PM (3tp4g)
4
Mystery solved then. He should take an old car to an abandoned airport and practice 100 starts... I found the video (below) and it does show a gear/revs/speed/kers graph on 3rd gear just before Webber's start... Spanish TV took it as a Webber mistake but nobody realized that it was the graph that was wrong...
http://www.youtube.com/watch?v=L2-bMXyKFkA
Posted by: dogbox at July 27, 2011 08:37 PM (+YlqZ)
Comments are disabled. Post is locked.
34kb generated in CPU 0.03, elapsed 0.111 seconds.
53 queries taking 0.0879 seconds, 279 records returned.
Powered by Minx 1.1.6c-pink.