March 27, 2011
F1 Update!: Australia 2011
The 2011 season picked up where the 2010 season left off, with Red Bull ascendant. Seb Vettel had dominated Qualifying, and his teammate was directly behind him on the grid, but the surprisingly quick McLarens of Lewis Hamilton and Jenson Button were right next to them. Behind those four stalked the prancing horse, the Ferraris of HWMNBN and Felipe Massa, and the resurgent Renault of Vitaly Petrov. Could we be seeing a repeat of Red Bull's astounding year, or could one of the others knock them off their drinks cart? THIS is
your
F1Update! for the first race of the 2011 season, the Grand Prix of Australia!
*BEFORE
: The weather in Melbourne was glorious. The sun, low in the sky with the 5pm local start, shined in the clear blue sky. All of Albert Park seemed to glitter on the television screen, the gray skies of the past two days gone. Even the traditional flyby of the Qantas 747 seemed more spectacular than normal.
There may be a large percentage of the population of Melbourne that doesn't want Formula 1 in their city anymore, but that doesn't stop them from turning out in droves and putting on a show, I'll give them that. On the grid, there was a minute of silence in memory and support of those lost and suffering from the devastating earthquake and tsunami in Japan. Traditionally there has been deep ties between Formula 1 and Japan. Many, if not all, of the drivers have raced there at one time or another in lower Formula (not to mention the Japanese Grand Prix), and of course Sauber's Gandalf Kobayashi and Virgin's reserve driver Sakon Yamamoto are from Japan. Honda and Toyota have only recently left the sport, and of course last year's tiremaker Bridgestone is based in Japan, so this was a nice gesture for the sport to their fans in that country.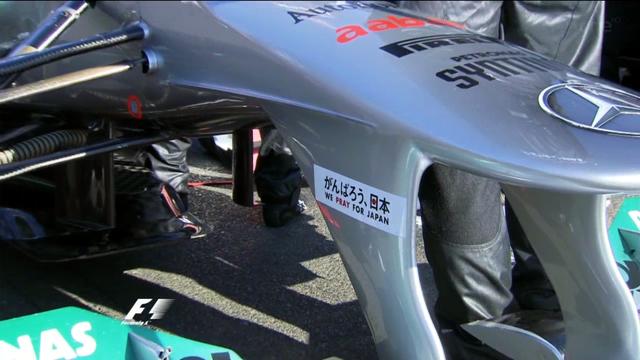 And then it was time to race.
*DURING
: The strategies up at the front of the grid were all pretty clear. For polesitter Vettel, it was to stay in front, despite the handicap of a non-functional KERS system, turned off in the Red Bull cars for unreliability reasons. For Hamilton, get past the 2010 Driver's Champion and keep him there. For Mark Webber, Vettel's Red Bull teammate, it was a little more complex: get past Hamilton, keep Button behind him, and do well in front of his home nation's fans, something he has not managed to do very well in the past. For HWMNBN, the goal was to get past the McLarens and stay in touch with the Red Bulls... and for god's sake stay in front of the Renault of Vitaly Petrov, lest there be a repeat (however unlikely) of the race at Abu Dhabi last year. For those further back in the horde, the goals were infinitely more simple: survive the first turns with the car in one piece, then get on with racing. When the lights went out, Vettel made it clear that this was going to be a
long
race by easily keeping everybody behind him, and indeed, pulling out a six or seven car-length lead by the end of the second turn. Try as he might, Hamilton had no answer for Vettel's start, and indeed had his hands full keeping Webber behind him. Vitaly Petrov served notice that he was to be reckoned with by leaping into fourth and watching his Spanish rival drop all the way to ninth as he got squeezed by the Thundering Herd. Button dropped to sixth, caught between the two Ferraris in the first couple of corners, one sliding back in the field, the other, Felipe Massa, making a start for the ages jumping up to fifth.
*AND THEN...
: As Vettel and Hamilton streaked away from Webber, and Webber pulled away from the rest of the field, Button and Massa began a most entertaining duel, one that played up both the strengths of the new technological marvels (KERS and the Drag Reduction System, aka the movable rear wing) on F1 cars these days and the weaknesses. Massa was clearly slower than the McLaren driver, but judicious use of KERS in a defensive posture mixed with good driving kept the silver car behind him, though close on his tail. Lap after lap the DRS, which could only be used on the front straight, allowed Button to nearly get past, but not quite. Must have been frustrating for the 2009 Driver's Champion. Eventually, Button made a slightly unlikely attempt at a pass. He got alongside Massa, but was pushed off-track onto an escape road. The escape road allowed Button to get past the Ferrari, but in a way that was clearly a violation of the rules and he should have relinquished the position. Instead, he did nothing of the sort, claiming that he was ahead of Massa when he was forced off-circuit and that he had right of position. The matter went to the Race Stewards. Meanwhile, two things occurred that showed that Ferrari are, depending on your point of view, either master strategists or conniving bastards. First, Massa let his teammate HWMNBN, who had managed to claw his way back up towards the front after his awful start, past him. This would mean, in effect, that Button would have to give up
two
positions when the Stewards invariably ruled against him, for he would have to let Massa get by, not the car behind him. Then, while the Stewards continued their review of the situation, Ferrari called Massa into the pits for new tires. This forced the Stewards' hands, giving them no choice but to give Button a drive-through penalty, thereby effectively ending any chance he may have had at a podium. After the race, Button accused the Red Team of playing underhandedly. Though it pains us here at F1U!, we completely disagree with Button and applaud the quick thinking of the Ferrari planners.
*MEANWHILE
: Up and down the field, the DRS/KERS combination showed that they could be used to pass, making the battles down in the midfield quite entertaining. Towards the front though, it became painfully clear that Vettel was having a field day. The biggest surprise was the tires. There was an immense performance gap between the faster soft tires which wore faster and the slower hard tires which lasted longer. The problem was that the gap was so large that, at least amongst the top runners, the hards were completely unusable. As an example, Mark Webber pitted from third, changing from soft to hard tires. This put Vitaly Petrov into third. As Webber exited the pits, he slipped and slided his way around Turn 1, then put in a few hideously slow laps before coming back in for new soft tires. All the while, HWMNBN hacked the Red Bull driver's lead over him into tiny bits and indeed, passed him while Webber was in the pits for the second time. When the Ferrari came in for new tires, you would have expected him to return to the track behind the Aussie, but it didn't happen that way at all. In fact, he retained a decent lead over the Red Bull driver, all because of a few laps on the hard tires. Some drivers could make the hards work, however. Sauber's rookie Sergio Perez managed to pull off a one-stop strategy, starting on the hards and staying with them for around 40 laps. He finished in seventh, and only the drop-off of the soft's grip happening a couple of laps earlier than expected kept him from giving Button a run for sixth.
*FINALLY
: Really, it was no contest. Vettel cruised home with an easy 15 second victory over Hamilton, who had a 15 second lead over the Renault of Vitaly Petrov, who was closely followed by HWMNBN and Webber. If this is any indication of how the season is going to play out, we're looking at a battle for second place in the Championship.
*AFTERWARD
: It had been a great race for the two Saubers. Sergio Perez managed to pull off something of a coup with his one-stop strategy, finishing his very first F1 race in seventh, while Gandalf Kobayashi came in just behind him in eighth. After the post-race scrutineering, however, both cars were disqualified for irregularities in their rear wings that
violated Articles 3.10.1 and 3.10.2
of the technical regulations. The team has filed an appeal, but is investigating in-house how the wings failed to meet spec, and may drop the appeal.
*DRIVER OF THE RACE
: In the last race of 2010, HWMNBN needed to get past Renault's Vitaly Petrov if he was to have any chance at winning the Driver's Championship. This shouldn't've been much of a problem, as Petrov was prone to making mistakes under pressure, or even without pressure at all. Instead, with a two-time world champion all over him, he drove smoothly, made no mistakes, and prevented the Ferrari driver from getting by him for position. He showed that there was quite a bit of skill under his error-prone skin. Today, with a good car under him, Petrov had a fabulous drive, showing that, at least on this day, he had shed his error-prone skin. A well-deserved podium for The Red Menace.
*TEAM OF THE RACE
: McLaren. The team finished second and sixth, decent enough. But what pushed them into "Team of the Race" status the admission by Lewis Hamilton after the race: "That's the longest the car's lasted!" Of all the heavy hitters, McLaren put in the fewest laps in testing, dealing with reliability issues, and when they were on-track, they reportedly looked slow. They got
something
right in the time since the final test at Barcalounger, and that earns them TotR.
*MOVE OF THE RACE
: On lap 22, Rubens Barrichello was closing in on Gandalf Kobayashi for 9th place. Normally this would be challenging, since Gandalf has a knack for keeping cars behind him, but it was going to be downright hard this time as there was a limping Slappy Schumacher in the mix at the same time.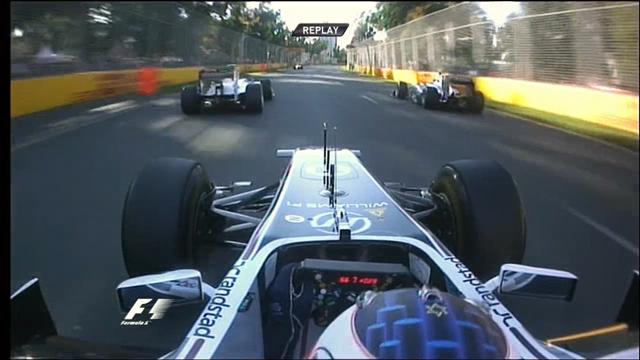 When a narrow gap opened between the Sauber and the Mercedes, the ever-brave Brazilian made a run for it.
Slotting his Williams between the Sauber and Slappy, he found himself to the inside coming into the turn, braked late and crossed his fingers.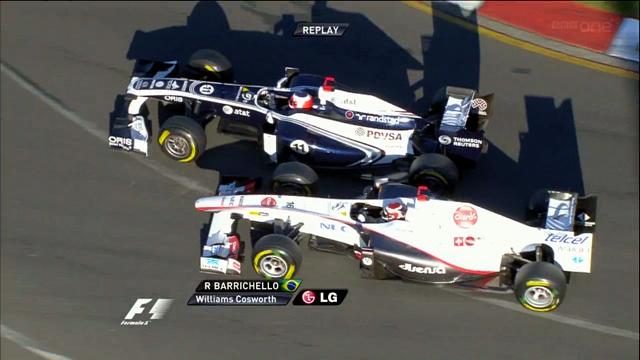 It got close, but Rubens held his line, forced Gandalf wide, and took the place in a nifty little bit of driving. Well done, Rubens!
*MOOOOOOOO-OOVE OF THE RACE
: One lap later, Rubens Barrichello got the bit between his teeth and made a run at the Mercedes of Nico Rosberg. At the same turn as his MotR, he tried much the same pass as before... except this time, it was from farther back and his opponent had the better line. It could only end in tears.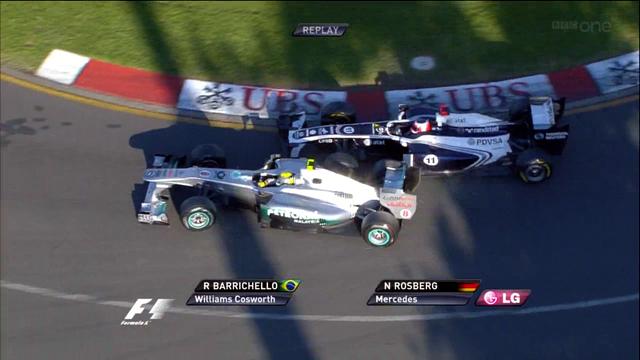 Barrichello ended up spinning and losing a handful of places. Rosberg ended up by the side of the track, unable to make it back to the pits, with either his radiator crushed or his oil cooler broken, smoke pouring from the rear of his Mercedes. Nice job, Rubens... you might be the first to earn both the MotR
and
the MoootR in the same race!
*SELECTED DRIVER QUOTES OF THE RACE
:
"Bwahahahahahahahaha! NOBODY CAN STOP ME!" - Seb Vettel
"That was one of the easiest races I've ever had." - Lewis Hamilton (
note: real quote
)
"I'm sorry, who is this 'Kubica' you speak of?" - Vitaly (The Red Menace) Petrov
"Here at Albert Park, it seems that I have a season ticket for fourth place, as it's the third time in four years that I've finished the race in this position." - HWMNBN (
note: real quote
)
"My best finish at my home race since I drove a Minardi. A friggin'
Minardi
." - Mark Webber
"Massa's a poopooheaded cheater." - Jenson Button
"*pbpbpbpbpbpbpbthhhhh!*" - Felipe Massa
"I had my usual boring race. Nothing to see here, carry on." - Seb Buemi
"Maybe I did only finish ninth, but hey, did you see me make that save in Quals?" - Adrian
F'n
Sutil
"I'm just glad I didn't have to clean his cockpit and firesuit after it!" - Paul di Resta
"I broke my front wing in the first turn, so I had to stop and change it. That cost me any chance of having a good result. Well, that and I'm driving a Toro Rosso." - NKOTT
"After someone slammed into me in the first turn, I had a lot of damage to my car. Combine that with the dead KERS unit in Quals, and I had plenty of good reason to suck like a vacuum cleaner today." - Grizzly Nick Heidfeld
"We finished, got a lot of data for the car for next race. Guess that's good, but didn't we say we'd be a midfield team this year?" - Jarno Trulli
"We just gotta take it one race at a time. I'm just happy to be here, and god willing, I'll be able to help the team." - Custard d'Ambrosio
"*stares at d'Ambrosio*" - Timo Glockenspiel
"What am I doing way down here when I finished seventh? Wait, what do you mean I'm DQ'd?" - Sergio Perez
"I wanted a feel-good story for the people of Japan. Instead, I'm DQ'd by the Stewards because my rear wing is off by a fraction of a millimeter? The FIA
sucks
!" - Gandalf Kobayashi
"Would you believe I didn't mean to pass Rosberg at that time, I was defending against Kobayashi and it just happened?" - Rubens Barrichello
"Yeah, that's makes it a lot better." - Nico Rosberg
"Water leak. That's what caused the car to die, and it doesn't mean I have a bladder problem. That's just a nasty rumor." - Heikki Kovaleinninninninnie
"The start of the season certainly has not worked out as we had hoped." - Slappy Schumacher (
note: real quote
)
"I dunno what happened. The car just stopped." - Friar Maldonado
"Hell, we could have done
that
." - Vitantonio Liuzzi and Narain Kittylitter
That's it for Australia and the opening round of the 2011 Formula 1 season! We'll be back in two weeks with the GP of Malaysia... see you then!
Posted by: Wonderduck at 09:38 PM | Comments (7) | Add Comment
Post contains 2377 words, total size 16 kb.
1
When I saw the result and saw Petrov had finished third, I was astounded. Renault?
Renault?
It can't have been the car, so it must be the driver. Petrov is definitely going to be one to watch this year.
Posted by: Steven Den Beste at March 27, 2011 10:21 PM (+rSRq)
2
It may have been a bit of both. Renault did a clever with their forward-facing exhaust, and even better, it seems to work... that may have had something to do with it. I think I've been underestimating The Red Menace as well... we'll find out as the weeks roll on.
Posted by: Wonderduck at March 28, 2011 12:48 AM (W8Men)
3
What ended up happening with Hamilton's undercarriage? He ended up scraping it along the track for half the race. The announcers mentioned that it was going to be hard to demonstrate that it met spec after that kind of beating...
Posted by: Avatar_exADV at March 28, 2011 02:46 AM (mRjOr)
4
Nothing, Avatar. It was obviously damaged, as opposed to constructed in such a way as to create a performance advantage. Look at it this way: if you lose an endplate off your front wing, you are in violation of the technical regs, but you'll never be excluded for that, either. I was amazed the LAT thought there was ever a chance of there being a problem.
Posted by: Wonderduck at March 28, 2011 06:54 AM (W8Men)
5
Brilliant F1Update, Wonderduck!
Plus it was so nice to see some new names, both finishing and participating. YAY, Petrov! Wonder what HWMNBN was saying under his breath at the end?
BTW, can't wait to see David Hobbs' movie debut. :-)
Posted by: Mallory at March 28, 2011 12:41 PM (WJ2qy)
6
Wonder what HWMNBN was saying under his breath at the end?
I can read his lips, and he was
not
praying.
Posted by: Wonderduck at March 28, 2011 05:49 PM (W8Men)
7
"Ganbarou, Japan" is an odd way to phrase it if you're not Japanese, although I'm sure the intent was understood and appreciated. It's the volitional form, literally "let's (you and me together) persevere".
-j
Posted by: J Greely at March 30, 2011 08:17 PM (fpXGN)
Comments are disabled. Post is locked.
39kb generated in CPU 0.0152, elapsed 0.3073 seconds.
47 queries taking 0.297 seconds, 283 records returned.
Powered by Minx 1.1.6c-pink.