August 30, 2018
F1 on TV: Monza 2018 Blah Blah Blah You Know The Drill...
I'm grumpy as heck at my boss right now, and I'm very, very tired of doing overtime. Getting home at 10pm just so I can eat something then go back to sleep? All work and no play makes Wonderduck a dull waterfowl.
Speaking of playing, the F1 Circus is in Italy this weekend. Italy, Italy... which track is that again?
Oh yeah, right! Formula 1's answer to NASCAR, Monza! At Spa-Francopants, something like 72% of a lap is run at full throttle. At Monza, it's 114%. It's a fast circuit, is all I'm saying. After they made some changes to Parabolica (aka Turn 11 on the map above), it's no longer the end of your race if you go off there, and that's a shame. Unless you go REALLY off, in which case we'll send out Fluffles the cat to cover up your car in the kitty litter.
Sadly, it looks like Friday practices are going to be very wet, if not completely rained out. I say "sadly" because that's probably going to be the only rain we see. On the other hand, with a dry track we've got a good chance to see something that hasn't happened since 2010: Ferrari winning its home race. I can't even remember the last time before that for a Ferrari victory at Monza, so... history in the making?
Well, whatever. I'll have a Quals report up sometime Saturday... still working out details of having a meal with the folks, maybe Saturday, maybe Sunday... and I expect I'll get some sort of F1U! up after the race.
See ya then!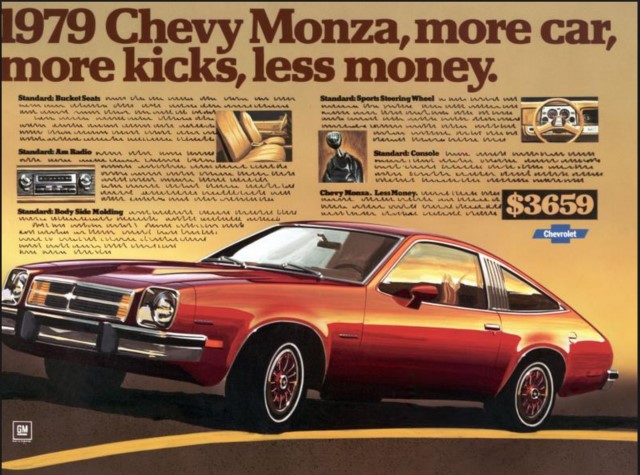 Posted by: Wonderduck at 11:29 PM | No Comments | Add Comment
Post contains 278 words, total size 2 kb.
August 27, 2018
F1 Update: Belgium 2018
"I went to a fight, and a hockey game broke out!" THIS is your F1U! for the 2018 Grand Prix of Belgium!
*LAP 1, TURN 1
: We here at F1U! can completely understand if you thought the race at Spa-Francopants was exciting, because holy frijoles was a first lap! The race began with the usual charge towards the tightest first turn in Formula 1, La Source. You come running in at high speed, then immediately slow down to Toyota Camry speeds, turn greater than 90° to the right, then go galloping off towards Eau Rouge. That's what's supposed to happen, and for the the frontrunners, that's what occurred. And then you had Nico Hulkenberg. He was starting 18th because of a power unit change, and decided that he was going to make up all the lost places right away. At least, that's what we here at F1U! assume happened, because he went careening into La Source with all four tires smoking from locked up brakes after apparently forgetting that there were other cars on track. The result was... something.
Hulkenberg rammed the back of the McLaren of Fernando Alonso. This got the McLaren all sorts of wrong, and contact with Charles AMX-30's Sauber sent him airborne. The car went up and over first the side of, then the front of, the Sauber, dealing a frightful amount of damage to Alonso's chariot. However, since he came down correct-side up, this was not something that needed to be worried about. As it turned out, AMX-30 was very nearly decapitated by the front-right wheel of the McLaren when the entire car slid over the Sauber's HALO from right to left. Indeed, the halo snapped the right-front suspension of the orange and blue car as it went past AMX-30's head.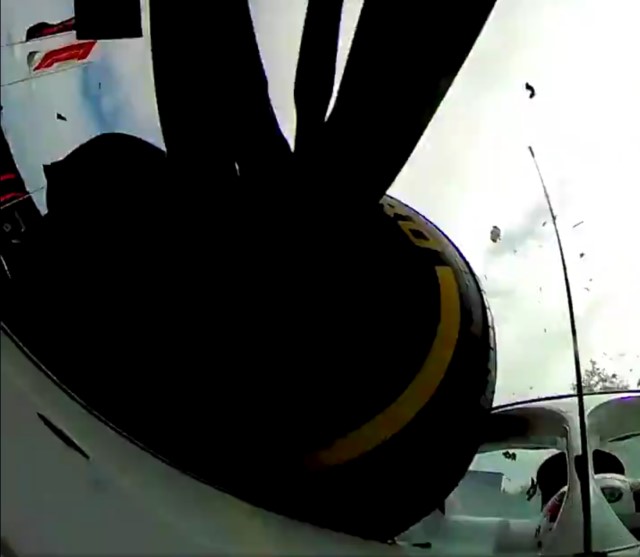 The view from the nose of AMX-30's Sauber, looking backwards.

We here at F1U! are not overly fond of the new safety device... it looks all sorts of ugly... but we'll give credit where credit is due: there's an excellent chance it saved a promising young driver's life today. But that wasn't all that happened, oh heavens no! See, as Alonso's car began its wild journey towards the sky, it snipped off the rear wing of Smiley Ricciardo's Red Bull. That caused the Aussie's vehicle to contact Kimi Raikkonen's Ferrari in passing, destroying its right-rear tire. Both cars limped to the pits, both cars got repaired (you don't often see a rear wing replacement in F1!) and went back out. Both cars would be forced to retire soon after, meaning Hulkenberg's Wild Ride was responsible for destroying a full quarter of the Belgian Grand Prix field! That deserves a wow, at least!
*THE STRAIGHT
: As one can imagine, a safety car was called out, but not immediately. This gave us just enough time for the leaders to go charging down the Kemmel Straight, Seb Vettel's Ferrari leading Hamilton's Mercedes leading the two Force Indias. Except that makes it sound like they were nose to tail... they weren't. No, as they came to the end of the straight, doing something like 180-190mph, they were four wide.
False Esteban! was on the inside for the approaching right-hand turn, but had to back off since Vettel had the racing line. Lawsuit Perez on the outside was just beaten into the turn by Hamilton, and wound up third. Just for the record? NASCAR doesn't usually go four wide ever: that way lays madness. Just sayin'.
*SAFETY
IN SPEED
: The safety car lasted for four or five laps, an eternity around the 7+ km long Spa circuit. And then came the restart. Vettel did a fantastic job on snookering Hamilton, leaving him desperately gasping for air once things went green again. How fantastic? He had a full second lead on the Mercedes into Turn 1. That's pretty impressive. Sadly, it was so impressive Mercedes basically pulled the plug on trying to catch the Ferrari. Oh, they tried for a while, but once it became clear that Vettel could keep the gap at any amount of time that he wanted they stopped trying. Gotta protect that engine, don'tchaknow? And once DH Verstappen made his inevitable way past the two Force India cars (they were a great story, but we knew it was coming, didn't we?), the podium was set... with over half the race to go. To be sure, there was still a little racing going on... Valterri Bottas, who started 17th in his Mercedes managed to haul himself all the way to 4th... but nothing earthshaking. In effect, the race was over by the end of the first lap.
*FORCE INDIA Ver. 2.0
: With their fifth-sixth place finish today, (Racing Point) Force India scored 18 points in the Constructor's Championship. They are now in 9th place, ahead of Williams, only one point behind Sauber, and 12 points behind Toro Rosso for 7th. Amusingly, they are also ahead of (Deadbeat) Force India, in 11th with zero points. Realistically they could get as high as 6th place... and wouldn't
that
be a performance with only half-a-season to do it in?
Right, Monza is this coming weekend... prepare for speedspeedspeed!

Posted by: Wonderduck at 11:04 PM | Comments (3) | Add Comment
Post contains 862 words, total size 6 kb.
August 25, 2018
F1 Quals: Belgium 2018
Overcast, gray and cloudy. No, not the skies over Duckford for most of the past week, the skies over Spa-Francopants today! The FIA Weather Minstrels said there was a 90% chance of rain during today's Quals, which meant we had a great chance of it not raining ever again at Spa... that's how inaccurate those predictions usually are. But rain it did, and hoo boy, did it pay off! Here's the provisional grid for tomorrow's Grand Prix of Belgium:
Pos
Driver
Q1
Q2
Q3

1

Mercedes

1:42.977

1:41.553

1:58.179

2

Ferrari

1:43.035

1:41.501

1:58.905

3

Force India Mercedes

1:44.003

1:43.302

2:01.851

4

Lawsuit
Force India Mercedes

1:44.004

1:43.014

2:01.894

5

Haas Ferrari

1:43.597

1:43.042

2:02.122

6

Ferrari

1:42.585

1:41.533

2:02.671

7

Red Bull Racing


1:43.199

1:42.554

2:02.769

8

Red Bull Racing


1:43.604

1:43.126

2:02.939

9

Haas Ferrari

1:43.834

1:43.320

2:04.933

10

Mercedes

1:42.805

1:42.191

DNS

11

Toro Rosso


1:44.221

1:43.844




12

Toro Rosso


1:44.153

1:43.865




13

AMX-30
Sauber Ferrari

1:43.654

1:44.062




14

Sauber Ferrari

1:43.846

1:44.301




15

Renault

1:44.145

DNS




16

Renault

1:44.489






17

McLaren Renault

1:44.917






18

,
Williams Mercedes

1:44.998






19

Veruca S
Williams Mercedes

1:45.134






20

McLaren Renault

1:45.307





Sure, the top two positions aren't anything to get worked up about, except that Hamilton becomes the first driver to ever have five poles at Spa (big deal). But what happened next... now
there
's the interesting stuff!
You may remember
my offhand comment
that Force India went into receivership and nearly died, yes? Well, while it had been purchased, there turned out to be something of a confusion, as so often occurs when money is involved in Formula 1. I've read everything I could on the matter, and what I THINK it works out to is that the purchasing group bought the
team
, but
not
the actual FIA Entry to allow the team onto the grid. Or something like that. So here's this group of moneymen that has just purchased everything they needed to have a Formula 1 team, but due to some technicality or other, they couldn't do anything with it.
As I left for work Thursday morning Pond Central Time, nobody was sure if the pink cars were going to be on the grid. They were there, their trucks and motorhomes without liveries, but that was all they were. Various votes were taken, and the teams unanimously decided to allow them to race. But, since the team had changed hands, the decision was made to declare them a new team and Force India, now known as
Racing Point Force India
, has had their constructor's championship points stripped. Their drivers kept their points, however. Because of this, an amusing conundrum arose. See, the technical regulations say nothing about a situation like this. An argument was put forth that, since they were a new team, the engine allocations for the cars should be reset to zero... that is, all the engine pieces Force India had used (three ICE apiece for each driver, the annual limit before penalties start accruing) would no longer count against the team since they were being considered a new entity! After some frantic hemming and hawwing, the logical answer was reached: since the drivers were being allowed to keep their points, so too should the engine count carry over. This is, of course, the right answer, but I think they came to it for the wrong reason. I think it was made clear a couple of years ago that the engine count is tied to the
car
, not the driver. Otherwise, a driver put in the seat to replace another would have zero engine usage. In any case, logic says this is the correct answer, but logic usually has little place in Formula 1.
The upshot of all of this is that Force India, after a week where nobody knew if they were going racing or not, after a summer break where nobody knew if they were going to exist as a team or not, took third and fourth on the grid today. I think that's got to count up there with the greatest performances of all time, right? From dead to Row 2 in one week? Hell yeah.
Anyway, the rains DID come, just seconds after Q3 began and everybody went out on slicks. And the rains came in buckets, too. Drivers were tiptoeing around that first lap, particularly after Valterri Bottas lost control of his Mercedes while driving in a straight line. He didn't hit anything, which counts as some minor miracle. Anyway, everybody dove into the pits for rain boots... everybody but Force India, either through mistake or just sheer bloody-mindedness. It didn't go well. The track was pretty much unable to be driven on with slicks, as Lawsuit Perez proved when he only just missed turning his car into very small carbon fiber shards at the top of Eau Rouge/Radillion. In what counts as a masterpiece of understatement, Perez later described it as a "pants sh*tting moment".
After crawling back around, the team was in no rush to send them back out, and for a wonder the rains stopped and the circuit immediately began to dry. Times began plummeting, and the pink cars were released at what turned out to be pretty much the perfect moment. A short span of time later, and the second row was theirs. While it's true that Force India has always done well here...
remember their pole in 2009
?... this has got to rank among their finest moments anyway.
Pay no attention to the massive time gap between Row 1 and 2... both Hamilton and Vettel took even greater advantage from the rapidly drying track, is all. Tomorrow's race should be a humdinger, you betcha. See ya then!
Posted by: Wonderduck at 08:02 PM | Comments (4) | Add Comment
Post contains 993 words, total size 24 kb.
August 21, 2018
Summer Break Is Over... Get On The Bus, Kids
Yup, Formula 1 is back for the second half of the 2018 season. As has become tradition, the first race back will be at Spa-Francopants, the longest circuit on the calendar and the race with the highest percentage of the track being on Belgian soil.
While it's yet another race, it's also going to go down in history as the start of the Fernando Alonso retirement parade. Yes, the LeMans winner announced during the break that this will be his last season in F1. Exactly what he's going to be doing is still unconfirmed... he might stay in the WEC with Toyota, he might race IndyCar full-time, that's not announced yet.
I expect he'll be in IndyCar... he only needs the 500 to win the Racing Triple Crown, after all... at which point I'm afraid I'll have to start writing his obituary for future use. There was yet ANOTHER major crash-and-injury in IndyCar, this time last weekend at Pocono. Robert Wickens got tangled up with Ryan Hunter-Reay and was launched onto the top of the outside barrier. He was nose-high, however, and it took only a few moments for him to hit one of the support posts for the safety fence. Cue rapidly disintegrating car, the pieces of which wound up taking out a few others. Wickens suffered broken legs, one arm was broken, bruised lungs, and most seriously, a broken spine and spinal cord damage. The severity of that is as of yet unknown. This is the same track where Justin Wilson was killed back in 2015, just as a coincidence.
In slightly more positive news, Pierre Ghastly was officially named as the Red Bull replacement for Smiley Ricciardo. Nobody was surprised.
So yeah, race this weekend. I'll be watching, we'll see about a writeup. See ya then!
Posted by: Wonderduck at 08:44 PM | Comments (2) | Add Comment
Post contains 308 words, total size 2 kb.
August 16, 2018
I Didn't Realize...
Today, we lost Aretha Franklin, unarguably a music legend no matter what you like to listen to.
I know this is how I was first exposed to her as a young duckling, but what would you expect? I was born in Chicago, Momzerduck was almost killed by
The Blues Brothers
, not the band but the film crew, and everybody hates Illinois Nazis.
But did you know that today in history was also when Elvis Presley died?
Sorry for posting the AMV instead of the original version, either of
the remake
or the
original original
. But I'm still amazed by the work that must have gone into the AMV, particularly because it's
15 years old
.
Also on this date?
Yep. Bela Lugosi. To think that multiple generations know him only from this song... it's a shame, it really is.
Okay, yeah, pretty weak sauce for a post, but whaddya want for nuthin',
a rubber biscuit
?
Posted by: Wonderduck at 10:02 PM | Comments (6) | Add Comment
Post contains 157 words, total size 1 kb.
August 13, 2018
It's 2016 All Over Again
Last night the Cubs were facing Max Scherzer and the Washington Nationals. If you're not familiar with the National League, Scherzer is on the short list of "best NL starting pitcher." And by short, I mean "him and Clayton Kershaw of the Dodgers". And for seven innings, he proved the old maxim that good pitching beats good hitting, completely shutting down the Cubs.
Meanwhile, the Nationals were having a difficult time with the Cubs newest acquisition, Cole Hamels. While not quite as sharp as Scherzer, he still had a great outing for a team that hasn't had many of those this year. Despite that, the Cubs were down 3 - 0 going into the bottom of the ninth.
The Nationals brought in reliever Ryan Madson to close it out. He got the first batter, then gave up an infield single. He hit the next batter, then coaxed a pop fly for the second out. Madson then hit
another
batter to load the bases. What happened next was magic.
Skip to 2:45 for the moment of a lifetime
David Bote has played a grand total of 35 games of major league ball in his career, all of them this year. He became the third player in baseball history to hit a walk-off grand slam with two outs and trailing by three... and he had two strikes on him,and he was a pinch hitter to boot. Good way to end a game.
I'm starting to get those 2016 vibes from this team, because this is exactly how the 2016 team did things. I'll take that, yeah.
Posted by: Wonderduck at 08:29 PM | No Comments | Add Comment
Post contains 269 words, total size 2 kb.
August 11, 2018
Duckford Blue
It was another late night at the job last night. 11 hours on the clock, almost 12 if you count the lunch break... by the time I finished my mandatory 10 hours of OT for the week, it was 945pm and I was the last person in the building that wasn't one of the three cleaning crew people. Even they were leaving out the back door as I was heading towards the front. Honestly, I think I had been the last person in the building since around 7pm... pretty much everybody tries to be gone as early as possible on Fridays. Except for me, of course, mostly because I enjoy singing while working and I don't want to disturb my coworkers.
Sure, that's the reason. Really. It has nothing to do with my not being able to drag my butt out of bed with any alacrity in the morning. Anyway. My work done, I grabbed my cane and headed out the door to the parking lot. Where I saw a police car sitting right behind the Duckmobile, headlights on and clearly running my plates, or whatever they do these days. Technology: ain't it grand? Immediately I began wondering
what did I do wrong
? Because that's the first reaction of anybody when a police officer begins an out-of-the-blue interaction with you:
the police are talking to me, ergo I must have done something wrong
. Even if, like me, you haven't had a traffic ticket in 32 years and the last time you were in court was for jury duty.
I began trudging towards the car, parked at the far end of a decent sized parking lot and after a long day of work... and ohbytheway, the police car too... when the police officer yelled "Is this your car?" I had to restrain an insane impulse to yell back "No, this one is," point at an empty parking spot, and start miming unlocking the door, getting in and driving away. Instead, I behaved like an actual adult and yelled back "Yes, that is my car." Another question came back: "Are you Wonderduck?" "Yes...?"
The officer backed up a bit, then drove right up next to me, driver side window to my left. He smiled, or at least that's what I inferred from the movements the big furry caterpillar on his upper lip suggested. "There's no problem, it's just that a lone car in a big darkened parking lot late on a Friday night... just thought it'd be good to check it out, y'know?" I explained myself, finishing overtime, last one in the building, yadda yadda. "Great, glad there isn't a problem. You have a good night, Mr Duck."
And he pulled away, leaving via the lot's back exit (coincidentally, the same way I usually leave). A few moments later, I see him go flying past, gumballs spinning, siren screaming.
So that was how my Friday night at work ended. Upon reflection after a day's separation, it wasn't as exciting as I thought at the time.
Posted by: Wonderduck at 06:00 PM | Comments (2) | Add Comment
Post contains 505 words, total size 3 kb.
August 07, 2018
Yes, I'm Still Alive! Hooray!
Overtime is really kicking my llama's arse. Weekends have been spent sleeping or doing even less than usual. Weeknights... well, I'm usually getting home between 9pm and 10.
Which is not to say I haven't been keeping eyes on things, heavens no. For example, Smiley Ricciardio is going to be leaving Red Bull at the end of the season and moving to the Renault works team. Lets face it, with golden boy DH Verstappen on the scene, Dannyric was never going to be The Man at the Bull. Whether moving to Renault will be a good career move or not remains to be seen, but at least he's free of the Dutchman. Who will be replacing him at Red Bull? I don't know, because there's a huge X-factor involved, namely that Verstappen has the ability to nix any driver the team tries to bring in. So don't be so quick to say Pierre Ghastly, current hotshoe over at Toro Rosso, my friends. He'd be totally logical, which means that DH might just say "no."
In other F1 news, Force India nearly died recently... because Daimler-Mercedes and team sponsor BWT supported FI driver Sergio Perez essentially sued his team for $4million of unpaid debt. Force India's engine manufacturer Mercedes says the team owned them around $10million, while BWT claimed that their sponsorship deal was really "just a loan." The team went into receivership, and was quickly snapped up by a group of five deep-pockets, led by Pleasant Stroll's daddy and the billionaire father of GP3 driver and FI's test driver, Nikita Mazepin. I'm pretty sure I know what the driver lineup for Force India will be in 2019.
Okay, I'm tired. More sometime soon.
Posted by: Wonderduck at 08:33 PM | Comments (3) | Add Comment
Post contains 288 words, total size 2 kb.
August 05, 2018
That Made Me Happy!
So I was wandering around the web earlier Saturday, just going where it took me, wound up reading some of the Fluff for Warhammer 40K again. I've discovered a WH40K writer/audiobook reader combination that I'm fascinated by of late (Aaron Dembski-Bowden and Jonathan Keeble and the
Black Legion
series), so I've been spending a lot of time in the 40K universe recently. Fun to visit, but I wouldn't want to live there... and if I did, I expect it'd be a very short life with a very violent end. That's just the way things are there.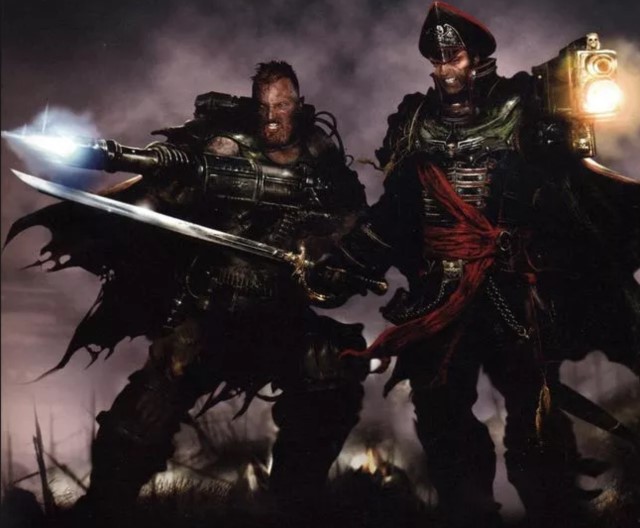 Remember, these are the good guys.
Anyway, after reading more than I really ever wanted to know about the Necrons ("We're gonna need a bigger can opener..."), I somehow found myself reading about spaceflight, which took me to yootoob for some fun times watching
booster-cam footage
. While doing that, I realized I had never seen good footage of a real "Korolev's Cross", just
KSP-based
versions. So I went looking, and discovered something I didn't know existed.
As it turns out,
Korolev
is the B-side of a remix disc of
Sputnik
by Public Service Broadcasting. Clearly it belongs on their album "The Race For Space", but it's not on mine.
What a great thing to discover on a day off: a new PSB song!
Posted by: Wonderduck at 03:26 AM | Comments (1) | Add Comment
Post contains 223 words, total size 2 kb.
82kb generated in CPU 0.0436, elapsed 0.1633 seconds.
52 queries taking 0.1335 seconds, 311 records returned.
Powered by Minx 1.1.6c-pink.