July 29, 2019
Ducks In Anime: Duck And Pandahamster
There once was a pandahamster named Baja. He had a friend that was a rubber duck. At least, he thought they were friends. Baja lived inside, the rubber duck lived outside.
This is where they both lived. Some of you might have just paused and thought "hey, why does that look kinda familiar?" Sadly,
there's a very good reason
.
Baja no Studio
was made by Kyoto Animation and they based the building off of their Studio 1.
I saw this OVA last weekend, shortly after news of the terrible fire had taken over anime fans' attention. I'm not gonna lie, scenes like this, of daily life around the building, were hard to watch. It's a very light-hearted affair,
Baja no Studio
is, but I couldn't help but think about that madman's fire ripping through the place.
But there are magical girls, and zeppelins, and a magic comet blazing its way across the sky, and there is Baja and Ga, and for those 23 minutes or so, Studio 1 is a place of wonder and merriment again.
There's unsubbed version on yootoob, and subbed versions in all the usual places. It's worth the watch.
Update 8/2/2019
: Kyoto Police released the names of some of those killed in the arson. Yoshiji Kigami, the director of
Baja no Studio
, was on the list.
Posted by: Wonderduck at 01:24 AM | Comments (3) | Add Comment
Post contains 230 words, total size 2 kb.
July 22, 2019
First Flight
Christopher C Kraft, the man who "invented" both the concept of Mission Control and the position of Flight Director as NASA began their missions into space, passed away today at the age of 95.
Kraft served as the first (and only) Flight Director for all but the final Mercury mission, thus defining the job as the head of the engineers on the ground. After "executive meddling" during John Glenn's orbital flight, he demanded and got the autonomy the role required. From then on, the Flight Director's word became law during a mission, unable to be overruled by those outside of Mission Control.
He then became The Boss, selecting the men who would share the role with him into Gemini and beyond. He invariably was in the command seat when the very difficult or never-before-performed things happened, such as the first US space walk. Prior to Gemini 8, he pulled himself off the rotation to prepare for the Apollo missions.
He was in mission control when the Apollo 1 fire during testing occurred... which also turned out to be the last time he was to be a Flight Director for NASA. Instead, he became management as the Director of Flight Control and would have an integral role in the planning of Apollo missions. He was called in by Flight Director Gene Kranz during the Apollo 13 incident, and headed the group that decided how to bring the crippled spacecraft and crew back to Earth.
Kraft became director of NASA's Manned Space Center in 1972, a role he held until he retired in 1982, shortly after the second flight of the Space Shuttle (STS-2). In 2011, NASA named the Mission Control Center in his honor, and in 2016 he was inducted into the National Aviation Hall of Fame.
"He installed a sense of what was right, what was wrong, what you had to do, how good you had to be, and those standards that he kind of inbred into everybody, by his own example, and by what he did with us, continue today. The Control Center today is a reflection of Chris Kraft."
-Glynn Lunney, one of the original Flight Directors selected by Kraft, 1998.
Posted by: Wonderduck at 11:56 PM | Comments (2) | Add Comment
Post contains 365 words, total size 2 kb.
July 20, 2019
50 Years Since The Moon Landing
In 1964 Alvin Dark, the manager of the San Francisco Giants, and Harry Jupiter, sportswriter for the San Francisco
Examiner
, were watching batting practice as ace pitcher Gaylord Perry smacked home run after home run. Jupiter casually mentioned that Perry looked pretty good at the plate, like he had some decent power.
Dark knew better: Perry was an awful hitter, and this was back in the day before the DH was instituted. In a 22 year Hall of Fame career that saw him win over 300 games, his batting average was .131 in 1220 at-bats. Dark turned to Jupiter and proclaimed "A man will walk on the moon before Gaylord Perry hits a home run."
Five years later, Apollo 11 touched down on the Lunar surface, the first time mankind had journeyed to another body in the solar system. Neil and Buzz left their lunar lander and went for a walk on the Moon. About a half hour after this, Gaylord Perry came to bat in the third inning of the Giants game against the Los Angeles Dodgers, when Claude Osteen grooved a fast ball dead over the center of the plate.
Alvin Dark was right... barely.
Would that we still could...
Posted by: Wonderduck at 12:33 AM | Comments (3) | Add Comment
Post contains 208 words, total size 1 kb.
July 18, 2019
Kyoto Animation Arson (updates at bottom)
Around about 10pm Wednesday, Pond Central Time, some maniac walked into Kyoto Animation's Studio 1 building, poured gasoline around, and set it on fire.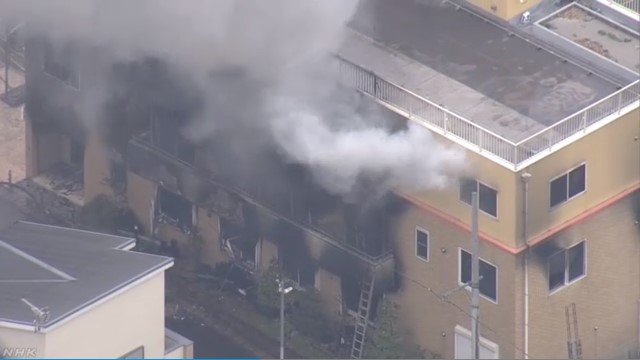 As I type this at about 1am Thursday morning, some solid information has come in. First, the arsonist is a 41 year old male, and is in custody. Second, there has been one confirmed death (
edit
: police are now saying ten dead), and many injuries... the most common number seems to be right around 30. There are also 20 "missing". NHK is reporting that at least ten of those were found lying on the floor of the second level... and left there are the search for survivors went on.
There are reports that the arsonist said "Let's see if this burns" as he poured the gasoline.
KyoAni has a number of different office locations around Kyoto. Studio 2 is where their offices and their retail store is located, for example. None of those other locations have been targeted. Some 70 animators reportedly worked at Studio 1.
I'm hoping this wasn't some crazed otaku's way of "getting back" at KyoAni... "I hated Endless 8, blah blah blah..." Reportedly, they're one of the best studios in Japan to work for, so maybe a fired employee? We'll find out soon enough, I expect, but no matter the reason, this is horrible.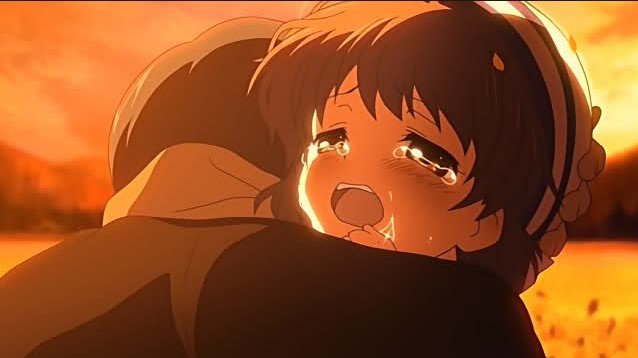 Update: 241am
- According to one report, among the missing are Tatsuya Ishihara who directed
AIR
, the
Haruhi Suzumiya
series,
Kanon 2006
,
Clannad
, and
Hibiki Euphonium
. Or, in other words, all of my favorite KyoAni shows (and
Air
, which I'm not fond of). Other directors missing are Ishidate Taichi (
Violet Evergarden
), and Takemoto Yasuhiro (
The Disappearance of Haruhi Suzumiya
movie), and others.
Update: 855am
- The death toll is now up to 33. I've seen unconfirmed reports that Takemoto is among the dead. Of the 70 people known to have been working in Studio 1 at the time of the arson, 69 of them are dead or in hospital for injuries of various severity. Many of the dead were reportedly found in a stairwell leading up to the roof, felled by smoke. It's important to note that this building was in a residential neighborhood; there were no fire escapes, only one stairwell, and only one way in, the main entrance. Oof.
Reportedly, the arsonist was yelling something that might translate out to "you plagiarized me." As KyoAni has only done two original works,
Munto
and
Tamako Market
, this seems unlikely. He had purchased 40 liters of gasoline in two containers just a half-hour before, and apparently brought them on a cart to the building. He reportedly told the people at the gas station that the fuel was for his generator. The president of Kyoto Animation has said that they've been receiving threatening e-mails for a few years... no idea if they're connected to this case.
This is now the largest mass murder in post-WWII Japanese history, displacing the Sagamihara massacre.
Update: 1009am
- Sentai Filmworks, the American distributor that has done much work with KyoAni (either currently or in the ADV era), has begun
a GoFundMe campaign
to help those affected.
Posted by: Wonderduck at 12:26 AM | Comments (3) | Add Comment
Post contains 529 words, total size 4 kb.
July 15, 2019
Grr Argh Pfft (updated)
I had a job interview today. It was for a job very similar to the one I had before, claims processing. Not exactly the same, but close enough that I feel I'd be good at it, quickly. Despite it being 90 degrees out in the world, I wore a nice shirt and tie... really dressed to the fours (note: it's impossible for me to dress to the nines. There's not a tailor in the world that could make clothes that look
that
good on me), y'know?
Went in feeling confident, knowing that I had this one. I was perfect for the job.
45 minutes later, I went back out to the Duckmobile, wondering just exactly how I had managed to completely pee that one down the leg of my proverbial firesuit so badly. It's not even like I had a bad interview. I answered all questions well, was engaging, asked a couple of intelligent questions of my own... and left feeling like I had been slapped in the face with a long-dead mackerel.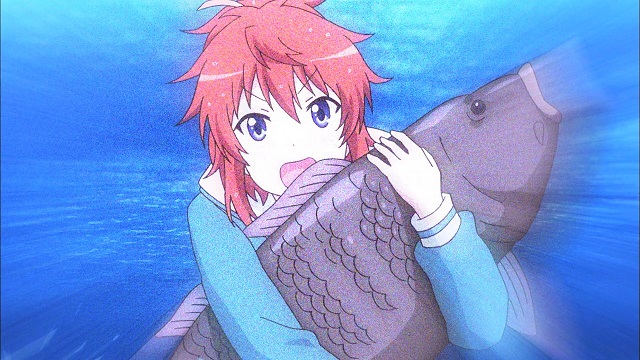 I am no stranger to failure, as anybody who has read The Pond for more than a few days will be aware. But this feeling... this is new and exciting, in a completely terrifying sort of way. I'm already sure that I'm not getting this job. Either I was getting some vibe from the interviewers or I'm just down on myself, I dunno. Hope I'm wrong.
I'm going to drink some ice cold gatorade, chug a tylenol or two, and go lie down for a couple of decades. Maybe when I wake up, I'll feel better about the situation.
Update
: It's now the next day, and I received an e-mail from the company saying in effect "Nope, it wasn't just you... we really didn't like you. Get lost." Less than 24 hours from the interview to rejection... that's the fastest turnaround I've ever had at least.
Posted by: Wonderduck at 04:28 PM | Comments (3) | Add Comment
Post contains 323 words, total size 2 kb.
July 12, 2019
Still With You
So I got an e-mail from The Librarian this morning, pointing out that I haven't posted anything here at The Pond in a while. This is true. Fact of the matter is, I'm having motivational issues. Not just with blogging, but with just about everything. For example,
I have a new computer chair
. "Yes, finally!" I can hear y'all cheer. Yep, new chair... it's over there, in the dining room, in a box, waiting for me to put it together. It's been like that for about three weeks.
See what I mean? Working on it just seems so... well.
This past Monday? I had lunch with the folks. Literally the first time in 16 days I had left my apartment for any reason. The one good thing is that... look, remember back at the beginning of the year when I had to get a hotel room for four days on no notice? Well, that issue was finally resolved on the 5th. Maybe if you e-mail me, I'll tell you what it was about.
Instead of turning this into a whiny LJ post, here's some music:
Yes, really. It's catchy as hell, and for a while there Toby Keith had a great run of tuneage. Don't judge me.
Posted by: Wonderduck at 04:59 PM | Comments (3) | Add Comment
Post contains 210 words, total size 2 kb.
July 03, 2019
That Pitcher Is Getting Shelled!
The Google Doodle for today is a rather fun little baseball game!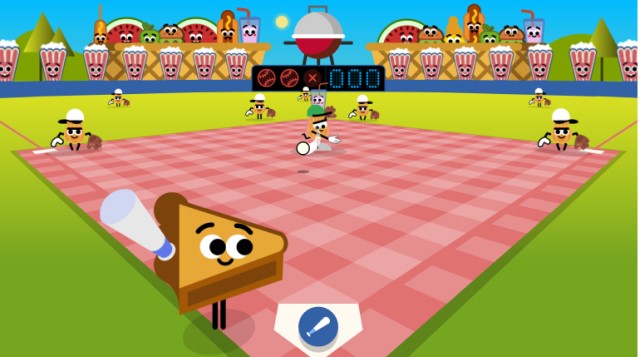 Your job is to hit the ball. The only way to make a strike is to swing and miss, three strikes and the game is over. To make it easier the pitcher, who I'll name "Yu Darvish", tips his pitches... watch the color of his cap, and woe betide you when it turns red. I've scored 57 runs and hit a homer over 1700 feet. (edit: 2002 feet off a redcap. I'm so proud.)
Lemonade is a great left-handed power source, btw.
edit: this seems appropriate, considering the holiday tomorrow.
No, I won't condemn anyone for putting ketchup on a hot dog. This is the land of the free. And if someone wants to put ketchup on a hot dog and actually eat the awful thing, that is their right. It is also their right to put mayo or chocolate syrup or toenail clippings or cat hair on a hot dog. Sure, it would be disgusting and perverted, and they would be shaming themselves and their loved ones. But under our system of government, it is their right to be barbarians.
-Mike Royko, Chicago legend.
Posted by: Wonderduck at 11:35 AM | Comments (3) | Add Comment
Post contains 202 words, total size 1 kb.
58kb generated in CPU 0.0151, elapsed 0.086 seconds.
52 queries taking 0.0766 seconds, 306 records returned.
Powered by Minx 1.1.6c-pink.