October 13, 2014
Time And Tide
In long-term preparation for a photo project, I had been searching Amazon for a teeny-scale SBD Dauntless model kit. No, not that small, even smaller. Nope, smaller than that. Eventually, I found something that was absolutely perfect:
this one from Trumpeter
. Exactly what I was looking for, in fact. As it's been literally decades since I last put together a model kit, let alone one as... tiny... as that one, and I could envision the need for a larger Dauntless for one or two of the pictures I had in mind,
I found another kit
that I could practice with.
Yep, that's right about my speed, even at my best. Well, that's not entirely the case, but in comparison to
Marty Suspenders
, I was the flash left on the sprue. Anyway, while I was adding the kits to my Amazon basket, along with the usual accoutrements required for such an endeavor, it struck me... I didn't need to order this from Amazon, there's a place in Duckford that likely has it all! So it was with a giddy step and a goofy smile on my face I galumphed my way through the rain to my car. From there, the destination was clear... ROYAL HOBBY!
I couldn't tell you the last time I had stopped into
Duckford's premiere hobby store
. Probably within the past 10 years, but I wouldn't swear to it. The place is legend, that's for sure... an independent wargaming / modeling store that's survived nearly forty-five years? Legend indeed. Yet Royal has managed it, despite a clientele that's literally dying off. Doesn't stop Ken, the owner... he's still there, and I would have been stunned if he hadn't've been. He's ALWAYS been there. This storefront is deceptive. The building is a lot bigger than you might think at first glance... and just beyond those doors is true nerdvana.
They say that the kit model business is dead and gone. That may be true, but not that you could tell from the Wall Of Models that Royal has always had... and this was where I realized that I'm not as young as I used to be (again). Back in the old days, I would have lovingly perused each box, looking for the particular two I was looking for. Today, though, my knees were having none of it. Throw in the squishy socks from the deluge occurring outside, and I did something I may have never done before at this store: I asked for help. As a sop to my pride, however, I did manage to find the 1:144 scale Dauntless kit on my own!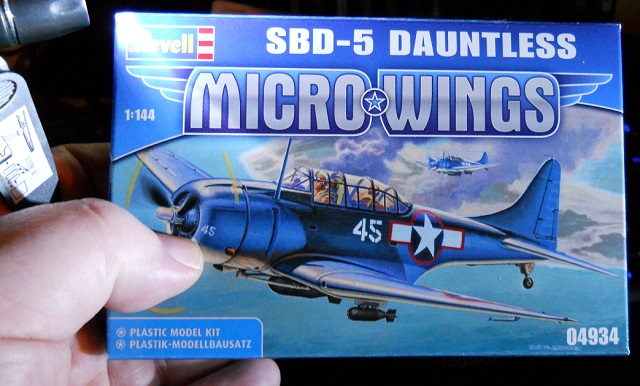 Thumb included for scale. Probably the closest I'll ever come to appearing on my own website.
So, I asked for help, and while to person behind the counter had no idea if they had it, she knew who did... and off she ran. See, here's the thing about Royal Hobby: it's old fashioned in many ways. I mean, that should be obvious, right? An old-school gaming/hobby shop in this day and age? Anyway, they don't have a computerized inventory. It's all manual, and each part of the store is the "property" of one of the staff members. The models were, and are, Ken's purvey. After he came out of the "back room," which has game tables set up, he thought for a second, and said, nope, don't have the Trumpeter (insert model number here), but he could get 'em in-store by Friday. Now, many of you might express doubt that he really knew his stock that well, but I just had this conversation on reddit a few days ago. I used to be able to rattle off textbook name, price new or used, on-hand stock new or used, and if there was an order out for more copies, for every single book used every semester. I never doubted him for a minute. While I didn't place the order, I don't need them for over a month yet. I did pick up paints, glue, cheap brushes and paint thinner, though, to go along with the model.
As I left, I realized just how much of my life ran through Royal Hobby. I mean, remember that post I did on
my favorite wargames
? All of 'em, bought through RH. All the hours spent playing FitS or D&D? Made possible through RH. Even now, this blog is the beneficiary of RH... this post, my milhist addiction, the future photo stuff, all of it can be traced at least tangentially back to Royal Hobby. And while the two workers' conversation about how Care Bears were actually minions of Voldemort was different from what I remember from the old days, it really was just the same. And while it seems miraculous that it's lasted 40 years already, I hope it's always there, doing what it does, a modernized version of an old classic.
Thanks, Mr Lythgoe. You didn't realize it, but you made my day today.
Posted by: Wonderduck at 11:55 PM | Comments (2) | Add Comment
Post contains 829 words, total size 6 kb.
1
The only good place left near me is the Golden Spike Train Shop. It's another case of been-there-forever and likely to be-there-after-forever.
There used to be another fairly decent Friendly Local Hobby Store, too. It's still there, but has shrunk to mostly just R/C equipment and Model trains.
Posted by: Karl at October 14, 2014 11:48 AM (XhfQr)
2
Some people can work miracles. Where I live there's a rock climbing shop that opened about five years ago. They don't have a website, they don't sell skiing or hiking gear. Rock climbing. They have really good stock and really knowledgeable staff. They are in a major city, a couple of hours drive from the nearest rocks. They are in an upscale part of town where I can't imagine the rent is particularly cheap. Their prices are well below anything on the internet.
I have no idea how they do it, but as long as they continue to sell me my favourite climbing shoes at around 60% of full retail I don't care who they have a pact with.
Posted by: AlanL at October 14, 2014 11:55 PM (UMkg7)
Comments are disabled.
27kb generated in CPU 0.02, elapsed 0.1357 seconds.
47 queries taking 0.1191 seconds, 254 records returned.
Powered by Minx 1.1.6c-pink.