October 15, 2013
Pacific Rim
After having missed the movie
Pacific Rim
in the theatres this summer, I vowed that I would purchase a copy of it as soon as it became available. This, I did not do. In actuality, I pre-ordered the film in a Blu-Ray / DVD package close to three weeks ago. When it was delivered this morning, I was very much like a duck in a rye bread store. Sure, I couldn't actually DO anything with it until I got home, but it was here and that was all that mattered.
I came home, made some dinner, fired up the DVD player, and sat down to watch. Now, understand something. When it comes to watching movies at home alone, I tend to pause the film a few times... run to the bathroom, get something to drink, y'know, that sort of thing. Not tonight. Tonight, I didn't even notice the time passing. From moment one to the post-credit scene, I was locked into the film.
Pacific Rim
gave me everything I hoped for from this particular movie: giant robots punching giant monsters in the face. Repeatedly. In clever ways. There are going to be two types of people who see flick: those who hate it, and those that realize that it's the best movie ever.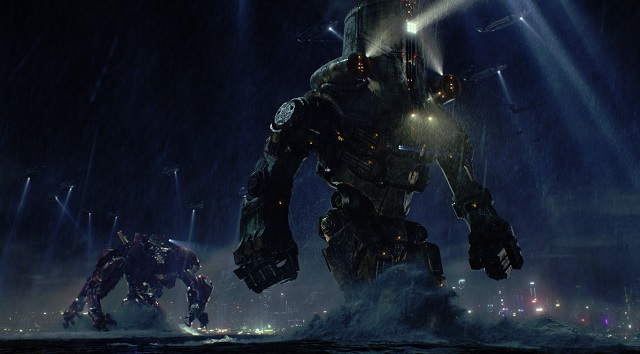 Let me stay that again, in a stylized way that makes it look like I'm shouting each word, then pausing dramatically afterwards or something:
BEST.
MOVIE.
EVER
.
Now that I've gotten that out of the way... for an anime fan,
Pacific Rim
is probably the closest we'll ever get to a live-action
Evangelion
(giant robots punching giant
angels
monsters in the face), but without the whiny hero and with more Rinko Kikuchi.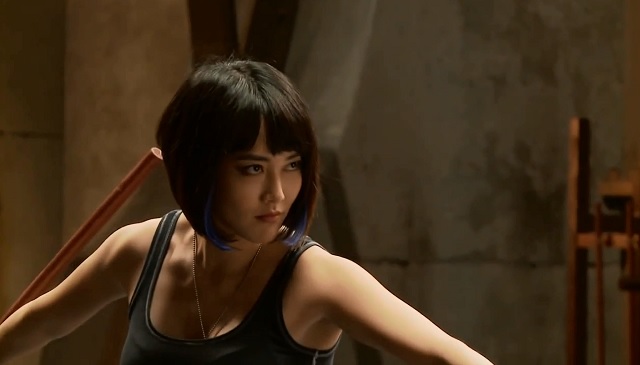 Look, the film is full of cliches. I got that, but here's the thing: you don't care. It resonates with the kid in you and makes it jump up and down like it's full of chocolate and mountain dew.
Watch it. Love it. Thank me later. If I didn't have to go to work in the morning, I'd watch it again.
Posted by: Wonderduck at 10:22 PM | Comments (5) | Add Comment
Post contains 348 words, total size 3 kb.
1
Saw it in the theaters, it was awesome. Of course everyone was a scenery-chewing cliche. But that's how it should be! The point is that they did it so amazingly well.
Also, Rinko Kikuchi should be the new spokesmodel for the Dreamliner... covered in carbon fiber and smokin' hot.
(Yeah, I used that before.)
Posted by: Mauser at October 16, 2013 05:50 AM (TJ7ih)
2
Saw it in the theater opening weekend, loved it to pieces. They did so much right and not enough wrong to be bothered about. Stacker's "One, don't touch me... two, don't ever touch me..." bit is brilliant. The... courtship, for lack of a better term... is another well-done thing. (As one Tumblr commentor puts it, "Please Daddy can I kick his ass he just asked for it please oh please oh please?!?") Keeping angst to the minimum requirements, yet another.
If anything its main flaw is that there wasn't enough of all the good things, but that would've made it twice as long a movie. (More of the other Jaeger teams! More giant robot punch! More more more!)
Posted by: GreyDuck at October 16, 2013 11:31 AM (3m7pZ)
3
I give the movie 5 SDF-1s! (And wholly endorse the Duck's review of it.
)
Posted by: Dreamshadow at October 17, 2013 10:07 AM (T5fuR)
4
I really enjoyed it too.
Though I admit to wanting to pull my hair out at the ending... Nuclear reactors don't explode (well, not as nuclear explosions). That's
always
bothered me in movie. Nuclear reactor != nuclear bomb.
Posted by: DrHeinous at October 22, 2013 10:04 AM (/Y+Yb)
5
By the way, Honest Trailers did one for
Pacific Rim
that sums it up nicely.
Posted by: Mauser at October 24, 2013 01:46 AM (TJ7ih)
Comments are disabled. Post is locked.
26kb generated in CPU 0.03, elapsed 0.1513 seconds.
47 queries taking 0.1295 seconds, 265 records returned.
Powered by Minx 1.1.6c-pink.