October 06, 2010
Odds and Ends, Bits and Pieces
I find myself with an armload of thoughts, none of which on their own is enough to merit a post of their own. However, throw them all in one place and they might just pass as something interesting.
I've discovered that having a real honest-to-god satellite TV system is a very scary thing. Until two weeks ago, Pond Central's apartment complex had an in-house system, maybe 40 channels, of middlin' quality. Still, it had SciFi, and that was all I needed when I first moved in nigh on a decade ago... after all, that's where
MST3K
was shown, and what else would I ever need? Later, I discovered the wonders of SPEED and the glory that is Formula 1, but that was so far in the future as to be laughable in retrospect. As mentioned, a couple of weeks ago the complex dumped their own satellite system for
DISH Network
. Of course, SPEED is on their second tier of programming, meaning that with the DVR reciever, I'm paying a silly amount of money per month. I grumbled about "a la carte" and the like, but signed up anyway... gotta have F1. It was only when I
really
looked at the second tier that I noticed a few hidden gems. Gems like the NFL Network, for example. Or the Documentary Channel. Or BBC America. Which shows
Top Gear
. Oh my, very yes indeed. And then there's the Sirius/XM music channels. Or, in my case,
channel
.
I've pretty much locked in the station known as "1st Wave" (that's on channel 6022, if you've got Dish), to the point where it's replaced my old transistor radio which hasn't moved off of a Chicago sports-talk station in months. 1st Wave plays "70s and 80s Alternative" music, a term that doesn't mean anything, as the term "alternative" as referring to music didn't exist until the 90s. Besides,
this is what I listened to back then
, how could it be alternative? Simple Minds, Squeeze, The Fixx, Bowie, the Ramones, Roxy Music and/or Bryan Ferry, Joe Jackson, Erasure, the Smithereens, Madness (
Night Boat to Cairo
, no less), Thomas Dolby, the PsychoFurs, Depeche Mode, The Smiths and on and on and on. Yes, please throw me in that briar patch.
I'm surprised at how hooked on
Black Lagoon
I became. Based on some of the comments in the "
recommend a show for a n00b
" thread, and nigh-constant prodding by
Brickmuppet
in e-mails, I finally gave it a look. Great googly moogly, why did I wait so long? Yes, it's violent, the humor is dark at best (and deep, deep black at worst), but the characters are outstanding... though almost all of them are morally twisted. Or psychopaths. Or morally twisted psychopaths. To say it's not for everyone is not taking it far enough. But for those who do venture into the back alleys of Roanapur, it's worth the trip. Muppet tells me that the English dub is first-rate, and that may very well be true, but I will never, ever hear it... because I have heard Revy speak in the Japanese track. She's the main female character, and she's voiced by
Megumi Toyoguchi
. She was the voice of Winry in
FMA
, Sylvia in
Princess Lover
, Parfet Balblair in
Vandread
, and Kirino in
Bamboo Blade
, amongst many many others. But there's something about Revy's voice that... well, the description I've used is "liquid sex." Doesn't matter that Revy is an amoral, murderous lunatic who'd be more than happy to blow your head off because you sneezed within three miles of her,
that voice
... It goes without saying that none of the other roles she's played sounds anything like Revy, of course.
One of the summer shows I was most excited about was
Amagami SS
, and I'm still enjoying the show immensely, but the recently ended Sae arc stretched my levels of disbelief a little thin. How so?
At the beginning of the arc, Sae is shy, has the self-confidence of a small amount of pocket lint, won't speak above the level of a whisper, and is afraid of most living creatures and many inanimate ones.
Cowering behind a post because there's a noisy puppy up ahead, that's Sae in a nutshell... and she wants a job as a waitress?!? Three weeks of training with the male protagonist allows her to talk to vending machines without too much trouble. By the end of the arc a couple of months later however, this is Sae:
And that's not her waitress outfit, that's what she's wearing on a date. I mean, good for her and all, but a couple of months seems like a rather short time from having little self-confidence to dressing in GothLoli fashion... and check out the zettai ryoukai! It just didn't seem particularly believable... not like the first two girls' arcs.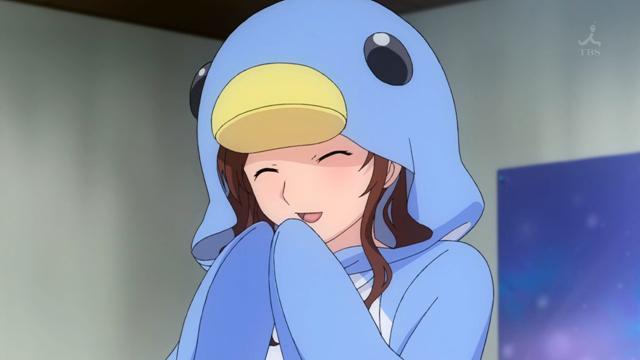 ...and she's in a penguin suit at the end of the arc. Uh...
huh
.
Posted by: Wonderduck at 10:14 PM | Comments (4) | Add Comment
Post contains 823 words, total size 6 kb.
1
"Some comments" instead of "Pete's impeccable guidance" is what I get. But yes, Ken knows his stuff.
Posted by: Pete Zaitcev at October 06, 2010 10:56 PM (9KseV)
2
I didn't realise at the time you hadn't seen
Black Lagoon
, or I would have prodded you a bit too.
It's hands-down the best action anime series of recent years, and one of my top ten overall for the past decade.
I need to catch up on
Amagami
though; I've only seen the first arc.
Posted by: Pixy Misa at October 06, 2010 11:51 PM (PiXy!)
3
One of my favorite scenes from
Black Lagoon
is an argument at a cafe between Rock and Revy (and as usual for.Roanapur, it ends in gunfire). It's a situation I've seen other shows try, but
Lagoon
actually pulls it off - it feels believable to me that those two characters would have that fight.
Speaking of your recent interests, they aren't cutting into your research time too much, are they?
Posted by: Siergen at October 07, 2010 01:06 PM (Xh3Fu)
4
Black Lagoon
S2, the Vampire Twins arc, is a swift kick in the 'nads. It's not that it's different in any way...
except it's a hell of a lot more brutal.
And weird. And psychopathic. Yet the writer still pulls it off (Ok, I have to complain about the loli with the chaingun-from-no-where. But that's all.) The ending of that arc re-calibrated my Nihilism-o-Meter(tm)
Posted by: ubu at October 10, 2010 11:59 AM (GfCSm)
Comments are disabled. Post is locked.
28kb generated in CPU 0.05, elapsed 0.209 seconds.
47 queries taking 0.178 seconds, 255 records returned.
Powered by Minx 1.1.6c-pink.