August 05, 2009
Momzerduck Update (and Some F1 News Too)
Momzerduck was discharged from the hospital this evening. She's doing... okay, I guess would be the technical word for it. Turns out when she fell, not only did she blonk her head quite forcefully, the docs also think she dinged her spleen, so she's in a fair amount of pain when she does things like laugh or transition from sitting to standing and so forth. Thankfully, she was given a prescription for a nice painkiller. So, she's home and resting comfortably with
Hercule
curled around her head like a pair of kitty earmuffs.
With that stress-inducer out of the way, lets get to the F1 News: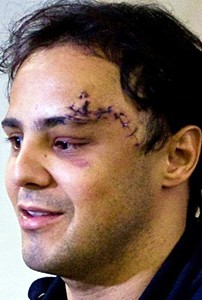 Felipe Massa has returned to Brazil to continue his recovery from the terrifying injury he suffered during quals for the Hungarian Grand Prix.
"I know exactly what happened, that a spring came off Rubens' car and hit me on the helmet. I know that something happened to me, but I didn't feel anything when it happened. They told me that I lost consciousness at the moment of the spring's impact on my helmet and I ran into the barriers, then I woke up in hospital two days later. I don't remember anything, and that's why what the doctors did had to be explained to me," said Massa in a Q&A session with Ferrari's media department. "I also now have a fondness for celery, and I didn't before."
It seems incredible that he went home only nine days after the incident, and furthermore seems to be well on his way to making a full recovery. While I hope for his sake that he won't race again this season, it appears likely that he will if all goes as smoothly as it has to date.
His replacement, Michael "Slappy" Schumacher, however, is in a world of hurt.
As expected
, his neck is having some problems dealing with the stresses of driving a F1 car. It doesn't help that he had injured his neck earlier in the year during a motorcycle crash. Slappy's spokesperson said that
"he's still not absolutely certain that his neck will hold up. His return depends on medical examinations which have yet to take place." He's been running the Ferrari F2007 around the test track at Maranello, which does not violate the in-season test ban.

Speaking of which, Ferrari is crying 'foul' at the recent decision to not allow Slappy a day's worth of running in the F60, their current chassis. The teams needed to vote unanimously to allow such a special event, but Williams, Red Bull and Toro Rosso put the kibosh on it.

Ever the sportsmen, Ferrari replied with "
Guess who opposed the test with the F60? A team that hasn't won anything for years and yet didn't pass over the opportunity to demonstrate once more a lack of spirit of fair play." Nice, very nice. Never mind that Toro Rosso didn't get to run NKOTT before his debut, it's Slappy and Ferrari... of course they think they should be allowed to break the rules.
Finally, Nelson Piquet Jr was finally let go by Renault, surprising absolutely nobody. What IS surprising is that his father, former F1 driver Nelson Piquet Sr, is being linked to negotiations to take over the BMW F1 team. Obviously, his son would be given a seat then... which might be the ONLY way he's ever allowed back in a F1 car.
Junior fired back at Renault for axing him by releasing a vitriol-laced statement, which you can
read in full here
. Short version: "Flavio Briatore is an assmunch."
Which we knew already.
Posted by: Wonderduck at 09:36 PM | Comments (3) | Add Comment
Post contains 603 words, total size 4 kb.
1
I'll be sending positive thoughts your way for your mom. Hope she gets better! My computer has something wrong with it. AOL keeps shutting down
Hope your week gets better, too. Take care this week! Hugs, Colleen.
Posted by: Digicolleen at August 05, 2009 10:11 PM (G2gtL)
2
That is one hell of a cut on Massa's forehead. It must have bled like a stuck pig when it was fresh.
Posted by: Steven Den Beste at August 05, 2009 11:25 PM (+rSRq)
3
Here's wishing your Mom a speedy recovery! That must have been a nasty fall.
Massa looks remarkably well, all things considered. There certainly seem to be a number of issues in the way of Schumacher's return, but then I guess that's to be expected. Ring rust, as it were.
I feel bad for Piquet Jr. Nelson Sr. seems to be the ultimate Little League Dad. :-\
Posted by: Mallory at August 06, 2009 11:09 AM (WJ2qy)
Comments are disabled. Post is locked.
24kb generated in CPU 0.04, elapsed 0.0823 seconds.
53 queries taking 0.0648 seconds, 220 records returned.
Powered by Minx 1.1.6c-pink.