April 13, 2009
Induction Into The Order of the Honorary Duck
FOR MERITORIOUS SERVICE to The Pond, I hereby bestow upon Ken Talton of
Brickmuppet Blog
membership in
The Order of the Honorary Duck
, with all the rights and glory that brings unto him.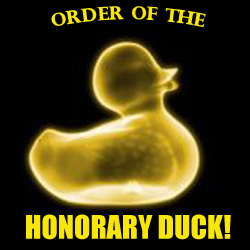 Ken becomes the fourth member of the Order of the Honorary Duck, joining
Pixy Misa of Ambient Irony
,
Don of The Kawaii Menace
, and
Jeff Lawson of Winter Garden
.
While Ken has in the past sent me various things he's picked up in Japan (a mini-Godzilla and some beautiful
Clannad
pencil-boards), nothing could have prepared me for the package that awaited me at the Duck U. Bookstore when I came in this morning.
While I was somewhat apprehensive about opening this rather large package, seeing how he has a history of
sending exploding kiwi after me
, I nevertheless bravely sundered the packing tape. Inside the box?
Yes, he sent me a copy of
Duck! Duck! Go!
, the rubber duckie racing game, as well as a huge number of other duckies. This is very close to the largest number of ducks to be added to my collection at one time, and may have pushed my flock over the 300-duck mark.
He's also amused me with various online chats, deluged me with
completely
inappropriate pictures, and helped me deal with whatever problem I've had. He's also offered to be a tour guide in Japan when I go... because of which fact, I've decided that I WILL go.
In other words, he's been a friend, even though I've never actually met him.
For all of these reasons, Ken Talton richly deserves induction into The Order of the Honorary Duck.
Thanks, Ken!
Posted by: Wonderduck at 07:14 PM | Comments (5) | Add Comment
Post contains 279 words, total size 2 kb.
1
I knew I was forgetting to add something to my Funagain wishlist!
Way to go, Ken!
Posted by: GreyDuck at April 13, 2009 07:46 PM (o5Lvb)
2
Some what off topic: Someone needs to make a model duck representing "The Ruptured Duck." Not withstanding that it was supposed to be an eagle in a wreath, the service men said it looked like a duck in a truss. Of course there was also the B-24 "Ruptured Duck" that flew on the Doolittle raid over Tokyo. That one had the nose art of a frustrated Donald Duck with twisted head phone wires over crossed crutches.
Posted by: toad at April 13, 2009 09:16 PM (zcbXo)
3
It was actually a B-25B "Mitchell" medium bomber... looked somewhat similar, though, particularly with the twin tails (as opposed to twintails).
Posted by: Wonderduck at April 13, 2009 10:28 PM (2+BgR)
4
It's surprising how many people get those two mixed up. The B-24 Liberator had 4 engines; the B-25 Mitchell had two.
I noticed one time that the Wikipedia writeup for the B-25 Mitchell claimed that it was the plane that appeared in the movie "Catch 22", which actually featured Liberators.
Posted by: Steven Den Beste at April 14, 2009 02:58 PM (+rSRq)
5
Save me a spot! Loser buys drinks
Posted by: Digicolleen at April 15, 2009 05:44 PM (G2gtL)
Comments are disabled. Post is locked.
26kb generated in CPU 0.05, elapsed 0.1452 seconds.
53 queries taking 0.1189 seconds, 274 records returned.
Powered by Minx 1.1.6c-pink.