April 05, 2015
Baseball Is Back
In the past, I've sneered at the concept of beginning the baseball season on a Sunday night with a single game. Darn it, the baseball season is supposed to start on a Monday with a game in Cincinnati, followed closely by the rest of the teams. That's the way it was for decades, and if it was good enough then, it's good enough now. I believe in tradition, and Baseball is the perfect sport for such beliefs. Of course, a few years ago, they started the "Opening Night" thing. I've managed to successfully ignore the event... in my mind, baseball still begins on Monday.
Not this year.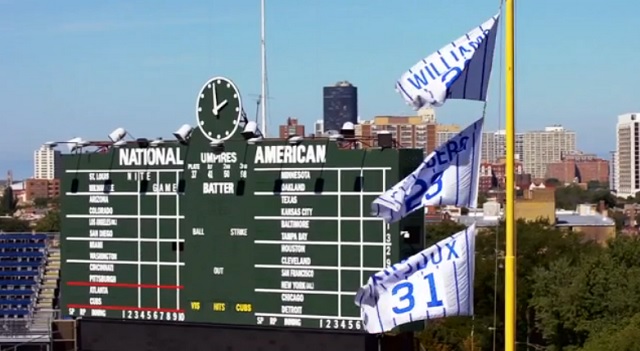 That's because the new baseball season begins tonight at Wrigley Field, with a game between the St Louis Cardinals and my Chicago Cubs. Back in 2009, SDB mentioned that the Cubs had been sold and
asked if it would make a difference
. My answer was "in the short term, no." Left unsaid was that in the long term, it would make a big difference. My short-term prediction was borne out... the Cubs were a very bad team, and the management staff
was
turned over.
What nobody could have predicted is exactly what happened. In 2010, the Cubs brought in Theo Epstein to be their President of Baseball Operations, and Epstein protege Jed Hoyer to be GM. Owner Tom Ricketts said "I don't want this team to be the one-year wonders they've been in the past... I want a team that'll contend year after year. Make it happen." Epstein and Hoyer promptly poured gasoline over the entire organization from majors to the lowest of single-A teams and set it ablaze with a flamethrower. They had found that during the long period of TribuneCo. ownership, the team had been run to make money, not necessarily win games. Fixing it required a total revamp, a head-to-toe concentration on the farm system instead of free agency... and time. Time to let bad free agency contracts expire, time for the farm system to start generating prospects, time for moneys to build up again... and time to bring Wrigley Field into the 21st Century.
Despite threats of lawsuits from the so-called "rooftop owners", businesses that put bleacher seating on the rooftops of apartment buildings across the street from Wrigley and made money by leeching off the Cubs, the team began major repairs and renovations to their park as last season came to a close. The most visible and obvious of these is the huge Jumbotron screen just beyond the left field bleachers. Those iconic bleachers, both in left and right fields, were razed and are in the process of being rebuilt with more seats and added concourse area behind them. Indeed, the outside wall of the park will now come all the way to both Waveland Avenue in left and Sheffield Avenue in right, instead of leaving room for a triple-wide sidewalk. The third-base side concourse is having structural work done, and new bathrooms installed. If you've ever used the bathroom at Wrigley, you understand just how important this is. Additional structural steel and concrete work is being performed all over the park as well, so as to keep this 100-year old park from collapsing in 20 years or so. The bleacher work was supposed to have been completed by Opening Night, but the lousy winter kept that from happening.
As recently as five days ago, this was the way the field looked. It goes without saying that the bleachers won't be finished in time. Indeed, left field is now scheduled for completion sometime in May with right field following along in June. The outside wall of the park is still totally unbuilt, simply blocked off by chain-link fencing and ivy-printed tarpaulins. In just a few days, though, the crews have managed to pretty the place up quite nicely.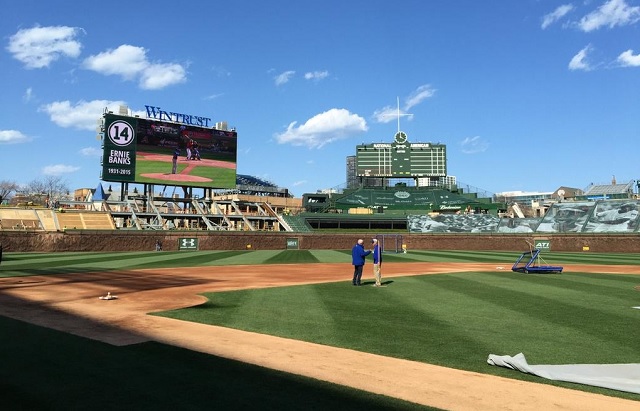 This picture was tweeted out by Cubs catcher David Ross on Saturday. The right field construction is covered with screens celebrating Cubs legend Ernie Banks, who
passed away this past January
. Left field will undoubtedly have something similar, though the Jumbotron is fully functional. In a lovely touch, it's able to mimic the appearance of the center field scoreboard. There are many who believe that Wrigley's charm stemmed from its lack of modernity, and they may have been right... but only to a point. I'd rather actually have Wrigley Field still standing but modernized, than collapsed to rubble with an old-fashioned charm. For make no mistake, that's where Wrigley was heading. They had already been forced to install catch netting under the upper decks to prevent chunks of concrete from hitting the fans below, for example. Amenities for the players were awful: the home team clubhouse was tiny, cramped and little changed from 50 years ago, for example. This brought up the horrible situation where Sloan Park, the new spring training home for the Cubs in Mesa, actually had immensely bigger and better facilities for players than the major league stadium. The remodel will change all that. But what of the actual team?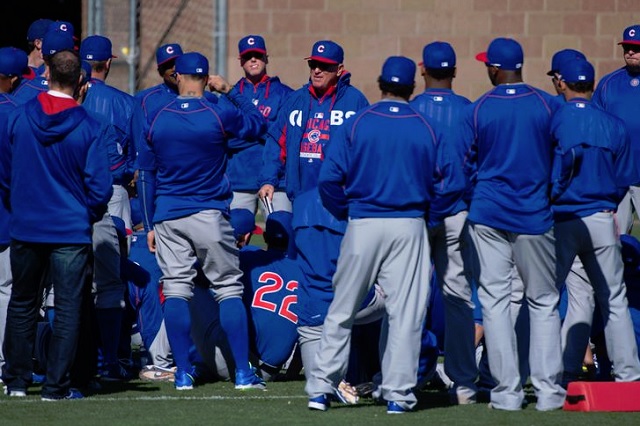 Late last season, we began to see signs that the suffering of the last five years was beginning to end. The Cubs began to give some of their prized minor leaguers a taste of the Big Show, all the while making it clear that they players they brought up weren't even the best they had. Through crafty trades of legit big-league talent for other teams' prospects, and some good old-fashioned scouting of their own, the Cubs farm system went from nigh-on worst in baseball to the unquestioned best. In Kris Bryant and Addison Russell, they have the #1 and #3 best prospects
as selected by

Baseball America
, the bible of minor league baseball. Jorge Soler is #12, Kyle Schwarber #19. Having that many players in the top 20 is unprecedented. Throw in other rookies like Arimendy Alcantera and you've got a deep, deep pool to pull from. This goes along with a young roster of major leaguers headed by all-stars Anthony Rizzo and Starlin Castro, Javier Baez of the massive power numbers (and massive strikeout numbers). Throw in a solid pitching rotation headed by free-agent powerhouse Jon Lester, and you have a team that will certainly be better than 2014's 73-89. Indeed, there are people picking them for playoff contention and even World Series predictions. The biggest acquisition in the offseason wasn't a player, however, but a manager. In December, two time manager of the year Joe Maddon exercised an opt-out clause he had in his contract with the Tampa Bay Rays and joined the Cubs. He has a track record of being an innovative coach who also knows how to get out of the way of his players when needed, perfect for this team. If anybody can get the Cubs to a World Series, it would be Joe Maddon. I don't think it's going to happen this season... I expect something around 82-85 wins; that's still an improvement of nine to 12 wins, a huge amount. But in 2016? Good times are ahead, and that's not just "wait 'til next year" thinking.
And it all starts tonight.
UPDATE @ 1025pm: the St Louis Cardinals defeated the Chicago Cubs 3-0.
Posted by: Wonderduck at 03:19 PM | Comments (3) | Add Comment
Post contains 1206 words, total size 8 kb.
1
And it looks like they continue to do what they do best: break the hearts of their fans.
Posted by: Steven Den Beste at April 06, 2015 12:05 PM (+rSRq)
2
It's one game, Steven. There are six months and 161 games left to go. Hell, I'm predicting them to be just barely above .500. 82 wins means 80 losses... there's gonna be a bunch more to come this season.
Posted by: Wonderduck at April 06, 2015 12:23 PM (jGQR+)
3
A very interesting post! Whether or not the Reds win this year, I certainly would enjoy seeing the Cubbies making an impact. I think every baseball fan would like to see them win a Series, because it's just not right. (Although preferably not against one's own favorite team, of course.)
And that Tribune thing does rather explain the long losing streak. Huh.
Posted by: Suburbanbanshee at April 06, 2015 03:19 PM (ZJVQ5)
34kb generated in CPU 0.0341, elapsed 0.1452 seconds.
49 queries taking 0.1207 seconds, 280 records returned.
Powered by Minx 1.1.6c-pink.