April 12, 2008
Yuri's Night: A Surprising Fact
Tonight is
Yuri's Night
, the annual celebration of Yuri Gagarin becoming the first human in space.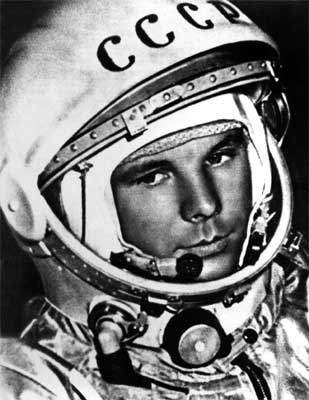 It's amazing to think that we've been going into space for 47 years now. Astronauts, Cosmonauts, Taikonauts, those of other countries, and those of us who have ever dreamed of traveling into the "final frontier", should all raise a toast (vodka and Tang?) to Gagarin, the first of a select few.
But did you know that, during the run of NASA's Space Shuttle program, there have only been 830 crewmembers for all flights (including people who have been on multiple missions)? A VERY exclusive group, considering the population of our planet. Fewer than 500 individuals overall have gone into space. A tiny amount of people from 37 different countries have "slipped the surly bonds of earth and touched the sky."
Now here's the Surprising Fact I mentioned in the title of this post:
Only 734
people
*
have ever driven in a Formula 1 race.
Fewer than the number of Space Shuttle crew. Not that much more than the total number of people who have made it into space.
Who knew?
*
That number includes individuals who drove in the Indianapolis 500 from 1950-1960, when it was considered part of the GP series.
Posted by: Wonderduck at 04:39 PM | Comments (1) | Add Comment
Post contains 212 words, total size 2 kb.
1
Wow.
That is amazimitating
Vodka and Tang...heh!
Posted by: Brickmuppet at April 12, 2008 07:39 PM (DcSb+)
Comments are disabled. Post is locked.
24kb generated in CPU 0.0122, elapsed 0.0962 seconds.
47 queries taking 0.0884 seconds, 276 records returned.
Powered by Minx 1.1.6c-pink.