June 07, 2012
Whar Wonderduck? WHAR?
Some of you may have noticed an odd lack of Wonderduckage on Tuesday. "Oh, but you just didn't put up a post," I hear you saying and could you turn your head a few degrees to the left to improve sound quality, "there's nothing unusual in that. In fact, if you could do that a little more often, we'd all be quite grateful."
To which I reply with lighthearted laughter and another note in the Duck Vengeance book. But enough of this entertaining but essentially pointless banter! The whole thing is that I usually do my F1 on SPEED/TV! post on Mondays. With the 70th Anniversary of the Battle of Midway being Monday, logically I should have moved the F1 on (MEDIA TYPE HERE) post to... Tuesday. Nothing of the sort occurred... it ended up on Wednesday, and not early on Wednesday either. When it comes to my F1 posts, that's quite the uncommon occurrence. So just what in the world was I doing?
Well, this:
Lots and lots of this, actually. 411.7 miles round-trip, 205.3 up, 206.4 back, and no, I don't know what the difference was. Direction: north. Destination: La Crosse, WI. The occasion: annual Regional Manager's Meeting, getting all 20 of the managers in our geographic and financial territory (i.e., we're all in the same general place, and we all do roughly the same amount of sales more or less) together to go over the business strategies for the coming year. Then there was a cookout in a park a couple of miles from the hotel, and the real reason for the meeting became apparent: networking!
Not pictured: 100lbs of ribs, one chicken holocaust. Pictured: largest Weber grill I've ever seen.

And by "networking", I mean "eating grilled meats." Also "eating tasty potatoes," "eating killer Oreo Cheesecake," and "eating too much food in general." For many of us, it also meant talking sports, imbibing adult beverages, and the sort of stuff you do when you're at a cookout with people you know... and please note, I was the rookie of the group. Everybody else had been to at least one of these meetings before (and in the case of about half of us, 10 or more) so everybody knew everybody else... not me, though. I did my best to mingle, chat, etc etc etc., but out of the corner of my eye I noticed something perched at the far end of the park. Something big. Something REALLY big.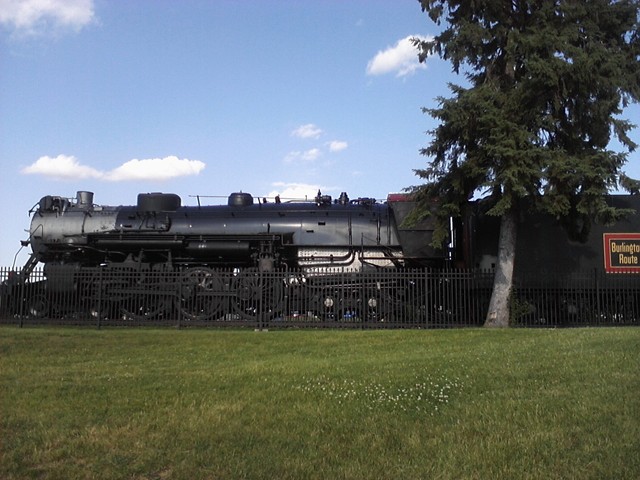 Click for bigger picture.
A bit of research turned up that the 4-8-4 on display had a rather unique history. Originally built as a standard Hudson-class loco, she was brought back into the Burlington shops in 1937 and fitted with a chrome streamlined shroud. Named
Aeolus
, she was to partner with the legendary Burlington
Zephyr
, taking over the route when the
Zephyr
needed maintenance. Of course, nobody actually
called
her "
Aeolus
." Instead, she was nicknamed "Big Alice The Goon", after a character from the
Popeye
comic strip. The shroud was taken by the war effort, and eventually she ended up in La Crosse, WI, cosmetically restored for me to drool over.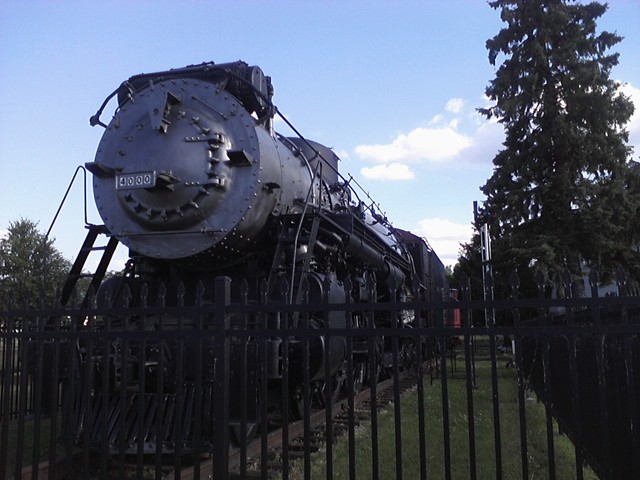 Damn fence.

Alas, all good things had to end, and we returned to the hotel, and another round of meetings early in the morning... but I took advantage of the Wednesday morning sun to get a picture of Wanderduck with the hotel's mascot:
That afternoon as I drove back to Duckford, I passed a sign advertising a convenience store at the next exit that epitomized Wisconsin perfectly. The place had "Diesel, Cheese, Liquor, Bait." That about sums it up, right there.
So that's where I was Tuesday and most of Wednesday. And now you know.
Posted by: Wonderduck at 07:51 PM | Comments (2) | Add Comment
Post contains 620 words, total size 5 kb.
1
A few more friendly "networking" trips to Wisconsin, and you'll be one of us. Might as well order the cheesehead hat now. Resistance is futile!
Posted by: Siergen at June 07, 2012 07:58 PM (PuIGa)
Posted by: Wonderduck at June 07, 2012 09:53 PM (V/OLv)
Comments are disabled. Post is locked.
27kb generated in CPU 0.0529, elapsed 0.4617 seconds.
47 queries taking 0.4532 seconds, 277 records returned.
Powered by Minx 1.1.6c-pink.