April 21, 2015
Star Wars: The New Film
Over at Brickmuppet's place,
there was a lively little discussion
of the
second official trailer
released for the new Star Wars film coming in December. I decided to let it cool down a touch before bringing it over here... and here it is. See, over there I mentioned that I didn't believe it to be so heavily "wow factor"'ed as
the first trailer
. There's no
holy crap that's awesome!
moments, but it still does a great job of getting people, aka "me", geeked up for the movie. Reader David disagreed, saying that the scene showing the crashed Imperial Star Destroyer did the job quite nicely.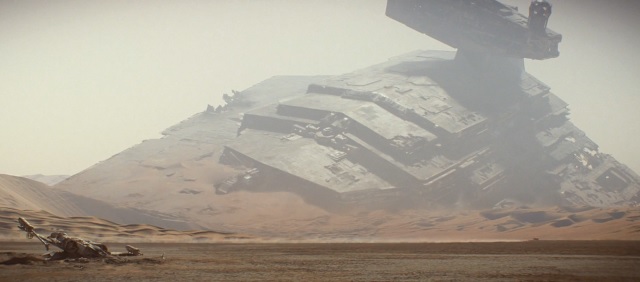 Personally, I was amused by this shot, as I can't imagine any way a 1.6km long starship with obvious battle damage could survive re-entry to an atmosphere and a crash landing that buries most of it under the ground. Yet there it is, essentially in one piece. David also suggests that it's the first time in the series that we get an idea of the true scale of these ships. Really? Because eight-year-old me had a pretty good grasp on the concept after
seeing this scene from the beginning of

Star Wars
.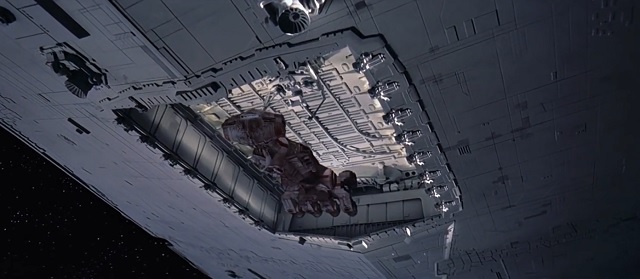 Endlessly long white ship gobbles up the ship it was chasing. White ship big!
Anyway, back to my original point. I still stand by the statement that Trailer #1 was the Wow! Moment for the film, and intentionally so. New director, new producer, new characters, and three
other
"new films" that the series has to have to recover from. Don't concentrate on plot, concentrate on making it feel like
Star Wars
did that first time we saw it as kids.
That's the moment, right there, that did it for me. Three X-Wings in formation, S-foils in attack position, racing at full power across the surface of a lake. Though there was nothing like it in the Original Three films, it immediately took me back to being 10 years old, watching
SW:ANH
for the 10th time in the theatres.
And that's exactly what
Star Wars VII: The Force Awakens
, has to do. Make us feel like we were kids again. I hope they manage it.
Posted by: Wonderduck at 09:33 PM | Comments (1) | Add Comment
Post contains 366 words, total size 3 kb.
1
I'm cautiously optimistic that it'll be a film I can enjoy. That's also about the extent of my emotional attachment to this new movie, as it's been a long long time (since childhood, really) since Star Wars was a big "thing" for me. (That's not a value judgment, mind you! I speak only for myself!)
Looks cool, though. Here's hopin'.
Posted by: GreyDuck at April 22, 2015 01:54 PM (3m7pZ)
28kb generated in CPU 0.0153, elapsed 0.4939 seconds.
49 queries taking 0.4843 seconds, 278 records returned.
Powered by Minx 1.1.6c-pink.