July 27, 2011
Speaking About Blogging
The more regular of you, my readers,
probably need less fiber in your diet
likely have noticed a decline in the amount of posting going on here at The Pond in recent weeks. This is a direct reflection of the amount of time and energy I have these days. Thanks to the situation at work, I get home, make something to eat, then collapse in front of the telly. Generally I'm out of Pond Central by 8am or so, and get home somewhere between 630pm and 7pm.
In between, I'm trying to do the job of two people. One of the jobs, my usual, is running the sales floor, training the two temps we've hired for the beginning of the school year, helping customers, unboxing inbound shipments, and on and on. The other job is that of Manager until we get a new one, which is looking like it won't happen after the school year starts. At this time of year, that job is basically one of paperwork; dealing with faculty that haven't told us what books they want to use, ordering textbooks, receiving (though I do/did a lot of that, too), coping with vendors, so on and so forth.
Problem is, the two jobs are not compatible at this time of year. One requires that one spends their entire day on the telephone and computer, the other needs be on the sales floor the whole time. As a result, it seems like a miracle I get anything accomplished in either job. Is it any surprise I'm wasted by the time I get home? I'm not even watching much in the way of anime... and I don't seem to care much.
Which is not to say I don't have some things planned. Obviously there's the upcoming Hungarian Grand Prix. There's also a post about
High School of the Dead
in the works, if I can get the time to do it. Might be a WWII thing perking around in my brain, too. Any requests would be appreciated as well.
One good thing about all of this, though... thanks to BBC America, I've seen the entirety of the new
Doctor Who
TV series, in order, up to the midpoint of Season 3 ("Evolution of the Daleks."). For the record? Not a big fan of Christopher Eccleston's Doctor. Too angry for my tastes. DO like David Tennant, though. Rose was a really good Companion, but oh my stars and garters is Martha Jones stunning! Wow.
I said that out loud, didn't I?
Right. Rambling. I'll try to blog more, if I get the chance. Here's an unrelated picture.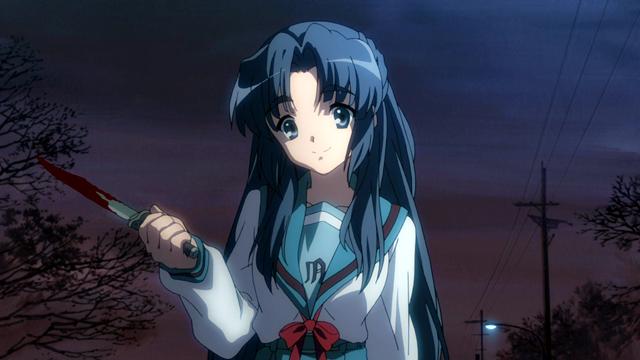 -
Disappearance of Haruhi Suzumiya
Posted by: Wonderduck at 09:47 PM | Comments (2) | Add Comment
Post contains 443 words, total size 3 kb.
1
Unrelated he says....
2 days from now we'll all be discussing the warning signs that seem so obvious in retrospect but never occurred to us at the time and we'll blog about it and do interviews in which we'll describe him as a loner, a quiet guy, obsessed with military history and formula one racing...and ducks...rubber ones.
Posted by: brickmuppet at July 28, 2011 10:25 AM (EJaOX)
2
If one only encounters ducks in public parks, one might assume that they always quack. Hence, many assume that an absence of quacking equates to an absence of ducks. This is
not
true!
Ducks quack loudly in public settings purely to set their intended prey at ease. A flock of ducks "one the hunt" is deadly silent. Indeed, when you hear nothing at all, you are at greatest risk!
As the old Iroquois saying goes (loosely translated), "In the still of the night, death comes swiftly on webbed-feet"!
Posted by: Siergen at July 28, 2011 05:29 PM (Za5nM)
Comments are disabled. Post is locked.
26kb generated in CPU 0.04, elapsed 0.1022 seconds.
53 queries taking 0.0821 seconds, 271 records returned.
Powered by Minx 1.1.6c-pink.