December 09, 2009
Snowmageddon 2009: The Snowmanator: Snow Day!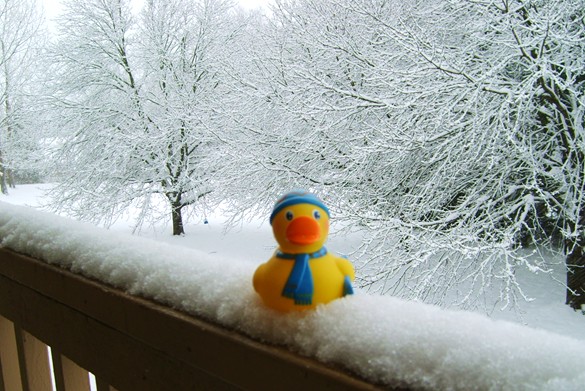 Snow day! Yesterday morning, there was nothing on the ground... the above is what greeted me when I stuck my head outside. The University of Wisconsin-Madison, about 70 miles north of here, has closed for the first time since 1990. Duckford has gotten around 10 inches, with another 1"-4" expected by the noon.
However, the bad part is going to be the wind. We're expecting whiteout conditions later as the wind picks up. Roads are lousy, according to the live chat taking place on one of the Duckford TV station's website, with pretty much everything outside of the city itself being dangerous and impassable. In city, only the major East-West streets are clean; North-South are bad because of drifting. The plows come through, but the wind just blows it over again.
A couple hours to our west, in the Quad Cities, Iowa, they're reporting blizzard conditions and emergency vehicles stuck in city centers. That's what we've got to look forward to, yay! I'll update occasionally during the day.
Posted by: Wonderduck at 08:07 AM | Comments (3) | Add Comment
Post contains 174 words, total size 1 kb.
1
Here's your chance to finish watching Banner!
Posted by: Steven Den Beste at December 09, 2009 10:43 AM (+rSRq)
2
OMG! On one hand, the picture is a beautiful winter wonderland. On the other, people have to go outside and deal with all that.
Hopefully it won't hang around long.
Posted by: Mallory at December 11, 2009 03:35 PM (WJ2qy)
3
Wow! Look at all that snow! Cool shot! Now go out and play, Susie Snowboard!
Posted by: Digicolleen at December 14, 2009 08:53 AM (8ujY0)
Comments are disabled. Post is locked.
24kb generated in CPU 0.0121, elapsed 0.0936 seconds.
47 queries taking 0.0868 seconds, 278 records returned.
Powered by Minx 1.1.6c-pink.