March 29, 2020
Saturday Fright
A short while after I wrote the prior post, I'm watching a twitch stream when the streamer disses Chicago-style pizza with the usual "casserole" comment... which always makes me wonder how they grew up when this...
...looks like a casserole to them. Must have been a strange childhood, but I digress. I immediately stood up and told him to "bite my shiny Chicago butt" at about the same time someone else ripped into him as well. As it turns out, the two of us live relatively near each other, with him being about 25 miles away. A pleasant coincidence indeed, but nothing more than that really.
And then a while later, he announced in chat that the sirens had just gone off, that there was a tornado warning, and he was heading for the basement. Now, the weather had been bad all day, but not BAD bad. After wishing him luck, I hopped onto a local tv station's weather facebook page to see what was what... and they were streaming live which is never a good sign. They were talking in serious tones and looking at live doppler radar image closeups and sure enough, there was a pretty obvious spot of bother...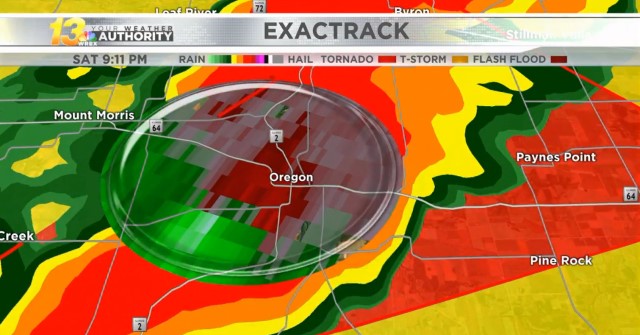 I mean, obvious enough that someone who had never seen a weather radar could have spotted it as meaning
something
. A few minutes watching, and bam... they declare it's probably a tornado, no way of knowing if it's on the ground however... and it's right over the town my new chat friend lives in. A few tense minutes passed until he popped back up in chat... they had just been given the all-clear. Phew, good news! Until the weather nabobs said that Duckford was now under a tornado warning... from the same storm! It was a fast mover, too... 60 or 65 mph. They spent the next half-hour following the storm as near to live as possible, and the more time passed, the worse things got.
At this point, we were about 10 minutes away from having a tornado hit Duckford, and if the predicted path held firm, it'd be passing about a half-mile or so to the west of Pond Central. It was at this point that I shut down my computer, grabbed a couple of battery-operated lamps, pulled a heavy comforter off my bed, and took up position in the hallway outside the loo, where I also called up the facebook stream on my phone. Blanket fort for the win, I guess.
Pond Central has had bad weather moments before. A few of them had driven me to the hallway just in case. But never before had I really wished I lived in a first-floor apartment, which are mostly below ground level in my building (built into a hillside). Instead, all I could do if it looked like the tornado was going to hit was get in bathtub, pull the heavy vinyl curtain closed, thrown the comforter over my body, and hope it all worked out. The live stream kept coverage on it going, imploring everybody to get to cover immediately. And then... the rotation weakened as it approached the vicinity of the Duckford Airport, then basically broke up altogether as it entered the city limits. We don't know if the tornado had been on the ground all the way from Oregon, or if it had touched down for a bit then lifted back up while still being a threat, or what. What Duckford got was torrential rain... the Airport reported a rate equal to five inches/hour... but that was it.
Back where the tornado had definitely touched down, there were many power poles down, a farm had its dairy barn, outbuildings, and home destroyed (nobody was there at the time), and for a few moments there was a distinct possibility we'd find out what would happen if a nuclear plant was hit by a tornado. Fortunately there were no injuries reported. The National Weather Service was on site today trying to figure out details of the tornado... strength, how long it was on the ground, that sort of thing... hopefully we'll know more on Monday. Impressively, the weather nabobs had predicted where it would have hit Duckford almost exactly. It would have missed Pond Central, but by less than a half-mile or so.
I'm still a little freaked out.
Posted by: Wonderduck at 05:16 PM | Comments (7) | Add Comment
Post contains 726 words, total size 5 kb.
Posted by: GreyDuck at March 29, 2020 09:28 PM (rKFiU)
Posted by: JT at March 30, 2020 09:14 AM (arhpx)
Posted by: fillyjonk at March 30, 2020 05:00 PM (+MBAo)
Posted by: Ed Hering at March 30, 2020 05:17 PM (/cXdK)
Posted by: Pixy Misa at March 31, 2020 04:40 AM (MqQvv)
Posted by: Kathryn at March 31, 2020 12:44 PM (rWZ8Y)
Posted by: Brickmuppet at April 01, 2020 09:18 AM (5iiQK)
28kb generated in CPU 0.04, elapsed 0.1114 seconds.
55 queries taking 0.0885 seconds, 226 records returned.
Powered by Minx 1.1.6c-pink.