August 26, 2010
Pocky Ninjas!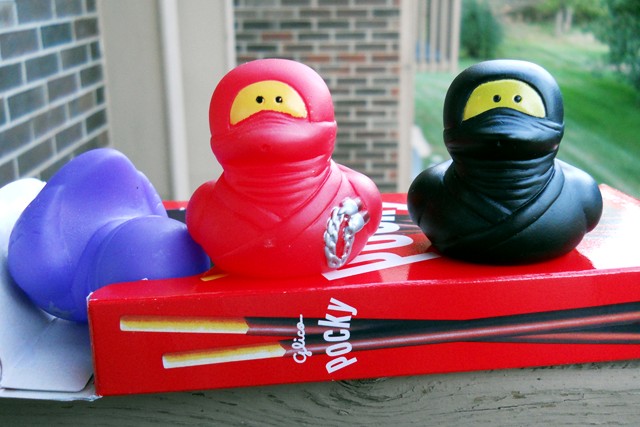 Flushed with the excitement of a successful hunt, the Pocky Ninjas pose with their latest victory. Many had fallen to their stealthy ways, and many more would fall in the future, but this one was their greatest conquest.
To be sure, the Pocky Ninjas always believed their most recent triumph to be their greatest, for they had great respect for their prey. They were aware that there were those that thought their views to be anachronistic in these modern days. Many rivals scoffed at them behind their backs they knew, but they paid the nattering no mind: none save the infamous Yam-Yam Pirates could boast a string of victories nearly as long as theirs, and the Pirates still had quite a ways to go before they could be considered "equals."
If you wonder, late at night, where all your tasty cream-covered biscuit sticks have gone to, it's a sure bet that the Pocky Ninjas have paid you a visit. You will never notice until it's too late, and there's nothing you can do to stop them.
Posted by: Wonderduck at 09:17 PM | Comments (5) | Add Comment
Post contains 178 words, total size 1 kb.
1
This explains why the import market near my home is so often out of Pocky. They have the cardboard display rack, but there are no boxes of Pocky-goodness in it...
Posted by: Siergen at August 26, 2010 11:02 PM (WLKpA)
2
I can't figure out what the blue one is doing. Looting the corpse?
Posted by: Steven Den Beste at August 27, 2010 10:58 AM (+rSRq)
3
...eating the Pocky, no?
Posted by: Avatar at August 27, 2010 01:36 PM (pWQz4)
Posted by: Wonderduck at August 27, 2010 06:31 PM (ODvBe)
5
For some reason, we have pocky all over the place in Wichita. I OD'd on it, and then never had the urge to ingest more. I did find a variant with a sort of creme filling that I liked.
What I cannot seem to find here, are any more of the ducks with flashing LEDs.
Posted by: dkAllen at August 30, 2010 08:20 AM (1PFDl)
Comments are disabled. Post is locked.
21kb generated in CPU 0.03, elapsed 0.1185 seconds.
53 queries taking 0.0947 seconds, 221 records returned.
Powered by Minx 1.1.6c-pink.