December 29, 2012
Nightmares And Sleeplessness
It's three-thirty in the morning and I can't go back to sleep. I woke up about a half-hour ago, a nightmare still fresh in my mind... and it was a very discouraging nightmare it was indeed.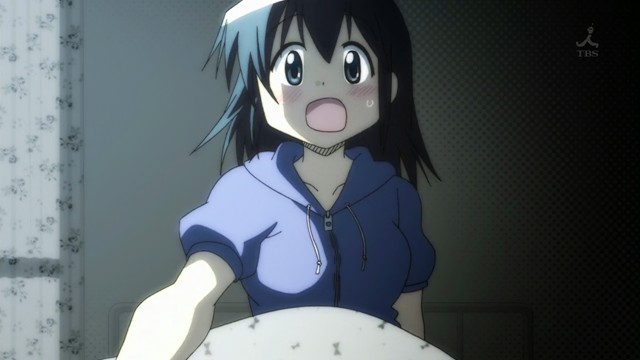 I was sitting at my desk in the back room of the Duck U Bookstore, doing something involving paperwork and computers. This is also known as "80% of my job", by the way. So there I was, and it was clearly before the store opened. This makes sense, as that's the situation we've had this week with our noon-to-four holiday schedule, and I've been going in at 10am. Anyway, I'm sitting at my desk, shuffling woodpulp and electrons, alone in the store... and someone says "hello? Hello?" I poke my head around the dividing wall, and...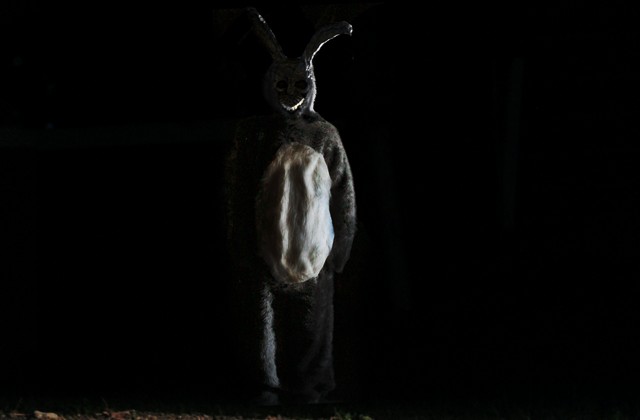 ...there's a guy standing there with his son. He's clearly just dropped off a number of boxes, like he's FedEx or something, Of course, I'm wondering just what in the world he's doing in the store, since the lights are all off, the store is closed and won't be open for a couple of hours. "Delivering those boxes, and the key is in the door." Hearing this, I reach down for the carabiner keychain I always carry on my beltloop when I'm at the Duck U Bookstore, and...
...it's not there. I look, and it's in the big sliding glass door, and I have no idea how long it's been there. And that's when I woke up, terrified and sweating and swearing. *shaking head* I'm glad I've got the next four days off for the New Years holiday... work dreams are never a good sign.
But now I'm awake at three-fifty-one on a Saturday morning, and knowing myself, I won't be able to go back to sleep for a while. This is the point where I lean back, give a deep sorrowful sigh, and do something like read a book or whatever, so I'm going to do that, I think. Here's a
Skyrim
cow to keep you busy for a while.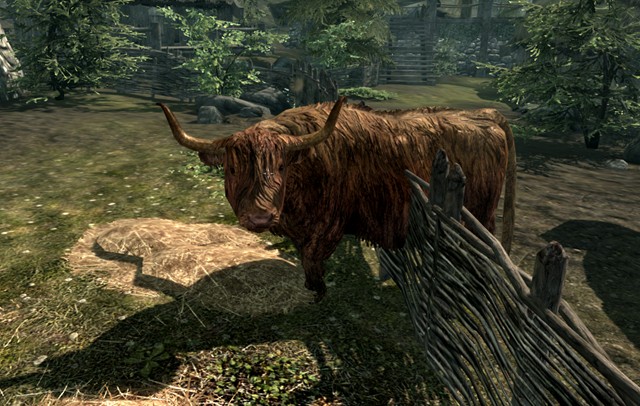 There's something about this picture that makes me laugh... or, at this moment, give a small tired smile because it's 401am and it's too darn early for me to laugh out loud. Yes, it's nearly bisected by a fence, but that's not the "something". I think it's more the look on its face. I'm talking about the look on a digital cow's face at four-twenty-seven in the morning. I really need to be back in bed. I'm gonna give that a shot.
Posted by: Wonderduck at 04:27 AM | Comments (5) | Add Comment
Post contains 428 words, total size 3 kb.
Posted by: GreyDuck at December 29, 2012 10:52 AM (xbP2x)
Posted by: brickmuppet at December 29, 2012 12:39 PM (vp6an)
Posted by: cxt217 at December 29, 2012 04:26 PM (lsVve)
Posted by: Ben at December 30, 2012 02:33 PM (/Mdmg)
Posted by: Wonderduck at December 30, 2012 03:27 PM (cymHZ)
Comments are disabled. Post is locked.
27kb generated in CPU 0.0526, elapsed 0.5835 seconds.
47 queries taking 0.5515 seconds, 280 records returned.
Powered by Minx 1.1.6c-pink.