October 06, 2012
Music While You Wait
While the hours tick down until the Grand Prix of Japan, I am enthused to bring you some music that I've never heard before this morning. For all of you who don't like music, here's a shaved alpaca: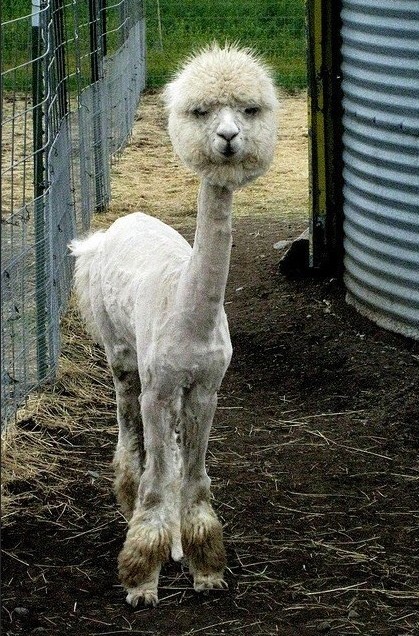 For those of you who do like music, click and let's go!
Today I learned there's a genre of music called "electroswing." I'm in love. Take swing music or a reasonable facsimile thereof, mix in a modern dance beat and groove baby groove!
Caravan Palace - Clash
Unlike most electronic "bands" that are usually just a DJ and a drum machine, Caravan Palace is an actual
group
, and
man
do they rock!
Caravan Palace - Clash (live)
I've read comments to the effect that electroswing is dance music for steampunks, and I don't think that's too far off the mark.
Emmanuel Bravo - Blackstripes
Electric Swing Circus - The Penniless Optimist
Really, how can you not dig this? Maybe not as a full regular diet, but once in a while? Baby.
Okay, this one isn't electroswing, but it amused me:
Somewhere, The Librarian is planning new and inventive ways to cause me severe death.
Also not electroswing, but too cool not to post:
Diablo Swing Orchestra - Balrog Boogie
There, that should keep you little brats out of trouble for a while!
Posted by: Wonderduck at 08:35 PM | Comments (3) | Add Comment
Post contains 224 words, total size 2 kb.
1
Thank you for bringing this genre to my attention.
Posted by: Mauser at October 06, 2012 11:43 PM (cZPoz)
2
Seriously, it makes me want to dance like I'm in a Max Fleisher cartoon.
Posted by: Mauser at October 07, 2012 01:03 AM (cZPoz)
3
I am delighted that this "style mashup" exists, and some of it really is brilliant & fun. For instance, I
really wish
that eMusic had that "Penniless Optimist" track available, I'd snap it up in a heartbeat.
My main problem with some of the tracks, though, is that the artists seem to think (in more than a few cases, anyway) that sample + beat + looping for three minutes = great music. Which... no. If there's no variation or progress toward a destination, I lose interest in a hurry. (Also: Why I prefer BT to Tiesto, in general.)
Posted by: GreyDuck at October 07, 2012 09:56 PM (xbP2x)
Comments are disabled.
26kb generated in CPU 0.07, elapsed 0.2153 seconds.
53 queries taking 0.1743 seconds, 277 records returned.
Powered by Minx 1.1.6c-pink.