April 17, 2012
Meanwhile Lurking By A Stone In The Mud...
As has been chronicled repeatedly on this here blogthing, as a young fledgeling I was quite into this "music" thing that everybody's been talking about for a while now. While my tastes tended more towards the Go-Gos, Devo, ABC and others of the "new wave" bent, there was a small portion of my brain that leaned towards what would now be called "Prog Rock" or perhaps "Art Rock." Mind you, I didn't think of it that way, I just found it musically...
interesting
, in a way that even the more avant-garde groups I listened to (Joe Jackson, your table for one is ready) weren't. Bands like
Yes
, the
Moody Blues
(Vaucaunson's Duck, please crank your volume),
Rick Wakeman
,
Pink Floyd
and their ilk... not my main fodder, to be sure, but not entirely unheard at the Olde Home Pond. One day, an odd little album made its way into my feathery little wingtips. This record was reviled by many of the long-time fans of the group that made it for being too different. This record was
also
reviled by many of the new fans of the group that made it for being not pop enough.
The album is called
ABACAB
, and it's by the group Genesis. While these days Genesis is best known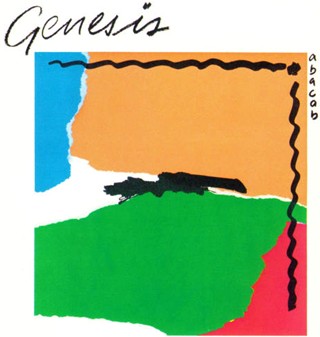 for their catchy
Top-40 radio hits
, they weren't always that band. Originally led by Peter Gabriel, they were (to my ears) a particularly "out there" Prog Rock group, one that was barely listenable at all, despite being particularly talented musically. When Gabriel left the band, the drummer for Genesis, Phil Collins, stepped up and took over the lead vocals. They also took a more "radio-friendly" turn with their music at the same time. While their 1980 album
Duke
had a couple of crowd favorites for concert play, it was
ABACAB
(1981) that pushed them off the ledge into the abyss of Top-40 radio. The track "
No Reply At All
" borrows the horn section of the band Earth Wind & Fire to great effect, and is probably the reason I bought the vinyl in the first place (even as a young'un, I dug the horns). Add the
title track
and "
Keep It Dark
", and you've got a album full of catchy hooks and pop fame forever, right?
Um... no. Because on the flip side (ask your parents, kids) of the record, you've got some seriously odd things. "Dodo/Lurker", with its strange spoken-word drop, "Man On The Corner" which tried to bring attention to the homeless problem, and perhaps my favorite track on the album, "Who Dunnit?", which is pure lyrical weirdness. It's no surprise that the long-time fanbase of the band tended to hate
ABACAB
with the fire of a thousand suns, while the ones that jumped on board because of the singles often found the rest of the album to be not what they signed up for.
Despite this dichotomy of musical styles, ABACAB was on the UK Album Charts for 27 weeks, and reached #1 for two of them. It didn't do that well at all in the US.
So why do I mention this odd conundrum of an album up here at The Pond? Because, for all of its faults and it has several (not least of which is a tendency towards overproduction), I was always quite fond of it. While the track selection on the album may tend towards the bizarre, there's no denying the musical talent on display, nor its ability to keep you interested in what's going on. And, as I was leaving the pharmacy where I get the "keep Wonderduck alive" pills every month, there was the remastered edition of
ABACAB
staring me in the face from a bargain rack, for the low low price of $4.99. Of course I couldn't resist buying it on the spot.
As soon as I got home, I began listening to the CD and discovered something incredible... I could still remember the *pop*s and *click*s my old vinyl copy had, and found it weird that the CD didn't include them. Of course it wouldn't, that's obvious, but in my mind, the album has them and that's that. It's still an excellent collection of music, however... not bad for a 31-year old album that pissed off most of the group's fans.
I wonder what friend
GreyDuck
, a Genesis fan hisownself, thinks of it?
UPDATE
: I forgot to mention something I found out many years ago... the movable lighting instruments that we see everywhere these days? Like at this
Pink Floyd concert
, for example... they were invented by what eventually became
Vari-Lite
for Genesis' concert tour promoting this album. Lighting Designers everywhere rejoiced.
Posted by: Wonderduck at 10:19 PM | Comments (6) | Add Comment
Post contains 784 words, total size 6 kb.
1
Well, I had a moderately detailed comment in the works, then I made the egregious mistake of opening a tab in my browser and my computer bluescreened.
Sigh.
To sum up, while my computer's still alive:
ABACAB
is quite the pivot point for Genesis, coming right after Phil's first (huge) solo success, and turning the band from more of a "Tony And Mike, Plus Phil" thing into a full-on trio. Collaborative jam sessions were in, guys bringing mostly-completed material into the studio from outside the room were largely out. The results are, as you've heard, rather hit-or-miss.
(I knew the subject of this post just from the title, since "Dodo/Lurker" is one of my all-time favorite Genesis tracks. Yes, this reveals a lot about me, I know.)
Honestly, the only track I really don't like is "Who Dunnit?" The rest of it holds up really well against the Genesis catalog, and is by far my favorite of the post-Hackett-transitional records.
I think that to understand Genesis you have to understand that, as a band, they were compelled to do something just a bit weird every few songs, even toward the end. Since this is an impulse I can identify with... there you go.
As an aside: Their first "big hit" came from the first post-Steve-Hackett record,
And Then There Were Three
. And it's not Phil Collins' fault, but rather Mike (later also of + The Mechanics) Rutherford is to blame... the sappy, reggae-tinged "Follow You, Follow Me." I can't stand that song...
Posted by: GreyDuck at April 18, 2012 07:39 AM (Buiw/)
2
I don't know why, and there's probably no real justification for it, but I've always felt that
Duke
was more of a Phil album than
Abacab
. It had very little in the way of old-Genesis weirdness. Still and all,
Duke
's my favorite of the post-Hackett albums. It just has a certain Eighties-existential ferocity which I found appealing.
And yeah, Who Dunnit? is an annoying damn track. I've heard worse in prog-rock - I had a friend re-cut my copy of Jethro Tull's
A Passion Play
to cut the horribly twee spoken-word rant in the middle so that I could listen to it without cringing - but that track was grating.
Posted by: Mitch H. at April 18, 2012 11:56 AM (jwKxK)
3
Mitch, a non-annoying edit of
A Passion Play
almost sounds interesting. Almost. I
like
Tull but not enough to seek out new ways to hear rubbish efforts.
And really, between
Duke
and
Abacab
you can't go wrong with either. I think that
Duke
is a vastly more cohesive listening experience... arguably the last Genesis album you can say that about, come to think of it. But with lyrics like you get in Guide Vocal (and thus Duke's End) and Heathaze, Tony's adorably clunky wordsmithing is still front-and-center. *wry grin* (Hey, I can poke fun. I own all of his solo records. He has his gifts, but he's never been the world's greatest lyricist.)
But anyway: Great post, Mr. Duck. Now to go "put another... record on..."
Posted by: GreyDuck at April 18, 2012 09:15 PM (Buiw/)
4
So... do you go for the Doctor Who interpretive theory of the album, or do you think it's total rubbish?
"Keep It Dark" and "Me and Sarah Jane" are arguable, and of course the latter provided some awesome fanvids. But the rest of it, not so much.
Posted by: Maureen at April 21, 2012 08:50 AM (fGqjI)
5
I did wonder about "Me and Sarah Jane," to be honest, but that's only been recently. At the time the album came out, I don't think I knew there had been a companion named Sarah Jane (I started watching with Tom Baker).
Posted by: Wonderduck at April 21, 2012 09:04 AM (PVVuW)
6
No, I'm pretty sure that Doctor Who has nothing to do with the album. The band only ever actually did one "concept" record, and
that
one was (by all accounts) quite a debacle... it cost them Peter Gabriel, for starters.
Posted by: GreyDuck at April 22, 2012 11:49 PM (Buiw/)
Comments are disabled.
34kb generated in CPU 0.0213, elapsed 0.5997 seconds.
47 queries taking 0.5893 seconds, 281 records returned.
Powered by Minx 1.1.6c-pink.