November 22, 2010
"If You Don't Like The Weather...
...just wait a few minutes, it'll change," is a saying you hear a lot here in Illinois. Strangely enough, there's often a grain of truth to sayings like that. The day started with oodles of rain, but by the time I got to Duck U., it was bright and sunny if a little windy. Around 245pm, I stepped out of the Duck U Bookstore and... it was around 70 degrees, dark, with heavy clouds being blown across the sky at high speeds, and near constant thunder that actually made me laugh out loud. It sounded
exactly
like a "thundersheet," or a big sheet of aluminum that stagehands flex for thunder sound-effects. Thinking nothing of it, I went back into the Bookstore.
A few minutes later, I heard a strange warbling sound, one that I've only heard on the second Tuesday of each month. Rubba
what
? Then my e-mail chimed... it was Duck U Security, saying get to the basement Auntie Em, it's a twister! And lo, it was:
It touched down in the vicinity of the intersection Riverside and Perryville, two fairly major streets about five miles Northeast of Duck U, and headed Northeast towards the nearby state park... and a little village named Caledonia. In Caledonia there was substantial damage, though no serious injuries at all. Which is a relief, because when it touched down there was a School Bus right nearby.
The bus was thrown off the road and knocked over; five or six (reports vary) children and the bus driver suffered minor injuries, but nothing more.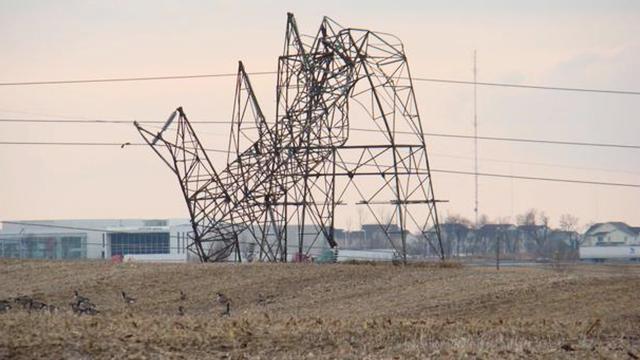 At one point, somewhere north of 46000 people were without power though as of 630pm that number had dropped to around 10000. Eyewitnesses report something like four high-voltage towers were ruined, and one power substation reportedly has significant damage so it might be a while before those people see electricity again. The waterfowl in the foreground had nothing to do with the damage, I can assure you.
Just to assuage any fears anybody may have, Duck U is fine, completely unharmed. The sirens went off all over Duckford. I never even went to the basement of the building the Bookstore is in, preferring instead to follow the weather radars on computers in Admissions. It was pretty clear from the looping screens that we had nothing to worry about.
"If you don't like the weather, just wait a few minutes... it'll change." Sometimes though, it doesn't change to something good...
UPDATE: Here's video of the tornado!
Near as I can tell, this was taken from one of the gazillion subdivisions springing up all over that side of town. We actually got quite lucky; if it touched down about two miles to the southwest, it would have smacked a rather populated part of the Duckford metroplex. The damage track is supposedly a half-mile wide... fairly substantial.

Posted by: Wonderduck at 07:06 PM | Comments (1) | Add Comment
Post contains 478 words, total size 3 kb.
1
There are a couple of things we don't get here in the Willamette valley: tornadoes and cockroaches.
And I don't miss them at all.
Posted by: Steven Den Beste at November 22, 2010 08:41 PM (+rSRq)
Comments are disabled. Post is locked.
26kb generated in CPU 0.1061, elapsed 13.5756 seconds.
47 queries taking 13.5651 seconds, 276 records returned.
Powered by Minx 1.1.6c-pink.