September 29, 2010
Ich bin ein Ente...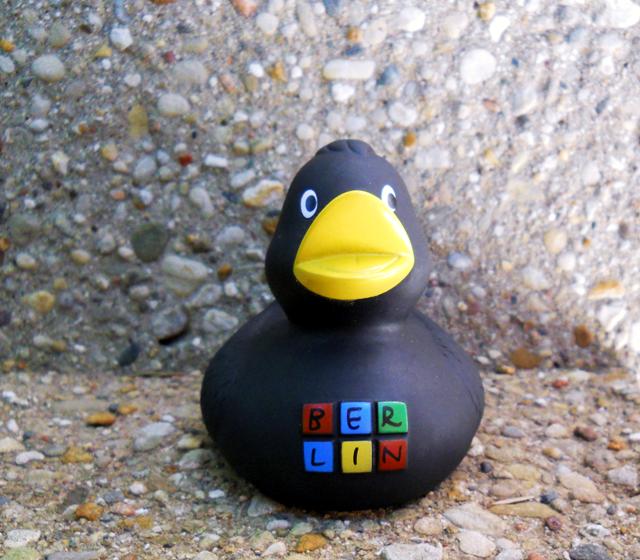 The story behind this duckie just takes my breath away. The father of one of my old high school flock (Marty Suspenders) stopped into the Duck U Bookstore a couple of weeks ago. I was surprised, as I hadn't seen him in years, but he just stopped in to chat. Very cool catching up with him, but when he mentioned he was going to Germany, I asked him to beg, steal or borrow a duckie from that European country. Now, I ask anybody who's going overseas (heck, a trip of any duration) to look for rubber duckies from their destination, but only once has there ever been a result. In my dreams, right? I've gotten the distinct impression that rubber duckies just aren't all that common in most countries of the world.
Anyway, Suspenders the Elder walked back into the store on Monday with the above duckie and a world of smiles. He and the friends he was visiting were on the Metro, on their way to go dancing in Berlin (for some reason, I never picture people in Berlin dancing), when at a stop he saw this kiosk selling, amongst other fripperies and geegaws, the Berlin duckie! Of course he picked it up for lil' ol' me, and off they went with Mr S trying to explain about the weird friend of his son...
What he didn't realize, he told me, is that the duckie had already fallen out of his jacket pocket and gotten lost in the crowd, which must have been sheer torture for the Berlin duckie. Imagine being told you're going to America to hang out with 400+ rubber duckies, and then have that dream taken away from you... yeesh! But, surprisingly enough, Mr S found the duckie in the Metro station on the way back. Dramatic tale of duckie rescue! Then it made the long flight back to Duckford and into my wings and a happy introduction to the rest of the flock here at Pond Central.
That's it, that's the whole story. Pretty darn cool, huh?
Posted by: Wonderduck at 05:53 PM | Comments (5) | Add Comment
Post contains 346 words, total size 2 kb.
Posted by: GreyDuck at September 29, 2010 11:06 PM (7lMXI)
Posted by: Wonderduck at September 29, 2010 11:20 PM (blg68)
Posted by: Vaucanson's Duck at September 30, 2010 09:22 AM (XVJDy)
Posted by: digicolleen at September 30, 2010 04:50 PM (DUCCO)
Posted by: Wonderduck at September 30, 2010 07:34 PM (blg68)
Comments are disabled. Post is locked.
26kb generated in CPU 0.0202, elapsed 0.5966 seconds.
47 queries taking 0.5877 seconds, 280 records returned.
Powered by Minx 1.1.6c-pink.