April 24, 2010
Hercule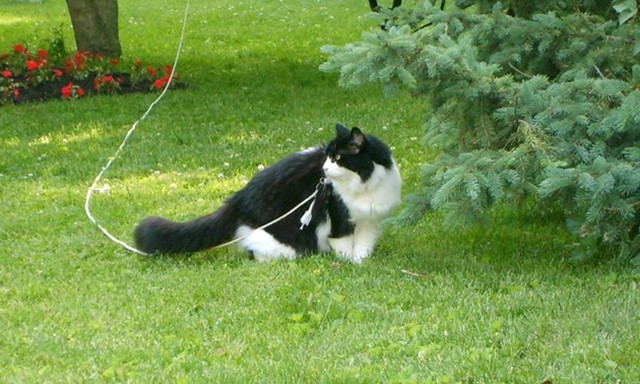 Where
Rumpole
was basically my cat, his counterpart Hercule was Ph.Duck's kitty. Together, the two of them were a more furry version of Laurel and Hardy. Where Rumpole was a big, dumb, lovable galoot, Hercule was the epitome of what one thinks of when you think of a cat... aloof, independent, reserved, dignified, dexterous yet capable of extreme moments of silliness. All of it in a small fur-covered frame. I always called Hercule a medium-hair; his fur was too long to be a shorthair, but too short to be a longhair. Still, it always seemed like he was mostly fur... the biggest he ever got was 12 pounds, where Rumpole nearly reached twice that size (muscle for the most part).
When Rumpole died two years ago, Hercule lost a bit of his zip... which was understandable, as they'd been together for 15 years or so, ever since Hercule was one. Shortly after Momzerduck passed away last September Hercule, then nearly 18 years old, got very ill. His kidneys weren't working well, and amongst other things, Ph.Duck had to "top off his tank" every day with an IV bag so Hercule would be hydrated. He was down to 6 pounds, moving kinda slow as you'd expect an 18-year-old cat to do, but still (mostly) happy. Just a couple of weeks ago he was (slowly) chasing after a laser pointer and nomming catnip.
Earlier this week, Hercule jumped off Ph.Duck's bed and... well, we're not sure exactly. What we do know is that for a couple of days, his right front paw was, for all intents and purposes, dead. Maybe he sprained it, maybe he threw a small blood clot, maybe it was a pinched nerve. It came back, though, and we sighed a sigh of relief. This afternoon, as Ph.Duck and I were watching the
GP of China
, Hercule started yowling. When Ph.Duck went to check on him, he found Hercule on the screened-in porch, dragging himself using his front legs. His hind legs and tail were no longer working... much like the front paw earlier.
We bundled him up and took him to Dr Kathleen, the vet that's cared for all of the family's pets for 30 years or so. The Doc performed a quick but in-depth examination, and made it clear that it might clear up... or it (more likely) might not. Either way, it was agonizingly clear that Hercule was no longer the happy cat he had been and was no longer enjoying his time here. And so we put him to sleep, and hopefully he's bossing Rumpole around for the amusement of Momzerduck.
It's been a bad two years.
Posted by: Wonderduck at 09:23 PM | Comments (4) | Add Comment
Post contains 443 words, total size 3 kb.
1
18 years is
very
old for a cat. But that's no consolation, is it?
Posted by: Steven Den Beste at April 25, 2010 12:51 AM (+rSRq)
2
It's been an
awfully
rough two years. Ouch.
Posted by: GreyDuck at April 25, 2010 09:53 AM (7lMXI)
3
Posted by: Brickmuppet at April 25, 2010 10:18 PM (EJaOX)
4
Really sorry to hear that, though it's the right thing when an animal is suffering its never easy to have them put down.
Posted by: Andy Janes at April 26, 2010 02:49 PM (cEaZp)
Comments are disabled. Post is locked.
26kb generated in CPU 0.052, elapsed 0.1045 seconds.
47 queries taking 0.0887 seconds, 279 records returned.
Powered by Minx 1.1.6c-pink.