July 04, 2016
Graphics Card... Oh No, Not Again
While the Chicago Cubs whupped the collective tucuses of the Cincinnati Reds at Wrigley Field this afternoon, I finally took it upon myself to install my "new" graphics card.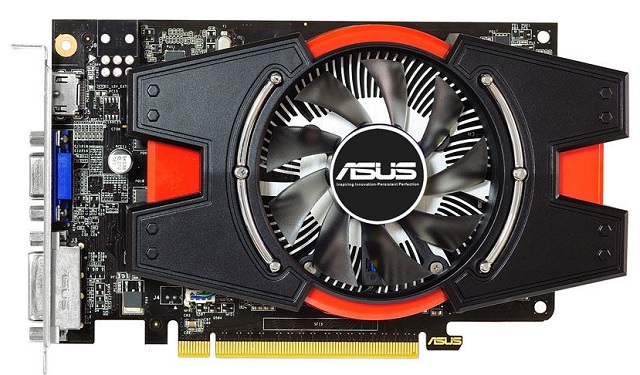 Yep, one of these beasts... the
ASUS GeForce GTX650 2GB
. Not only is it a low-power card, drawing all the energy it needs from the mobo, more importantly it's a single-slot card. Anything much larger than this wouldn't fit in the case without major surgery
and
removing the cooling solution from the Intel i5 processor. I don't think I would have bothered even when I was young and stupid, let alone my current old and tired and stupid state. Of course, the advantage of such a card is that, in theory, all you need to do is plug it into the correct slot and voila, you're ready to roll.
As you can guess from the title of this post, that didn't happen. After struggling to get the card in position (the external mounting bracket of the tool-less case is a right bastard to use), I finally managed the trick, buttoned everything back up, plugged all the cords back in, hit the power button, and... nothing. Oh, the computer was functioning, the hard-drive light was doing its usual flickering routine, everything was spooling up, and I thought I could even hear the fan on the card spinning... but the monitor stayed dark. Indeed, it even displayed a "monitor going to sleep" message!
So I tried again. Removed the card, reseated it, plugged everything in, did NOT put the case back together, hit the power button, saw the card's fan spin up... but still nothing on the screen. Perturbed and annoyed, I removed the card, delicately put it back in its box, and tried the onboard graphics again.
No problems.
So what the hell? I bought this card because it was a low-power draw: it's rated at pulling somewhere between 60 - 64w, with a PSU of 400w listed... and I've seen comments saying that it works fine with a 300w. My PSU is shown as 460w, so that shouldn't be the problem. That the fan spun up pretty much guarantees its getting power... so what gives? Last time, even when the card wasn't working right it still turned on the monitor.
I don't want to yank the (new, upgraded) PSU out of my old computer to install it in this one... I just want everything to work! Is that too much to ask?
Posted by: Wonderduck at 10:29 PM | Comments (5) | Add Comment
Post contains 417 words, total size 3 kb.
1
Hard to say for sure. The slot should be rated for 75W (that's the standard) so that card should be just fine. Certainly that power supply has more than enough oomph.
What might be happening is that the card is going to a different port by default. The BIOS screen usually only displays on one output, and doesn't switch to the right one automatically. So it could be happily sending out a DVI signal when you're plugged in to HDMI, or vice-versa.
Posted by: Pixy Misa at July 05, 2016 01:04 AM (2yngH)
2
Yeah, it really sounds like (for some reason) the onboard video isn't giving over to the discrete card like it's supposed to.
Which... probably means digging around in the BIOS for the option to let it do that, or
updating
the BIOS to remedy a bug, or something? Hopefully the brighter minds here will have a cleverer idea.
Posted by: GreyDuck at July 05, 2016 07:22 AM (rKFiU)
3
What happens if you plug the card in but leave the monitor connected to the onboard output?
Posted by: Karl at July 05, 2016 07:40 AM (IKTw9)
4
What Karl said. First step of diagnosis. Need to understand if the built in video is still functioning, and if it is, we might be able to use that to find/force the switchover.
Posted by: Ben at July 05, 2016 11:01 AM (oRNYh)
5
Ah, good, something I CAN answer. Nothing happens. The screen stays dark... I tried that right off the bat, though I did it as a hotswap: monitor plugged into card, then unplugged and transferred to onboard while everything stayed hot.
Posted by: Wonderduck at July 05, 2016 07:30 PM (Hdexn)
30kb generated in CPU 0.0228, elapsed 0.1018 seconds.
49 queries taking 0.0868 seconds, 282 records returned.
Powered by Minx 1.1.6c-pink.