February 25, 2011
A Duck At The Races
It's not a secret to anybody who's read this blog for more than two minutes or so that your charming host and proprietor, yours truly, Wonderduck, is a fan of motorsports of the four-wheeled persuasion. While I am, first and foremost, a devotee of Formula 1, I've been known to enjoy the occasional NASCAR race... particularly the four that take place at Daytona and Talladega. I also think that the truck series is great fun, more in the spirit (if not the letter) of "run what you brung" than just about anything out there.
It's also not a secret that I have an affinity for ducks of all sorts, rubber ducks prevailing. For years, I have been rather covetous of the one rubber duck that combines both of those passions into one glorious package. Today, that one duck was delivered. Ladies and gentlemen, may I present the newest member of The Flock...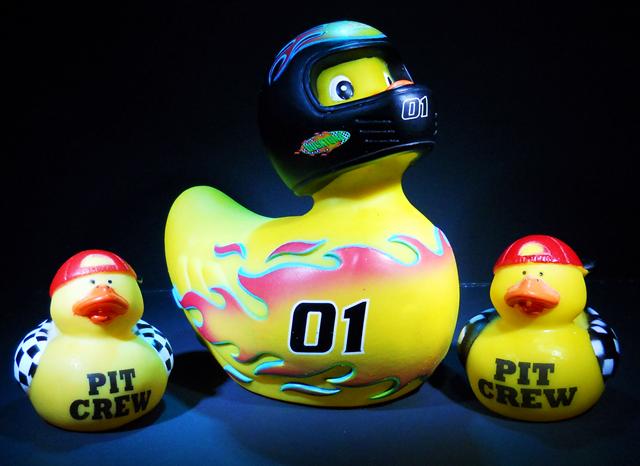 ...DUCKTONA! And his pit crew, Guido and Luigi! Ducktona is another in the long line of "boutique ducks" from
Rubbaducks
, and it's great to finally have him in the collection. After all, I think I had him as my header picture for a while, why
shouldn't
he be here? His absence has long been a nagging irritant for me... but no more. The preeminent racing duckie has graced us with his presence, and all is right with The Pond.
Posted by: Wonderduck at 08:12 PM | Comments (1) | Add Comment
Post contains 236 words, total size 2 kb.
February 22, 2011
Good Way To End A Bad Day
Last night, there were nightmares running through the slumbering head of Wonderduck. One of them involved a pirate ship, another I remember no details about, and one... well, it was so bad that I don't even like admitting to myself that even
had
the thing, for fear of bringing the memories of it back.
There was also freezing rain last night, so this morning the Duckmobile looked like a glazed donut, if the glaze was a quarter-inch thick. Of course I had to scrape that ice off before I could go to work, so I started putting some serious grunt into it. It turns out the ice wasn't just on the car... and in my quest for leverage, my feet went out from underneath me. On my way down to the ice-covered asphalt, the passenger-side mirror leaped out and punched me in the side of the head with what I distinctly remember as a rather hollow-sounding "clonk."
So I worked the entire day at Duck U with a sore skull that was full of bad thoughts. Then I came home and found this:
...and suddenly, the day doesn't seem so bad.
UPDATE
: Then to make it all even better, I got my third FARK greenlight in just over a month with this video:
Every so often, one could almost be convinced that there is a God. This is one of those times.
Posted by: Wonderduck at 09:55 PM | Comments (4) | Add Comment
Post contains 239 words, total size 2 kb.
February 15, 2011
Behind The Curtain
Over at
The Fungus
, friend Ed is having some problems. His mother passed away a few months ago, and a lot of what he's talking about sounds very familiar. Over there, I left a comment on a different post about how the most surprising things can sneak up and bite you when you least expect it. If you're interested, read on... if you're not, enjoy the cute girl and rest assured that there will be another episodic review of
Rio Rainbow Gate!
coming soon.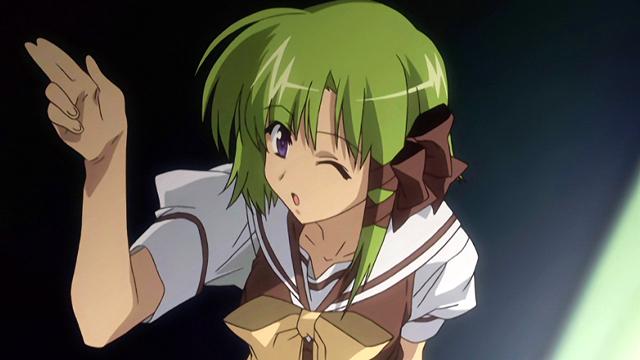 Vaya con dios, compadre!
Moving on...


more...
Posted by: Wonderduck at 09:49 PM | No Comments | Add Comment
Post contains 792 words, total size 5 kb.
The Turtles Need YOU!

Yes, YOU! I'm sure you never thought you'd be called to be a ninja, but your time has come. It's time for you to join Star Turtle and become a robot-fightin', cathedral-eatin', whale-tossin', zombie-killin', kaiju-smackin'-downin', burger-eatin' foo'!
"But it's not for me," I hear you saying. "I don't even
like
ninjas." I'm here to tell ya, brudda, I was once like you. I hated ninjas! They're usually tough and stringy, and not even all the barbeque sauce in Duckford would make 'em any different. But now here I am, 10 seasons in, a respected member of Star Turtle Realm, feared by some and respected by many.
AND YOU CAN BE, TOO! Just click on the banner, brudda, and get playin' with us in Star Turtle! We'll help you with ninja puppets, bear coats, potions, dartboards and even invisible sandwiches! And soon, you'll be just like me... a duck with a dream
*
. A dream, and an insatiable desire to see your face carved onto the side of a mountain somewhere. It costs nothing, and if you don't like it, you've lost nothing at all... what have you got to lose? Give it a try, won't you? For the Turtles?
*
Except probably not the duck part.
Posted by: Wonderduck at 01:19 AM | No Comments | Add Comment
Post contains 208 words, total size 2 kb.
February 13, 2011
TGB S16E04
This week's TGB was something of a shoe-in.
See, when I attended Duck U., I went to school with someone who looked exactly like her. So there you are. The rest of the episode was pretty entertaining as well, by the way... particularly the film about the Pagani Zonda R.
Yes, that. Sure, it isn't street-legal (no turn indicators, slick tires only), and sure, you could probably only run it on certain tracks here in the US, but hey! It's cheap at $1.8 million dollars, and nobody knows how fast it can go because they've never been able to max it out. A 750hp V12 engine in a car that weighs just under 2400 lbs will do that, yeah. It went around the Top Gear test track in 1:08, far and away the fastest production car ever to turn a lap. Of course, since it's not street legal, it didn't count. For comparison's sake, a Renault F1 racer did the track in just over 59 seconds...
Posted by: Wonderduck at 10:51 PM | No Comments | Add Comment
Post contains 168 words, total size 1 kb.
February 07, 2011
TGB S16E03
Those of you with a good memory might have remembered that two weeks ago,
I began a series
entitled
TGB
, standing for "Top Gear Babe". In that post, I said that the producers intentionally stock the front row of audience with at least one strikingly good looking woman during the Star in a Reasonably Priced Car and News segments. I have since discovered that someone at
Top Gear
reads The Pond, because in S16E02... they didn't. Not once. Ha ha, good joke lads.
Fortunately for me, they reverted to trend this week... in fact, they did so in spades. So much so that I had something of a quandary on my hands. But first, I'm going to award a Dishonorable Mention... to this woman:
Under normal circumstances, she would have been the winner. However, she somehow managed to get in shot for
three
different segments (twice with jacket on, once with it off), something entirely unheard of. I figure that she must be the girlfriend of someone on the
TG
crew. If you apply "Cool Wall" rules to this situation, she would have to go into the "seriously uncool" section... after all, if one of the presenters actually owns the car being considered for the Cool Wall, it automatically is "seriously uncool." So, no award for you, young lady.
This lass appeared during the Star in a Reasonably Priced Car segment, and I couldn't take my eyes off of her... perhaps because she's as well lighted as Clarkson. Has anybody on
TG
ever learned how to focus a lighting instrument? Again, under normal circumstances, she's be the winner. But this was no ordinary week. No, this time around I had no option but to give the award to...
...this young woman from Albania. Since the guys were doing their car comparison in Albania, this seems to be completely appropriate. I hear she likes cars...
Posted by: Wonderduck at 12:02 AM | No Comments | Add Comment
Post contains 316 words, total size 2 kb.
February 02, 2011
Snowmageddon 2011: 2/2, 845am (UPDATED @ 1242pm)
I'm not the sort of person who swears very often. Unlike many people these days, I believe that using profanity in everyday conversation is vulgar and childish... and I
never
use it here at The Pond. No, when I use an unpleasant word, it shows a moment of very high emotion. I'm explaining that so you really understand what I'm about to say.
Holy
SHIT
.
The picture above was taken at 1am. That red line stretching toward the tree is from a laser pointer... a clearly visible beam that stretched all the way to the tree. It was visible because of the snow coming down and passing through the beam, basically like what you'd get if you blew smoke into the laser. Around this time the wind was howling, the snow was falling around two or three inches an hour, there was thunder and lightning, it was terrifying... and
awe-inspiring
!
You may remember the post I put up with
a picture taken at 310pm
yesterday. Well, here's a picture I took about a half-hour ago:
...and that's on the railing of my sheltered balcony. The wind was coming from the north... my balcony is on the
opposite
side of the building. Here's the view of Pond Central's parking lot, which
is
on the north side:
Yup. The good news is that the snow seems to have stopped. The Duckford International Airport is saying "only" 13.5 inches of snow fell overnight, but there are reports of 17 and 20 inches in other parts of the city. Some rural roads have 12 foot drifts over them. Hundreds of cars have been reported to be stuck on the various highways and streets near Duckford. Most roads, both in and out of the city, are reported to be impassable. Duck U is closed today, of course.
This is supposed to be the fourth-heaviest snowfall in Duckford recorded history. Now comes the shoveling.
UPDATE @ 1242pm
: Snowdrifts up to my waist. Took four men with shovels a half-hour to dig my car out. Once my car was done, we moved on to the car of one of the other guys. Then we did the car of a teenage girl who needed to go to work (and helped push her out, too... the snow drifted high under her car). Then I moved my car to a different spot at the far end of the lot, right next to the place the snowplow will start his snow-moving efforts... which means I won't have a four foot pile of snow to deal with in the morning! Just negative temps...
Posted by: Wonderduck at 09:40 AM | Comments (6) | Add Comment
Post contains 438 words, total size 3 kb.
February 01, 2011
Snowmageddon 2011: 2/1, 310pm
The Anatidae Weather Service in Duckford, IL, has declared a
Snowmageddon
for Pond Central and the surrounding environs. Expected from this Snowmageddon is 12-18 inches of snow. Winds blowing from the north at 20 to 30 mph, with gusts of up to 45mph, will create blizzard conditions for much of the Snowmageddon area. Thundersnow may occur, with increased snowfall rates of up to four inches per hour may happen during these storms, with near zero visibility. Travel is greatly discouraged. Duck U has closed for the day. All night classes and evening events have been canceled. As of yet, there has not been an announcement as to when it will reopen.
The above picture was taken at 310pm, Pond Central time. We will update as events warrant. This Snowmageddon is dangerous and potentially life-threatening if you're stupid enough to go out in it... so don't do it.
Posted by: Wonderduck at 03:27 PM | Comments (1) | Add Comment
Post contains 151 words, total size 1 kb.
46kb generated in CPU 0.0269, elapsed 0.431 seconds.
48 queries taking 0.4172 seconds, 299 records returned.
Powered by Minx 1.1.6c-pink.