April 15, 2019
A World Tragedy
The famous Cathredral at Notre Dame in Paris caught fire today. Within a relatively short time, the fire destroyed the roof, brought down the spire, and has gone on to consume everything within the stone walls.
Its very location, on a small island in the Seine river, made the blaze hard to fight. Getting equipment to it proved difficult, and fireboats in the river could not get close enough to reach all the burning area. The flames spread very quickly as well, limiting what the fire brigade could do.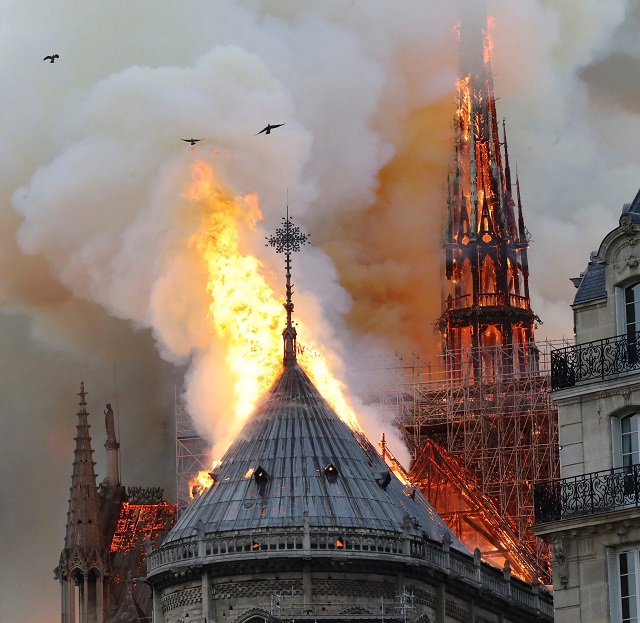 There have been no deaths, and it's only been in the past few minutes that I've seen a report of a single serious injury to a firefighter. Nobody who was in the Cathedral was hurt, including the many many tourists. If there's anything good to take from this, it'd be that. But otherwise? It's all pretty rotten.
Posted by: Wonderduck at 04:58 PM | Comments (3) | Add Comment
Post contains 149 words, total size 1 kb.
1
They got the artwork and relics out. So there's that.
This is a little more motivation for me to find a way to see the Hagia Sophia someday...
Posted by: Kathryn at April 15, 2019 05:47 PM (rWZ8Y)
2
Reports are that it's mainly the roof structure and spire that were lost, and one of the rose windows. The interior has suffered damage from fire, smoke, and water,
but is in surprisingly good shape
.
Much of the roof was previously rebuilt in the 19th century because the original roof was a wreck even then.
Posted by: Pixy Misa at April 15, 2019 06:42 PM (2yngH)
3
Notre Dame was also badly damaged during the French Revolution (when it lost its original spire) plus they've got a lot of pictures and precise laser measurements of the interior. This is certainly bad, but I think that a full and complete restoration is likely.
Amazingly, I just heard that most of the stained glass survived.
Posted by: The Brickmuppet at April 16, 2019 07:51 PM (xOgT9)
23kb generated in CPU 0.03, elapsed 0.1001 seconds.
55 queries taking 0.081 seconds, 221 records returned.
Powered by Minx 1.1.6c-pink.