December 31, 2009
Happy New Year To All!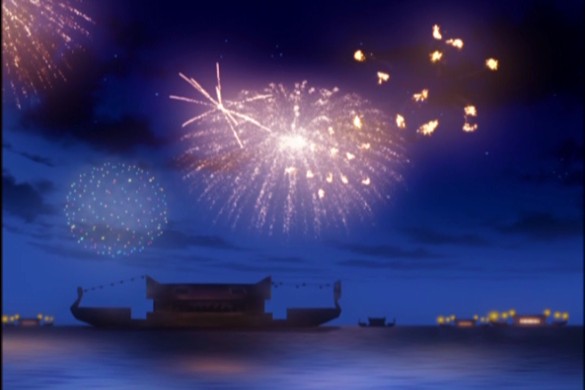 So 2009 heads into the record books, and I, for one, am glad to see the back of it.
The passing of Momzerduck
made this the worst year ever, personally, and sure makes 2010 look bleak. Still, there were some good things that occurred in the past 365 days. Consider:
In Formula 1, the season started off with
Honda kicking the bucket late in 2008
.
The pieces were picked up by Ross Brawn
, however, so we had a full 20-car grid. However, something strange happened a week later, something that became the story of the year:
nobody could touch the Brawns' pace
at the final testing session. It seemed to be because of
their twin-level diffuser
, which four other teams protested (and were denied), but nobody really thought anything about it, really. A rookie team based on the bones of a bad team? Still, it was a nice story...
...and then
Jensen Button took pole
for the first race of the season, followed closely by his teammate Rubens Barrichello.
Brawn won the Australian Grand Prix
with a 1-2 finish to boot... in their first race ever. Button
won the next race, in Malaysia
, which became F1's first rain-shortened race since 1991. If that wasn't enough reason to declare it Bizarro Season,
Red Bull took the next race
with a 1-2 finish of their own. Throw in the fact that Ferrari at this point hadn't collected any points at all, and we knew we had the oddball of all oddballs on our hands.
The only thing that put a damper on the season as a whole was
the horrible incident involving Felipe Massa
and a spring off the rear of Barrichello's car. His season was over, and for a while it was thought his career as well.
Michael "Slappy" Schumacher was named to replace Massa at the same time BMW announced they were withdrawing from F1 at the end of the year
. Schumacher had suffered a neck injury in a motorcycle racing accident some months previously, however, and couldn't handle the physical aspect of driving, leading to his
pulling out of the seat... which was then given to Luca Badoer
. Badoer promptly peed the chance down the leg of his firesuit, recalling the legendary
"Fast" Yuji Ide
in the process.
Renault wound up in the midst of scandal when Nelson Piquet Jr
accused the team of forcing him to crash in the 2008 Singapore GP
.
They were found guilty
and team principal Flavio Briatore was given a lifetime ban. Ever since, Renault has been making noises like they intend to quit the sport; it hasn't happened yet, though they sold a major stake in the team recently.
The Grand Prix of Belgium brought us the most Bizarro occurrence in a Bizarro season:
Force India took pole
! Even more incredibly,
they finished the race in second
, the team's first points-paying result, and their first podium.
Giancarlo Fisichella promptly bailed on the team
(in what ended up being my headline of the year) and took over Luca Badoer's place at Ferrari... where he was almost as slow.
The Japanese Grand Prix brought us
the weirdest qualy session
I've ever witnessed, with some repaving in the Degner Curve being the main culprit for the three red flags and multiple yellows. One of the red flags was for
Timo Glock's accident
, which knocked
him
out for the season with a fractured vertebra.
The penultimate race in Brazil
essentially brought the Bizarro Season to an end in fitting form: Jenson Button clinched the Driver's Championship for Brawn, which also clinched the Constructor's Championship. Not too bad for a team that didn't exist a month before the season started. A few weeks after the season ended, so did BrawnGP:
they were sold to Mercedes-Benz
... who then
signed Michael "Slappy" Schumacher
to drive for them in 2010.
Three new teams were tabbed
to join the F1 Circus in 2010 as well, including America's very own USF1.
Toyota withdrew
and
was (essentially) replaced by Lotus
, while
Sauber took over BMW's old slot
. All of this sets the stage for an incredible season in the new year!
On the Anime front, The Pond was a little... sparse this year. I didn't stop watching, far from it, but I didn't really write much about it.
The world's first

doujin

anime
, based on the Touhou series of games, was released with an incredible voice cast but lackluster animation.
Kurokami

's first episode
promised great things, but
the show quickly managed to disgust me
with fetishistic levels of violence meted out against the main character.
ADV
Sentai Filmworks released
Clannad
on DVD, but
I had a few complaints about the actual release
. Please note that this wound up not stopping me from getting the rest of the series, or the followup
Clannad ~After Story~
for that matter.
It's not exactly anime, but the visual novel
Katawa Shoujo
had a demo released. Many people were disgusted by the subject matter, but
I liked the game quite a bit
. But then,
I found myself enjoying

KissxSis
, which has somewhat "iffy" subject matter as well. Unlike most of the rest of the anime blogosphere,
I also liked the new Haruhi Suzumiya series
. Finally, my long-hoped-for wish for a crossover between Formula 1 and anime came to light, in
not one
but
two different
series! There was even
a F1 reference in the second Haruhi Suzumiya novel
. I also
met a fellow anime blogger for lunch
one day.
Then there was my WWII musings.
The

Hosho

got a post
that was nearly as long as it was. I found myself fascinated with
the

Sangamon

-class "Jeep" carriers
, a nearly ignored type of ship. My best writings, though, of course were based on the Battle of Midway. The third in my "What If...?" series dealt with
the issue of timing on that June 6th morning
. Correcting the conventional wisdom regarding
the

Tone

#4 scout plane
actually earned me a mention in an issue of the
Battle of Midway Roundtable
, much to my surprise. I also turned my thoughts to
dive bombing and why it worked so well, yet disappeared so quickly
.
So, that about covers the year here at The Pond, but I can't end it without thanking
Big Poppa Pixy
for his hosting of this blog. I would be remiss if I didn't also thank you, dear readers, for coming back here every so often. You've made it all worthwhile, and you're helping me make it through the worst stretch I can imagine. Thank you.
Happy New Year, everybody!
Posted by: Wonderduck at 10:03 PM | Comments (1) | Add Comment
Post contains 1095 words, total size 10 kb.
1
Happy New Year! Here's hoping 2010 goes better for you.
Posted by: Andrew F. at January 01, 2010 12:08 AM (te/LE)
Comments are disabled. Post is locked.
31kb generated in CPU 0.0362, elapsed 0.1958 seconds.
47 queries taking 0.1697 seconds, 277 records returned.
Powered by Minx 1.1.6c-pink.