December 28, 2015
Your Weekly Asuka, the OVA... or 12.5, whichever.
It's been
quite some time
since we last visited the
Hibike! Euphonium
show, but a few days ago the long-awaited OVA came out. Considering how much I enjoyed the series, it shouldn't come as any surprise that I immediately watched it with one eye peeled for Asuka, the vice-president of the band club.
It should also come as no surprise that the Goofy Cute was being both goofy
and
cute... for the thirty seconds she was in the episode. Alas, KyoAni
stopped using her as a character
around Ep12 in the original run, so Asuka bringing the goofy was to be expected. Since that was her entire contribution to the story, it was a little bit disappointing.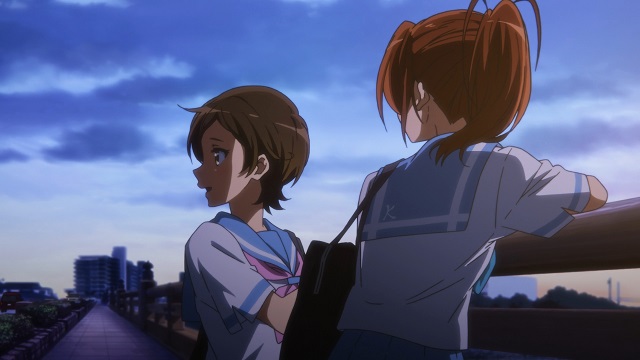 The rest of the OVA was quite entertaining, and it was really nice to be back with this bunch of characters that we came to love over the course of three months or so. As usual, it was outstanding visually, but it was really quite nice to focus on the "junior leads", as it were, instead of the main characters. Which is not to say I wouldn't have liked to see more of Asuka.
Since, y'know, that was kinda the whole point of this little series of mine in the first place. I guess we'll just have to wait for the second season... or maybe the recap movie will have a little bit more about her in it. Either way, it'll be good fun. Unless KyoAni doesn't expound upon her character, in which case I'll be quite grumpy.
Posted by: Wonderduck at 09:52 PM | No Comments | Add Comment
Post contains 263 words, total size 2 kb.
December 27, 2015
Residual Photoshoot Thingy
Back last August,
I finally posted the "creative project"
I worked on for much of my enforced extended vacation. In that post I mentioned that I had purchased a new camera for my birthday. While I was learning how to use it, something I can honestly say I haven't figured out yet because it's a
little
more advanced than a point'n'click, I decided to see how it did in low-light situations. The very first picture I took told me that I had gotten a nice camera.
If one wished, one could click on the picture for a bigger version.
I still think its the best picture I've taken with it. Not bad for something taken on a whim with one hand holding the camera, the other holding the EL Wire. The most surprising part was the faintly red background... that's from a glowing mushroom in my dining room. I'm going to have to explain that, aren't I?
Back when I had the Cardiac Incident in 2005, I had... concerns... that one night I'd have to call 911 and not be able to get out of bed due to whatever was happening in my chest. I thought it'd be best if the EMTs would be able to see so a light would be needed... but it would have to be relatively unobtrusive, otherwise I'd not be able to sleep. Some weeks later, I stopped at Walgreens and found a low-wattage red CFL for some decent price. I put it into a more-or-less translucent mushroom-shaped lamp, put it on a small side table in the dining room, and turned it on. Save for a few minutes here and there when I vacuum, that light has been on ever since. Nearly 10 years... well over 80000 hours! I don't care that it's "just a light bulb", that's pretty amazing. Particularly since wikipedia suggests the usual lifespan for a CFL is ~15000 hours. I don't know what I'm going to do when it finally passes from this world to Light Bulb Valhalla.
Clicky-poppy.

Amazing what a good camera can do, eh? I don't like this picture anywhere near as much as the first, but it's still a swell photo. Anyway, enjoy, won't you?
Posted by: Wonderduck at 11:00 PM | Comments (8) | Add Comment
Post contains 372 words, total size 3 kb.
29kb generated in CPU 0.0194, elapsed 0.1936 seconds.
45 queries taking 0.1855 seconds, 231 records returned.
Powered by Minx 1.1.6c-pink.