April 23, 2010
Gundam Cafe
There's a report over at
Gizmodo
that Bandai has opened up a Gundam cafe in Akihabara. It's filled with Gundam-related merchandise, everybody wears Gundam-inspired uniforms, etc etc etc... Seems logical to me, I guess I'm more surprised that it took so long.
Over at Fark's Geek tab, however, the masses are having fun with the whole concept, suggesting some
other
show-themed cafes... and some that you
really
don't want to see (the
Grave of the Fireflies
-based cafe, for example).
My favorite concept has to be the
Ranma 1/2
Cafe. Your dark-haired waiter takes your order and comes back a few minutes later as a hot (but damp) red-headed waitress, you don't want to order ANYTHING made with pork, there's a giant panda cooking in the kitchen, another waiter sometimes gets lost on the way to your table and winds up serving someone at a McDonalds in Belgrade, and so forth.
So I'm trying to think of others. Maybe a
Saikano
cafe wouldn't go over very well... you go in happy, and come out wanting to slit your wrists. A
School Days
cafe would pretty much have to be on a cruise liner, and do
not
wear any clothing you'd mind ruining. Someone else suggested an
Elfen Lied
theme; come for the backrubs, but don't be surprised if there's a leg in your soup. I'm surprised there isn't a
Strike Witches
cafe already (none of the waitresses would wear pants). The
Kanon
cafe would carry nothing but jam, beef bowls and taiyaki.
Got any other ideas?
Posted by: Wonderduck at 09:18 PM | Comments (2) | Add Comment
Post contains 257 words, total size 2 kb.
April 09, 2010
Nozomi Gets A Thumbs-Up!
Okay, I'm agog. It's pretty clear that the people over at Nozomi/TRSI like the
ARIA
franchise, but they also appear to like the
fans
who like ARIA, too. How do I know this?
The box set for
ARIA the Origination
has not only the OVA, ~Arietta~, and the DVD-only episode,
Navigation 5.5
, but it also has...
...
the picture dramas
. Nozomi even licensed
the picture dramas
! I had no idea those were going to be on the discs... and I've got an ear-to-ear grin because of it.
THAT'S how I know Nozomi likes us.
Posted by: Wonderduck at 08:04 PM | No Comments | Add Comment
Post contains 97 words, total size 1 kb.
April 06, 2010
Creepy Girl, Oh My Little Creepy Girl*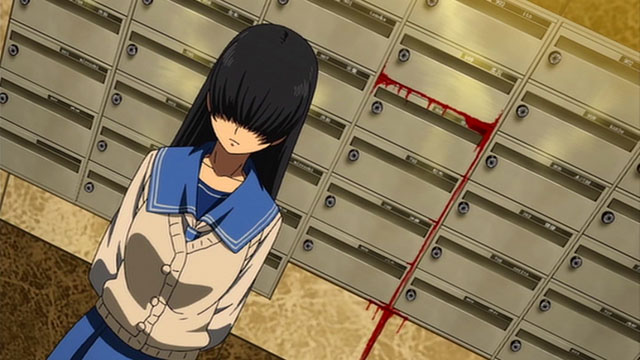 The main female character in the
Denpa Teki na Kanojo
OVA is named Ame Ochibana. She's a quiet, intelligent, and resourceful girl with an agile mind. She also believes that she and the show's protagonist, Juu Juuzawa, were linked in a prior lifetime, he as a king, with her as his loyal subject. She swears fealty to him early on in the show, which is set in current times. Her vow to protect him from all who would harm him seems laughable on the face of it, as he's considered their school's main delinquent, with a talent for brawling. He, of course, considers her a wacked-out stalker who has a penchant for breaking and entering, usually into his apartment... a creepy girl, if you will.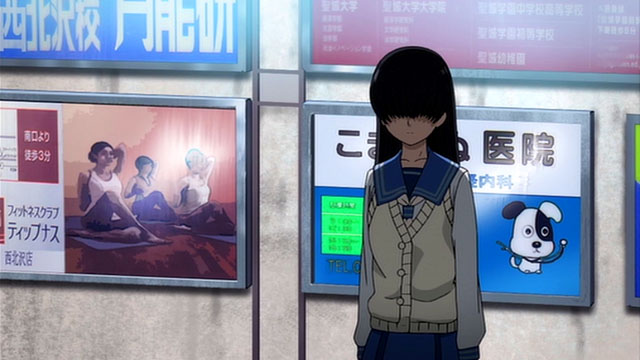 This being anime, of
course
there's more to it than that. Ame is probably the most
sane
female character in this show... most of whom want to cause rather severe physical harm to Juu, and usually manage to do so. Until Ame shows up, at which point things rapidly go south for those hurting Juu. She's skilled with a taser, is able to talk logic rings around just about anyone, and even occasionally works in a maid cafe. But with her almost expressionless manner of speech, her penchant for wearing her hair in front of her eyes, and her physical
stillness
(which is a silly way to describe an anime character, few of whom have much in the way of fidgets, I know... but the animators still manage to make her seem very still, even when she's in motion), she really does seem kinda creepy. The occasional glimpse of her eyes that we get just make matters worse, for some reason.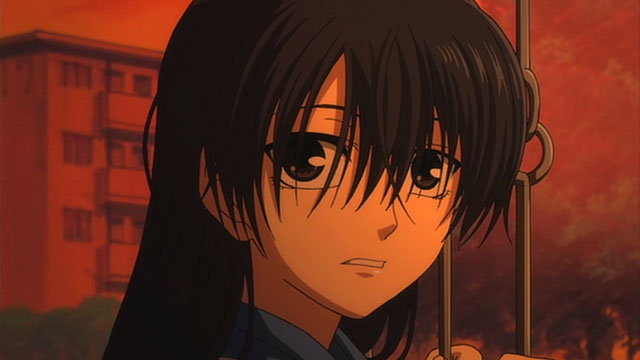 But the most disturbing part of Ame's character is her voice. It's quiet, breathy, mature but still that of a young girl... and almost, but not quite, sinister. She very rarely puts emotion behind her words, which makes it even
more
creepy when she's talking to one of the
really
crazy girls in the show, the one who lives in a small, filthy, low-rent apartment with her dead mother and believes that if she "steals happiness points" from other people, her mother will come back to life.
It's Ame's voice that truly completes the character, and it's one that I knew I recognized, but couldn't immediately place. It wasn't until about halfway through the first episode that I figured it out, at which point I was amazed... a character more opposite to Ame it would be difficult to find, in a show diametrically opposed to
Denpa Teki na Kanojo
.
Who?
Hard to believe.
*
with apologies to Tom Servo
.
Posted by: Wonderduck at 09:53 PM | Comments (3) | Add Comment
Post contains 452 words, total size 4 kb.
29kb generated in CPU 0.0386, elapsed 0.2185 seconds.
46 queries taking 0.201 seconds, 230 records returned.
Powered by Minx 1.1.6c-pink.