February 29, 2008
Anime Night: We Like Pie
So The Librarian had a work-related event this evening that wouldn't place her at The Pond until 830p... a little late for us to follow our usual routine. Instead, we decided that we'd do dinner instead.
Well, more correctly, I'D do dinner. She did pie. Specifically, a slice of pie, then an appetizer, then another slice of pie. For the record, I had a slice of pie as well.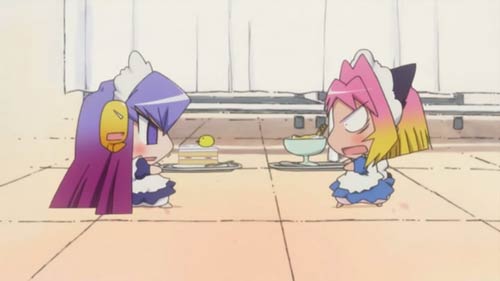 Plate wreck!!!
And a good time was had by
all
us. Anime came up for about five minutes ("
Gunslinger Girl
? Henrietta? Violin case upside the head? How could you not remember that? It was only last Friday!"), the rest of the time was spent being seventeen years old again.
Did you know that KC (of KC and the Sunshine Band) had a brother that invented fried chicken? They called him KFC (I should be congratulated for not spewing pie over The Librarian after that... and for not attempting to scoop her brains out with a spoon).
Yeah, we can be like that once in a while. In this case, it lasted about three hours; it ended with a game of tic-tac-toe in the parking lot (see, it was snowing, and we were the last people out, so we had this really clean flat space...) and brushing snow off our cars (and doing everything we could to dump the snow on the other's car).
So NOIR is on hold until next week, but we had more fun than a barrel of superballs anyway. It ain't always about anime, folks... just most of the time.
(thanks to DbD for the picture... I flat-out stole it.)
Posted by: Wonderduck at 12:45 AM | No Comments | Add Comment
Post contains 277 words, total size 2 kb.
February 24, 2008
Ani-nouto's my Hero!
Pete found it!
Here's my
framed douga from

Azumanga Daioh
:
...and here's the screenshot from Ep20:
Thanks, Pete!!!
UPDATE
: It's confirmed! Look for the shot at 17:44 of ep20.
Posted by: Wonderduck at 05:13 PM | Comments (1) | Add Comment
Post contains 32 words, total size 1 kb.
February 21, 2008
Anime Night: It's not called "No Ear".
Last week's Anime Night was canceled, as The Librarian was attending a convention (those librarian conventions seem to be quite the wild times... who knew all the things you could do with whipped cream?). THIS week's Anime Night was nearly D.O.A. due to ickness (on both of our parts, actually), but we soldiered forth and jumped into disc 2 of NOIR.
And then The Librarian fell asleep. Her cold really knocked her for a loop, and in her defense, it was warm in The Pond, and the Official Afghan made her feel snug, and the Official Wingchair is really comfy... and she dozed off. Restraining my first impulse (Sharpie Marker Eyebrows FTW!), I instead paused the show and cleaned up the dinner dishes.
When she woke up a few minutes later ("What time is it?"), I couldn't let Impulse #2 go by ("930pm..." Please note, it was 715pm).
"But what about the anime," I hear you yelling...
more...
Posted by: Wonderduck at 11:52 PM | Comments (2) | Add Comment
Post contains 517 words, total size 7 kb.
February 18, 2008
2008 VCAs Finals Lists Announced!
Over at
The Org
, the 2008 VCAs have moved to the Final Round. In the category of
Best First Video
,
"...Angel"
did not make it, unfortunately.
Still and all, even making it into the Semifinals is pretty good stuff... and a lot better than I had hoped back in May. Not that I made the video to win awards or anything, but it's only natural to want people to recognize your geniusness, right? "I just don't want it to suck" was what I said before, and I'm proud to say that I met that goal and then some.
For everybody that voted for "...Angel", I say thank you very much! Your support was wonderful to see... and means a lot.
If you've no idea what I'm talking about, here's the video:
Posted by: Wonderduck at 12:39 AM | No Comments | Add Comment
Post contains 136 words, total size 1 kb.
February 12, 2008
I'm Pandering Again. Still. Whatever.
Just a reminder that there's just a few more days left to vote for
"...Angel"
in the 2008 VCAs Best First Video category over at
AMV.org
. You got it into the semifinals, now help it into the finals!
It'll make me happier than a loaf of rye bread...
(voting ends Feb 17th)
Posted by: Wonderduck at 11:57 PM | No Comments | Add Comment
Post contains 57 words, total size 1 kb.
February 10, 2008
Anime Night: "Turn The Plant"
After a couple of weeks where life and illness got in the way, Anime Night resumed this past Thursday when The Librarian, bearing food from Panda Express, dropped by The Pond. If you remember, we had finished
Kanon '06
about a month ago, and attempted to begin
Uta~kata
the last time we'd met.
That last Anime Night, however, met with disaster when
Uta~kata
turned out to be one of those series that causes revulsion and disgust in ducks (anti-anadatae folks, take note) and DVD players alike. In fact, it proved to be the final nail in the coffin of The Pond's main DVD player, a seven-year old Samsung DVD/VCR combo (please note that the VCR portion still works fine). Unfortunately, the backup DVD player, an inexpensive Coby, didn't like the homemade disc much, either. By this time, it was too late to start anything new, so we watched a couple episodes of
CardCaptor Sakura
(still as good as it was way back when) and called it a night.
So this put us at the start of a new series. By our unofficial 'rules', The Librarian and I switch back and forth on choosing what show to watch; I had chosen
Kanon '06
, so it was her turn.
Uta~kata
was technically her choice, but the FAIL that had occurred was my fault, so it was still her turn. She had narrowed her picks down to three titles.
Full Metal Panic: Fumoffu!
,
Azumanga Daioh
, and
Noir
.
Any of these series would have been a-okay with me, with
AzuDaioh
of course being my favorite anime of all time. After dinner, her decision was made:
more...
Posted by: Wonderduck at 10:30 PM | Comments (7) | Add Comment
Post contains 691 words, total size 7 kb.
February 04, 2008
"...Angel" Moves On!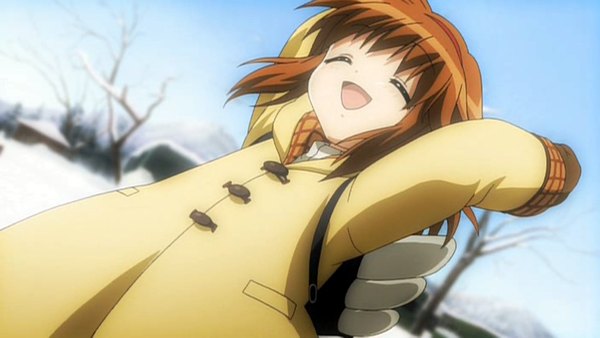 The semifinals lists for the
2008 VCAs
are out over at
The Org
, and
"...Angel"
made the cut!
There were 89 first videos in the nomination round, and the list has been whittled down to 20... but only five will move from the semifinals to the finals.
Way back when, in an e-mail exchange with
Jeff Lawson
, I mentioned to him that I just wanted to get a few votes in the VCAs. Now that it's made it to the Semis, though, I find that I really want to make it to the Finals.
It wouldn't've made it as far as it has, though, without you folks. Thank you so much... now lets go to the finals!!!
Posted by: Wonderduck at 09:41 PM | Comments (3) | Add Comment
Post contains 120 words, total size 1 kb.
41kb generated in CPU 0.0211, elapsed 0.1002 seconds.
48 queries taking 0.0886 seconds, 246 records returned.
Powered by Minx 1.1.6c-pink.