April 28, 2015
Your Weekly Asuka, Ep04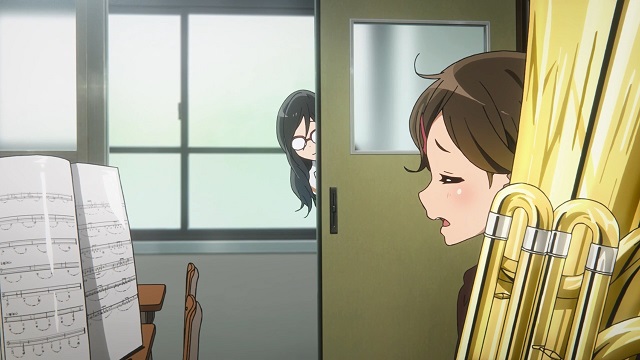 -Hibike! Euphonium
, Ep04
A rather Asuka-less episode, with the cute goofball having maybe a minute of screentime. She was remarkably serious this time around, too. From being the voice of reason in the section leader meeting that actually determined the course of the series from here on out to teaching the newcomers to the bass section advanced techniques, she played the role of "good sempai" to a Tee.
What might not be obvious at first blush is that Asuka has, to date, gotten everything she's wanted in this series. From corralling three of the main characters to making sure the band is trying for Nationals to subtly siding with the new teacher in the section leader meeting and thus pushing everybody to accept his somewhat abrupt (but effective) style, Our Goofy Fascination is proving to be ridiculously skilled in playing the political game. One gets the impression that if she was even slightly normal she'd be president of the student council, or maybe dictator-for-life.
You know how there is a school of thought that says that the
Star Wars
series of movies is actually telling the story of R2-D2? At least through Ep04, an argument can be made for
Hibike! Euphonium
being Asuka's tale, told from the standpoint of the three so-called main characters. To be honest, I'm not sure if I really believe that or if it's just because I'm doing this weekly thing, but I find the possibility to be intriguing.
Shhhh... don't tell anyone!
Posted by: Wonderduck at 11:45 PM | Comments (3) | Add Comment
Post contains 251 words, total size 2 kb.
April 24, 2015
Your Weekly Asuka, Ep03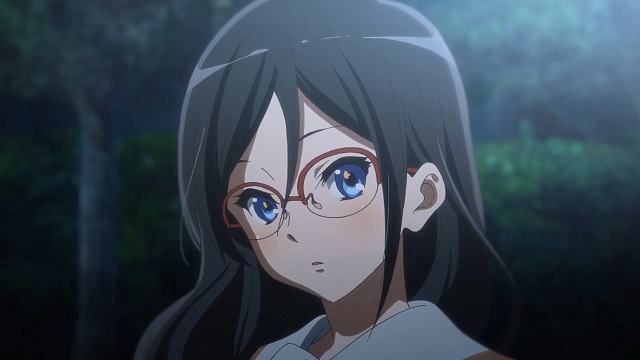 -Hibike! Euphonium
, Ep03
It's not uncommon for me to be more interested in a secondary character than a main... I love background characters, and always have. The Skippy T Spearcarriers of the world are people too, and they all have stories, at least in a world well-created. Sure, the
true
background characters, i.e., the ones there to make it look like the world is populated, they won't have anything, but the students sharing a classroom with Our Heroes? They
should
be people in their own right. Maybe not as interesting as a 12-year old high school senior, or a schoolgirl who fights demons at night with a holy water-powered steam iron, but people nevertheless.
However, it
is
uncommon for me to create a weekly entry for them, but yet that's what I'm going to do for the character of Asuka from
Hibike! Euphonium
. There are two reasons for that. The first should be obvious. The second is that, while she's loonier than a sack full of wet quokka, she's also dearly devoted to the concert band in the show. So much so that she's one of the true driving forces behind its continued existence after the second-year student walkout alluded to in this episode.
What I'm saying is, there's more to her than a cute goofball. I mean, sure, that's undoubtedly what I'll be focusing on in this running feature, but don't be surprised if it gets deeper than that. If you're interested in a weekly writeup on the series, visit
Ben over at Midnight Tease
; he's adopted the show. In contrast to my writeups, there's actual thought behind his!
Since I missed Week 2, here's a special bonus Asuka: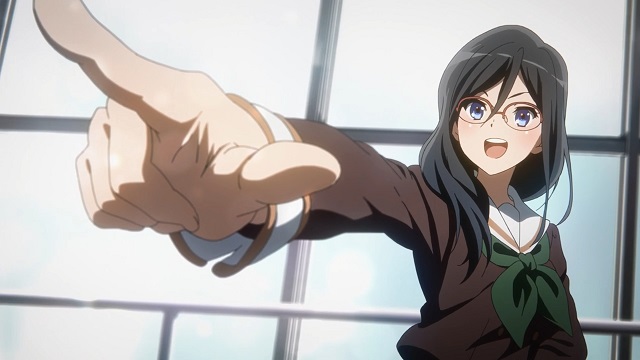 Posted by: Wonderduck at 01:45 AM | Comments (4) | Add Comment
Post contains 284 words, total size 2 kb.
April 15, 2015
Triage X Diagnosis: Black
So, I decided to give
Triage X
another episode. I figured I owed it that much, after the amount of fun
High School of the Dead
provided. Maybe, just maybe, it'd realize
how bad the first episode was
and make some sort of drastic change that'd make it watchable. It's not totally unheard of.
But in the case of
Triage X
, that would be impossible. Everything loathsome from the first episode is back, this time with bandages and narcotics thrown in for good measure. And just why exactly the bad guys decide that duct-taping folding chairs to someone's forearms would immobilize them is beyond me... particularly when the tape is applied in a small X to each seat. I just don't it.
Even the single use of color for dramatic purposes, shown above, is disappointing because you just know it's going to go away for the BD release. Instead of dramatic silhouettes, you'll wind up with bodies and blood, just like every other awful show that has a surgeon-samurai with gigantomastia in it. Really, it's almost enough to make me weep for the anime business that crepe like this can not only be released, but awaited eagerly.
I'll be fair, however: there was one change I can approve of in this episode.
They added "Episode: 02" to the card. After last week's "Prescription of Hell" with no hint of what that meant, this must be considered a step up. Maybe someone from CrunchyRoll reads The Pond.
Whatever. This is
so
dropped.
Posted by: Wonderduck at 09:15 PM | No Comments | Add Comment
Post contains 255 words, total size 2 kb.
April 06, 2015
It's An Amazing Day
Okay, first it's Opening Day with a full slate of baseball games on TV and radio. That always makes it a good day. But even better is the appearance of this:
This PV for the upcoming
ARIA the Avvenire
answers many questions about the upcoming series. Specifically it lists the cast members and the news on that front is good: the VAs that made their characters who they are will all be coming back. The PV does list Tomoko Kawakami as Athena, which on the face of it seems impossible since she passed away in 2011 from cancer. Maybe flashbacks, or dialogue snipped from past episodes? They can do remarkable things with technology! The presence of Ai and Akari's hair style suggests that
Avvenire
will be continuing on from
Origination
... which means Athena and Alicia would both be retired gondolieri, but they're shown in their respective company uniforms. Which means who knows?
Here's what I
can
tell you for sure: I desperately need this show in my life. Like, right
now
. Instead, we'll have to look forward to September.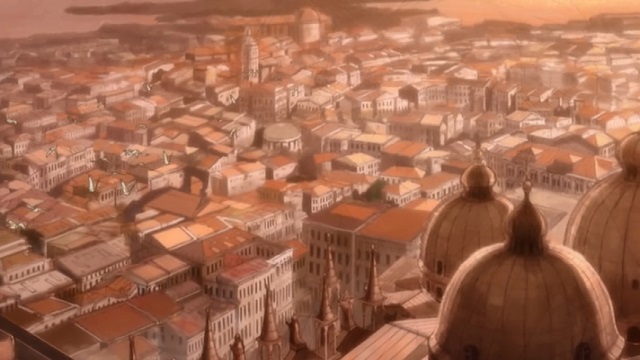 Posted by: Wonderduck at 02:29 PM | Comments (4) | Add Comment
Post contains 183 words, total size 1 kb.
33kb generated in CPU 0.0479, elapsed 0.123 seconds.
47 queries taking 0.1121 seconds, 238 records returned.
Powered by Minx 1.1.6c-pink.