October 11, 2009
When Anime & Formula 1 Collide... Part 3
Well, more like "
Light Novel that became source material for an anime & Formula 1 collide,
" but that's too long to put in the post title.
----------------------

"It seems other people aren't allowed to follow Suzumiya's train of thought. She's an amazing person."
Follow her train of thought? More like she's already lapped the rest of humanity multiple times. A whole three laps even. And you can feel the pressure as she creeps up from behind. It's so intense that at first glance, a person in the stands might be confused and assume you were on the same lap. That's something only people racing on the circuit would know, and Haruhi isn't going to ease on the pedal, be it an
S-Curve
, a
Degner Curve
, or a
crisscrossing one
. And on top of all that, she's the only one with a Bussard ramjet engine, which allows her to keep going forever...
-
The Sigh of Haruhi Suzumiya
by Nagaru Tanigawa,
trade paperback version
, pg 125.
For reference: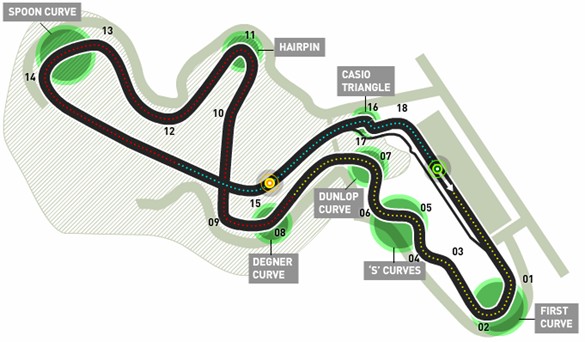 Posted by: Wonderduck at 07:16 PM | Comments (1) | Add Comment
Post contains 174 words, total size 2 kb.
October 06, 2009
Why I Shop At RACS
There are plenty of reasons why any self-respecting anime fan should shop at
Robert's
: huge selection, a sense of humor, low shipping costs, speedy service, and a huge commitment to customer service are just some of them.
Here's another one.
A few days ago, I was at work when the folks from the mail desk came by and dropped a load of stuff in front of me. Most of it was crap ("Junk, junk, invoice, junk, credit memo yay, invoice, invoice, junk..."), but there at the bottom was a small-ish box with the distinctive RACS shipping label on it.
"Huh?" said I, for I haven't placed an order there in a couple of months. Using my handy-dandy boxcutter (we get a LOT of boxes at the Duck U. Bookstore, after all), I sliced it open and found... an envelope?
And underneath the envelope?
Robert had e-mailed me out of the blue back around
that terrible day
, extending his condolences and sharing some personal experiences that helped, but this was entirely unexpected.
I'm a customer for life.
Posted by: Wonderduck at 09:19 PM | Comments (3) | Add Comment
Post contains 181 words, total size 1 kb.
23kb generated in CPU 0.0266, elapsed 0.4143 seconds.
46 queries taking 0.3995 seconds, 227 records returned.
Powered by Minx 1.1.6c-pink.