March 12, 2008
O RLY?
Astro claims to have 'defined' Kyoto Animation
over at his place.
Uh, okay, Astro, whatever you say...
...but I think there's some people who just might disagree with you...
...yep, all that's missing is the snow, all right...
...maybe,
just maybe
, his assessment is a leeeeeetle bit off, neh?
Posted by: Wonderduck at 08:31 PM | Comments (3) | Add Comment
Post contains 51 words, total size 1 kb.
March 09, 2008
ARIA, Undines and Promotions.
The world of
ARIA
is a lush and expansive one, with three series worth of anime (
ARIA the Animation
, 13 episodes;
ARIA the Natural
, 26 episodes and one OVA, "
Arietta
", and
ARIA the Origination
, currently on ep8 of 13), and two separate manga (
Aqua
and
Aria
) to draw details from (please note that this post draws only from the anime)
The setting for
ARIA
is the city of Neo-Venezia, nearly a brick-for-brick copy of the Italian city of Venice (which has been abandoned, finally slipping under the water of the Adriatic sea; whether this is because of eco-disaster or natural subsidence of the city is unknown), located on what was called Mars, now Aqua after extensive terraforming. Like the original, Neo-Venezia is waterbound, with canals replacing streets. As one would expect, the gondolieri of Venice made the trek to Aqua as well. The profession underwent a sea change (pardon the pun) in Neo-Venezia, however.
Now called Undines, the gondolieri of Neo-Venezia are exclusively female. A mix of tour guide and limo driver, Undines might almost be considered the 'rock stars' of Neo-Venezia, with magazines devoted to them, and the best being known city-wide and beyond, with their fame seemingly reaching to 'Manhome', as Earth is now called.
The Undines are well-organized, with their own guild of sorts, the Gondolier's Association. The 'gondolier concession', if you will, is run by three companies: Orange Planet (the largest, whose uniforms are lined with yellow), Himeya (the oldest, red), and Aria Company (the company followed in the show, blue).
There may be at least two other companies in Neo-Venezia as well (whose uniform colors are green and purple, respectively), but other than a brief moment in one episode, they exist 'off-stage', if you will.
Given all this, there are a few things that have bothered me (slightly) about the world of the Undines:
more...
Posted by: Wonderduck at 11:55 PM | Comments (5) | Add Comment
Post contains 1668 words, total size 11 kb.
March 01, 2008
One Last "...Angel" Post.
I almost wish I hadn't checked this.
The VCAs have a new feature this year, showing where each nominee ranked in the voting in each category.
"...Angel" was the best of the non-finalists in the "Best First Video" category.


UPDATE:
No it wasn't, at least not because of this list. It's in alphabetical order by video name; of course, I was looking at the name of the creator instead. Thanks to Andrew F. for pointing that out. Guess I just
wanted
it to be true so much that I just didn't research it enough.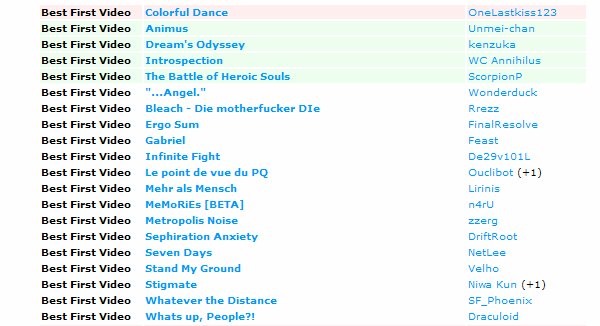 SO close, OH so close...
congrats to OneLastKiss123, though. Really good video, there.
Posted by: Wonderduck at 12:28 AM | Comments (7) | Add Comment
Post contains 111 words, total size 1 kb.
34kb generated in CPU 0.0147, elapsed 0.0952 seconds.
47 queries taking 0.0858 seconds, 240 records returned.
Powered by Minx 1.1.6c-pink.