March 21, 2009
Ikkitousen Great Guardians OVA 6
As they say, all good things must come to an end. Fortunately, all bad things come to an end as well... in this case, the
Ikkitousen Great Guardians
OVA series. Unable to out-ecchi the previous
Dragon Destiny
series of OVAs, the animators went the
silly and icky route last time
... can they redeem themselves with one final flurry of fantastic fanservice?
And who is our final challenger in the "sexy cosplay battle?"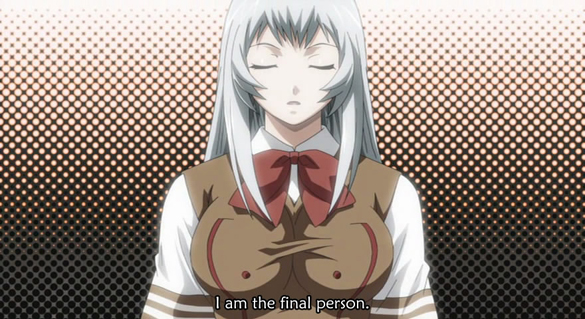 It's
Squintygirl
Shiryuu! I'm sure most of you are saying to yourself, "who?" And for good reason, she's practically Ms. Not-Appearing-In-This-Film, but what the heck, let's get her on stage!
As always, from here on out everything should be considered
NSFW
.
more...
Posted by: Wonderduck at 10:08 PM | Comments (4) | Add Comment
Post contains 248 words, total size 6 kb.
March 19, 2009
The Return of Anime Night!
It's been a long while since The Librarian and I have gathered at Pond Central for dinner and some anime. Over the past few months, life has just gotten in the way. Oh, we've gotten together every now and again for dinner, but the legendary Anime Night looked to be a thing of the past.
Until tonight. Tonight saw the return of the tradition. Dinner from Panda Express, a long bit of conversation and laffs, then four episodes of some series. But what series? It's been so long since the last Anime Night, we decided to start something new.
"They're all insane."
That was the comment uttered by The Librarian after the first episode of our new show. And what show was it?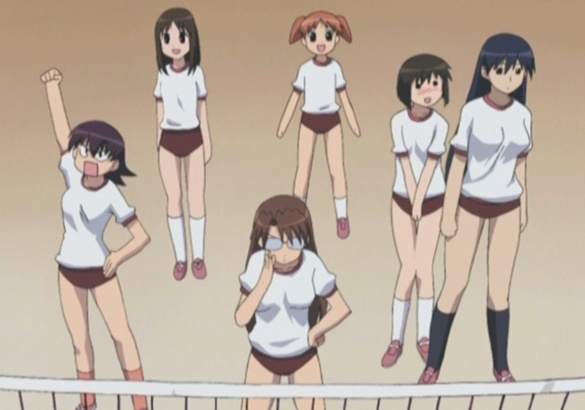 YES! Yesyesyesyesyesyesyes!
Azumanga Daioh
has long been my acknowledged favorite anime, but it's been a couple of years since I last watched it. The Librarian has seen an episode or two, but a really long time ago... so this promises to be a really enjoyable few weeks.
To be honest, I had forgotten how much
fun
AzuDai
is... and just how good it is, too. The animation quality is still quite good for a seven-year-old show (it suffers in comparison to, say,
Gurren Lagann
or
Clannad
, but so do most series), but there are many more still-shots than I remember. Sound and music is excellent, but there's no question the heart and soul of
AzuDai
is the characters... and those don't suffer from age in the least, and likely never will.
A better ensemble cast you will never, ever, find. Just a bunch of kids and their (eccentric) teachers, going through life in their own way... without angst, without serious problems, just enjoying themselves. Just what this tired duckie needed.
Posted by: Wonderduck at 10:28 PM | Comments (5) | Add Comment
Post contains 298 words, total size 2 kb.
March 18, 2009
Nanoha GamerS
I've been shamefully lax in praising a particular screenshot-based comic that I've been following. Over at
Moe Check!
, DKellis has taken the third
Nanoha
series, "Magical Girl Lyrical Nanoha StrikerS", and given it the
DM of the Rings
treatment.
If you're unfamiliar with the concept, DMotR takes the Lord of the Rings trilogy and... well, looks at it as if it was a D&D campaign. Each major character is being run by a person around a gaming table... and it hits every D&D nerve you could possibly have.
DKellis has done the same with StrikerS, creating
Nanoha GamerS
. If you like the Nanohaverse, you owe it to yourself to read it now. It's very, very funny, and yet strangely true to the series at the same time.
...except for the whole "Nanoha as psychotic killing machine" part.
No, wait... that
IS
true to the series, isn't it?
Anyway, I've taken the liberty of stealing one part of one entry as a teaser for anybody who might be thinking about reading:
Courtesy of MoeCheck! Thanks!
...Fisto!
Go read... you won't regret it!
Posted by: Wonderduck at 09:44 PM | Comments (1) | Add Comment
Post contains 183 words, total size 2 kb.
March 11, 2009
The Most Dangerous... um... Jam?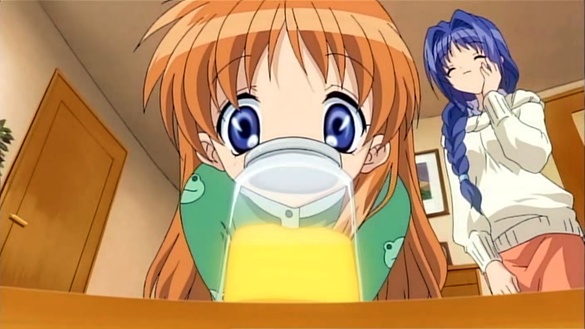 It's so wrong, but so, so right. I want a jar.
Posted by: Wonderduck at 09:18 PM | Comments (10) | Add Comment
Post contains 16 words, total size 1 kb.
34kb generated in CPU 0.0165, elapsed 0.102 seconds.
48 queries taking 0.0892 seconds, 247 records returned.
Powered by Minx 1.1.6c-pink.