December 27, 2007
Anime... um... Afternoon!
The Librarian and I are both on vacation this week, so instead of getting together this evening as we normally would, we decided to do an afternoon Anime Night.
In some ways, this was a lot better than our normal routine, as we got right into the watching and watched a whoppin'
seven
episodes of
Kanon 2006
, instead of the usual three. And which seven, you might wonder? Episodes 9 through 15, also known as the end of the Makoto arc and the entire Mai arc.
In other words, my favorite stretch of the entire show. I
wrote about the Mai arc
back in February, and everything I mentioned there still apply: I laughed, I cried, I yelled, and I cheered... well, not out loud, but you get the point.
What makes this all the better is that The Librarian is as taken with the show as I was. Oh, she's denying it, but she's quite hooked... why else would she be looking for
Kanon
AMVs in her spare time? Okay, she was making fun of the end of Makoto's story ("awoo... awooooo... awoo? Awoooooo."), but I did too, back when I first saw it (as an aside, the seiyuu for Makoto, Mayumi Iizuka, must have thought she had died and gone to heaven when she realized that she was going to be paid three times over for, essentially, making puppy-dog noises. A hit videogame, a successful anime adaptation, and then the smash remake? It's like a license to print money!).
It's gratifying to watch The Librarian enjoy the series so much, honestly. I mean, I'm a fan, and
Jeff's
a fan, and
Ubu
's a fan, but they're also anime bloggers. The Librarian is more of a casual fan, I think (even if she created an anime/manga club at her Library)... it almost seems like redemption of a sort for me. We both enjoyed
CardCaptor Sakura
, and liked
World of Narue,
but
Kanon
's got her locked on the screen, hard. Even if she did call me a sap.
As an aside, Mai's awfully cute with those bunny ears:
UPDATE
: I would be remiss if I didn't mention that The Librarian brought me a tin of Christmas cookies today... it appears that I'm permanently on her mother (aka "The Evil One", for reasons that aren't clear to me)'s cookie list! T'anks, Librarian! T'anks, Librarian's Mom!
Posted by: Wonderduck at 10:58 PM | Comments (2) | Add Comment
Post contains 397 words, total size 3 kb.
December 26, 2007
THERE IS A SANTA!!!
Via Don
comes news that all our Otaku Day Wishes have been answered: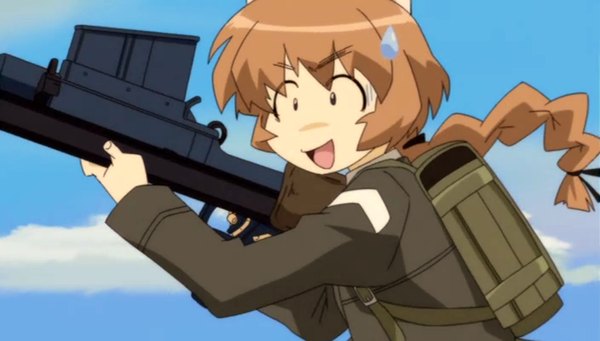 There's going to be a
STRIKE WITCHES
series!
I'll never doubt that there's an Otaku Santa again!
Posted by: Wonderduck at 09:53 AM | No Comments | Add Comment
Post contains 34 words, total size 1 kb.
December 24, 2007
Happy Otaku Day!
It was in the year 40 ATA (
After Tetsuwan Atomu
) that the long-lost religious holiday of
Otaku Day
was rediscovered. Celebrations were joyous, if a bit strained (with schisms forming almost immediately, mostly around alternative veneration of one Haruhi Suzumiya).
With this year's Otaku Day rapidly approaching, I would be remiss if I didn't return to those heady days of last year.
more...
Posted by: Wonderduck at 10:09 PM | No Comments | Add Comment
Post contains 186 words, total size 2 kb.
December 09, 2007
Anime Night @ The Pond
So The Librarian came over this past Thursday night to renew our more-or-less weekly tradition of eating Chinese food (well,
Panda Express
. Their orange chicken is one of the Perfect Foods, along with rye bread and Chicago-style deep dish pizza), discussing work, nibbling on Pocky, and watching anime.
As you may remember, last time
we finished up

Elfen Lied
. Earlier this week, I had sent her a list of shows I had available (around 100, on DVD or fansub). She reminded me, however, that she had chosen
EL
, and that it was my turn to pick.
Oh. Hm.
See, here's the thing. The Librarian and I have maybe slightly different tastes in anime, so choosing a series is always a little adventuresome. Fortunately, though, I've known her for nigh on ten years, so in some things I've got a good concept of what she likes (I don't think I'd be able to choose a wallpaper for her, though).
So after browsing the web for a bit, I made a decision.
Thursday night rolled around, and after orange chicken, I provided her with a bottle of strawberry ramune, offered pocky, turned down the lights, and looked out the window as the DVD player spooled up...
more...
Posted by: Wonderduck at 01:33 AM | No Comments | Add Comment
Post contains 435 words, total size 3 kb.
27kb generated in CPU 0.0131, elapsed 0.1204 seconds.
45 queries taking 0.1118 seconds, 229 records returned.
Powered by Minx 1.1.6c-pink.