June 25, 2015
Your Weekly Asuka, Ep12
Dammit, we
need
an Asuka-centric episode. I say that not because it would make writing
Your Weekly Asuka
a lot easier, but because KyoAni has stopped using her as an actual character.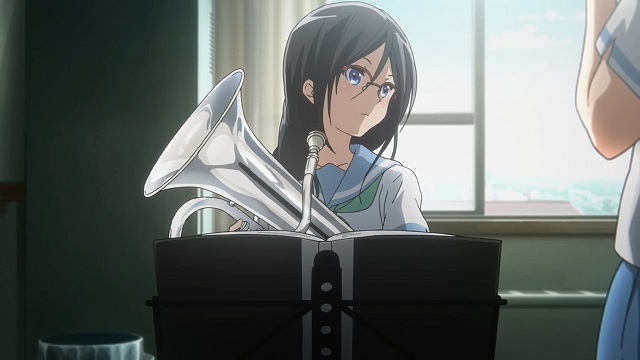 -Hibike! Euphonium
, Ep12
In this, what will probably end up being the penultimate broadcast episode for this season, the euphoniums are asked to lend their sound to a particular fragment of music that sounded empty being played by just the contrabass. It's a tough passage, the musical equivalent of making
Rio: Rainbow Gate!
funny.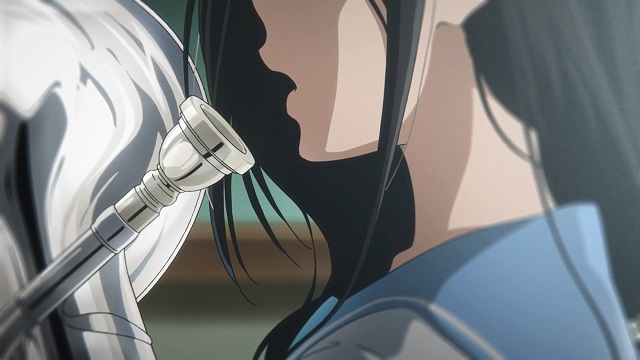 Of course, Asuka barely glances at the sheet music and plays it flawlessly. Worse, she makes it look and sound
easy
. So when it comes time for Our Hero to give it a go, she sounds awful. Worse than awful, she sounds clumsy. Embarrassed for no good reason, she grabs her music stand, says "I'm going to go practice", and the events of the episode are put into motion.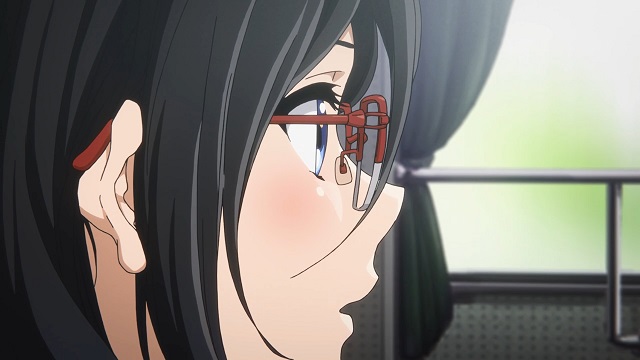 And that would be fine if that's all Asuka had ever been, just some musical goal to reach for. But she's been a major character in this show, just one small step behind the "big four" (and arguably ahead of one or two of
them
as well!), and light-years more important than most. Worse, she's been a character with
character
, and a distinctive one at that. And now KyoAni has turned her into a mere plot point. I've been saying all along that, in a sense, this has been Asuka's show and in a way Ep12 proves that: her skill at playing the euphonium makes the episode happen. But that's really not what I meant. It
is
, however, how Kyoto Animation has decided to use her. Damn shame, and quite possibly their biggest waste of a personality since
Tomoyo
in
Clannad
... the non-OVA version, that is. Well, with the release of the first BD in Japan this week, they did give us a little bit of a pat-on-the-head... a two minute omake that included this image:
Obviously she needs a rubber duck. I'm not surprised she doesn't have one, though... disappointed, but not surprised. Really, Sapphire seems to be more likely to own a rubber duck.
UPDATE
: I just noticed that this is the 400th post in the anime category. That's gotta earn a "wow".
Posted by: Wonderduck at 09:36 PM | Comments (3) | Add Comment
Post contains 384 words, total size 3 kb.
1
So basically, in this episode Kumiko isn't good enough, and tries to get better, and tries to get better, and tries to get better, and isn't good enough. Oh, and KyoAni animated the HELL out of a bit of Kumiko running through the night. Because they could, I suppose.
There were some nice moments (especially when she leaves Reina hanging after starting out saying "I was just talking to Taki-sensei and...") but there wasn't a lot of plot motion in this one.
Still awfully pretty though. And if this was their
weak
episode, well, so be it.
Posted by: GreyDuck at June 25, 2015 10:26 PM (/zxpg)
2
I didn't mention that the episode looked amazing, because I just assumed that everybody took that for granted by now.
Posted by: Wonderduck at June 25, 2015 11:18 PM (jGQR+)
3
I wonder if some of this (I felt Reina was used as a plot device for a couple of episodes, as well) is due to the nature of transposing the novel into a series. In order to fit the schedule, I think KyoAni may be stretching some events out a bit, which reduces some of the moving parts of the story to performing in only one dimension.
Just speculation. I still don't really know anything about the novel, other than the little bits I pick up online.
Posted by: Ben at June 26, 2015 07:12 AM (S4UJw)
28kb generated in CPU 0.0137, elapsed 0.3769 seconds.
49 queries taking 0.3677 seconds, 281 records returned.
Powered by Minx 1.1.6c-pink.