January 26, 2008
It's Time For The VCAs!
Over at
AMV.org
, the 2007 Viewers Choice Award contest has begun. If you're a member of The Org, this is the best way to find all the great AMVs you might have missed during the year (I can count the number of amvs I've downloaded this year on two hands)... if you're not a member, you should become one, just because it's free and you get to d/l all you want.
The contest is in the 'nominations' phase (basically Round 1), where all qualifying videos are put to a general vote... the top vote getters move on to the actual contest itself.
Of course, yours truly
has an entry
in the VCAs this year: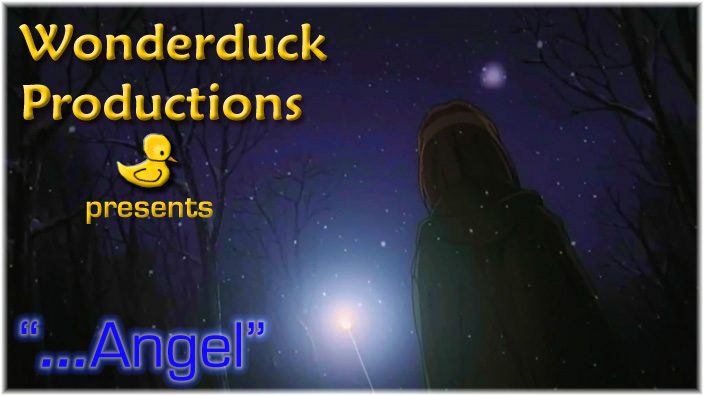 I'd particularly like to get a few votes in the "Best First Video" category, maybe make it into the contest itself. I don't expect to win, but weirder things have happened.
If you liked "...Angel", pop over and give it a vote, won't you? Heck, even if you DIDN'T like it...
Yes, I'm begging for your vote. Guilty.
Posted by: Wonderduck at 11:10 AM | Comments (6) | Add Comment
Post contains 177 words, total size 1 kb.
January 19, 2008
Zipang!
(warning: graphics-heavy post ahead)


Dear Son...
I know you're too young to understand this letter, but I wanted to write you so you might know what your father did while he was away from home all the time.
You see, I was an able crewman in the JMSDF. I served to protect Japan against... well, not much, really, since we weren't at war, but I still did an honorable job on board the JMSDF's newest ship, the
Mirai
. Here's a picture of her at sea:
Beautiful, isn't she? Lovely detailing in that photo. Anyway, the
Mirai
is a modified
Kongo
-class
destroyer, which is a modification of the US Navy's
Arleigh Burke

-class
ship.
Our first mission was to be a joint exercise with a US Navy task force, but along the way something strange happened...
more...
Posted by: Wonderduck at 11:51 PM | Comments (8) | Add Comment
Post contains 1150 words, total size 9 kb.
January 13, 2008
How To Make Subs Unreadable.
I've been eagerly awaiting the second season of
Gunslinger Girl
since it was announced a few months back. I really enjoyed the first series, and seeing more of those characters was going to be the high-point of the winter anime schedule for me.
A few days ago, I noticed that the RAW for the first episode was available; when the fansub came out today, I was really enthused.
This evening, I settled into my chair, started up ZoomPlayer, cued up the show...
...and lasted two minutes before I closed the episode.
Look, I appreciate all the effort that goes into making a fansub. You need a translator, a typesetter, a proofreader, and probably a few other things that I don't know about, but most of all, you have to really enjoy doing it since all that effort ain't gonna earn you anything. I respect that, and I've never ripped a fansub group for doing what is basically volunteer work.
But for the luvva pete,
AEN
, how could you think that this was acceptable?
Please note that all I've done is adjust the size of the picture to fit The Pond's formatting.

This actually made the subtitles

easier

to read.

Oh, and the translation notes for "Nii-san"? Just a guess here, but I'm thinking that those people who are d/l'g anime fansubs in the first place already know what words/phrases like that mean.
I'm sure you can say that I'm only ripping on AEN because these problems have shown up in a show that I've been looking forward to, but I have to wonder if they even looked at what they were doing. When I did my AMV, I had the good sense to have other people look at it before I made it generally available. They found mistakes I hadn't noticed, made suggestions on how to tighten it up, and ithat made the thing better than it was before. Quality Control is an important part of any project, folks.
I hate to say this, but even if they're the only group that winds up fansubbing the show, I won't be watching; those subtitles are just
bad.
Posted by: Wonderduck at 02:52 AM | Comments (4) | Add Comment
Post contains 361 words, total size 2 kb.
35kb generated in CPU 0.0166, elapsed 0.2435 seconds.
47 queries taking 0.2312 seconds, 243 records returned.
Powered by Minx 1.1.6c-pink.