April 29, 2011
Ga-Rei Zero ep04: How Could I Have Missed That Joke?
Last night, Pond Central had a visit from The Librarian for our not-quite-weekly night of Chinese food and Japanese animation. Instead of carrying on with
Bamboo Blade
(which we'll resume later), I kinda insisted that we watch a different series, one that we can finish in three or four sessions. That series?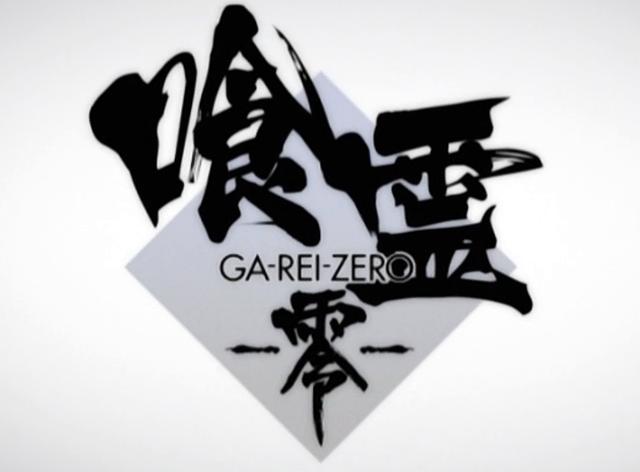 Oh heck yeah! The Schoolgirl In Black, the Schoolgirl in White, the Rocket-powered Wheelchair of Awesome, Laser Weasels, Pocky, the works! It's finally out on DVD and Blu-Ray, and of course it joined my collection as soon as it was available. High art it's not, but it
is
a fun show.
What was really enjoyable was watching The Librarian watch it. From her questions before I hit play, it was clear that she hadn't read the episodic review I did last year (actually, she doesn't come 'round The Pond very often), so I was understandably curious what her reaction would be to
Episode 01
. For those of you who don't remember, that's the one where they introduce the cast, put them into two harrowing situations, have them work through the problems in a calm and professional manner, gets you to like them... then the Schoolgirl in Black kills them all off in about thirty seconds. The Production Staff for
Ga-ReiZero
even went as far as to make all their pre-airing promotional material focus entirely on the cast of Ep01, so to make their deaths even more of a shock. The Librarian's reaction when Ep01 faded to black? "Wait, that's it? That's the whole show? It's over?" I didn't get to have that experience the first time I saw the show as I knew that there was more show coming... if the Production Staff is reading, rest assured that your efforts did not go to waste. You done good.
Now understand... when Anime Night comes around, The Librarian and I usually watch two or three episodes of whatever show is on our docket, then we call it a night. This time though, when we hit the end of Ep03, she asked how many episodes were on the DVD. I said "six," and she replied "I've got time." We wound up watching all six episodes, which ties a record for us (we saw six episodes of
Kanon '06
a few years back) and I suspect we'll finish up next week. Definitely a hit.
As we watched
Ep04
, it dawned on me that I had completely missed a gag in the show...
more...
Posted by: Wonderduck at 07:14 PM | Comments (1) | Add Comment
Post contains 584 words, total size 5 kb.
April 22, 2011
Finally, A Gem For The Spring 2011 Season
A few days ago,
I bemoaned how the Spring 2011 season was doing nothing for me
. To be sure, there were a few series that had potential, but nothing had grabbed my attention and made me excited as of yet. Shows like
Nichijou
or
A Channel
, though they should have waist-high batting practice fastballs right down the center of the plate for me, had just failed to engage my interest.
Well, as of last night, that's changed. There is
one
show that was so entertaining that it made me I watched not one, not two, but
three
episodes back to back and make me immediately wish for more. That show is
Hanasaku Iroha
.
At its heart,
HanaIro
is a classic fish-out-of-water story. Ohana is sent to live with her grandmother by her dissolute mother. Grandma runs a old-fashioned hot springs inn out in the country, and has been estranged from Ohana's mother for some years. When Ohana arrives she's told that she's not a guest, she's going to have to work for her room and board. Our Heroine, a noisy city girl, immediately alienates the other employees with her graceless words and actions. Slowly coming to the realization that she has to make the best of the situation, she sets about making things right. Hijinks (and some Japanese rope bondage) ensue.
Obviously Ohana is the straw that stirs the drink, but unless her character has something to work off of, it doesn't much matter how engaging she is. Fortunately,
HanaIro
has secondary characters that are the equal to Our Heroine. An apprentice chef that seriously wants Ohana to die, a quiet waitress that thinks Our Heroine is scary, a martinet Grandmother, a prying head waitress, the heir to the inn (Ohana's uncle), the stoic head chef and his energetic assistant, even the required ancient handyman. Oh, and the guest that's a failed writer trying to make ends meet via erotic fiction, can't forget about him.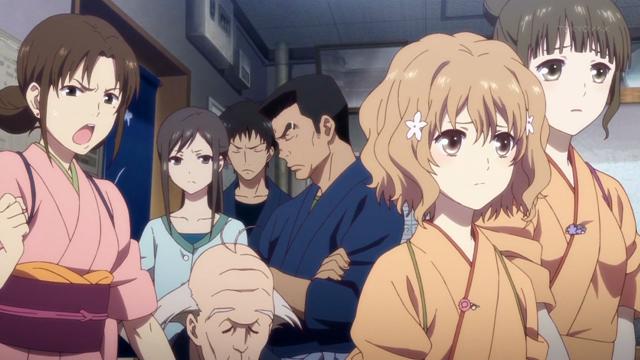 l to r: prying head waitress, apprentice chef, ancient handyman, energetic assistant, stoic head chef,
Our Heroine, quiet waitress. Not shown: martinet grandmother, uncle, perverted writer.

Everybody can keep up, character-wise, with Ohana, a tribute to this effort by PA Works. Maybe the show as a whole won't be able to stay at the energy level its been at for the first three episodes, but it's gonna be a blast finding out. Heck, it made it me laugh out loud a couple of times, is what I'm saying. Highly recommended.
Posted by: Wonderduck at 07:46 PM | Comments (4) | Add Comment
Post contains 423 words, total size 3 kb.
April 19, 2011
What's Wonderduck Watching? Spring 2011 Edition
Or, more correctly, "what's Wonderduck
not
watching?" I've been a fan of anime for a long time. I became a diehard fan maybe ten years ago, and was a casual fan for some years before that. Over the years, my desire to participate in this hobby has been universally high; shows may come and go, both good and bad, but I've always enjoyed the actual watching of them. Until now.
Which is weird. Readers of The Pond know my tastes: slice-of-life, romantic comedy, melodrama, that sort of thing. "Cute girls doing cute things in cute ways" would be a good description of the type of show I generally go for. Throw in the occasional action-based series that catches my eye at the right time, and you've got me pretty much covered.
Knowing that, the Spring 2011 season has a good handful of shows that may as well have been written specifically for me. Yet I find that, not only am I not particularly enthused about them, I'm having a hard time watching whole episodes at a time.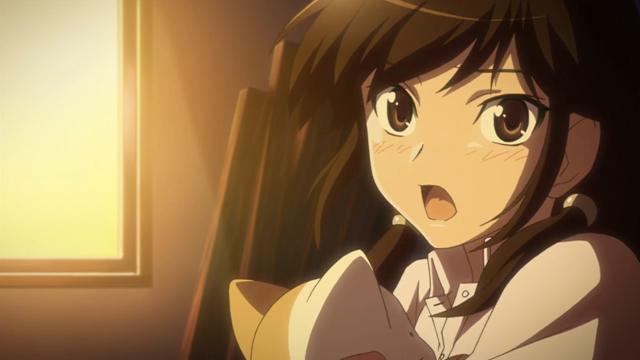 Picture from

The World God Only Knows II

, which I'm probably not going to watch either.

Let's take a look at what isn't catching my fancy this time around, shall we?
more...
Posted by: Wonderduck at 10:10 PM | Comments (5) | Add Comment
Post contains 716 words, total size 5 kb.
April 15, 2011
Rio Rainbow Gate! The Lost Reviews: Ep02
(Wonderduck's note: my internet connection went down again, just before I finished this. It was supposed to go up Thursday night... the best laid plans of ducks and men...)
I do
not
believe I'm doing this. I thought I had finished with these things, but somewhere in the back of my mind, there was a little figure in a
shrimp costume
that keep nagging me: "You've left something incomplete." Sure enough, back when
RRG!
first started airing, I reviewed Ep01, made a brief comment for Ep03, then carried on every week from there. But I never did a full writeup for Ep02, and Ep03 deserves one as well, if only because of that's when Rina joins the cast. So sit back, relax, buckle in and strap it down, because I'm going back into hell. I'm going back to Casino Island. I'm going back to...
Do not pray for my immortal soul, friends, for it's already been damned to suffer eternal torment by viewing this show. Just spare a thought for the agonies I am about to endure for your enjoyment, and when you think of me... think well.
more...
Posted by: Wonderduck at 06:38 AM | Comments (5) | Add Comment
Post contains 1816 words, total size 14 kb.
April 05, 2011
Rio Rainbow Gate! Final Thoughts
Before I get started, let me make one thing perfectly clear:
Rio Rainbow Gate!
is not a good anime series. I don't even think I can manipulate things in a way to even make it "average." It's just not good. That's all there is to it.
Having said that, let me try and explain just exactly why I not only watched all thirteen episodes, but spent hours on episodic reviews for each one. This is going to come as quite the shock to anybody who's read those writeups, but I gotta admit... I think I actually
liked
RRG!
. In my
review of the first episode
, I described a concept known as "fun-bad." Fun-bad is a point in which something is so terrible that it's fun to experience. I used the 2010 Chicago Cubs as an example; losing a pop fly in the sun is bad. Losing a pop fly in a gatorade bucket is fun-bad. I also said that
RRG!
blew past fun-bad so quickly that it never acknowledged the existence of such a possibility. In that, I was wrong.
RRG!
has a sense of the ridiculous about it that it seemed to embrace, intentionally or otherwise, as the show went on. Stupidly over-the-top card games were just the beginning. Supernatural possession, holographic space sharks, flying hotels, magical spells that only affect things made in China, giant water slides as casino games, headless androids, tentacle monsters, and many many things more... all of this is not only not uncommon in Rio's World, but not even thought of as strange. It's a world where people can walk around in a
shrimp costume
and not be looked at twice.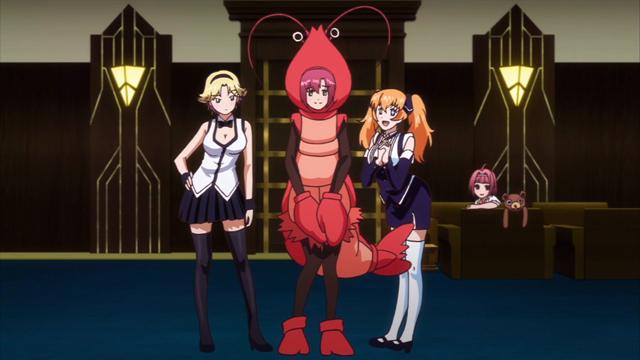 As much as I joked about how the show didn't have a plot and any attempt to add one should result in extreme measures being taken against the Production Staff, there actually was one... and an evolving one at that. What started out as a "gotta-catch-em-all/monster-of-the-week" thing with the Gate battles (each one more over-the-top that the preceding) turned into a story of revenge, betrayal and redemption with the inclusion of Rina. To be sure, it wasn't a deep plot by any means, but it did become something slightly thicker than your average sheet of paper. Praising with faint damns, I know, but there you are.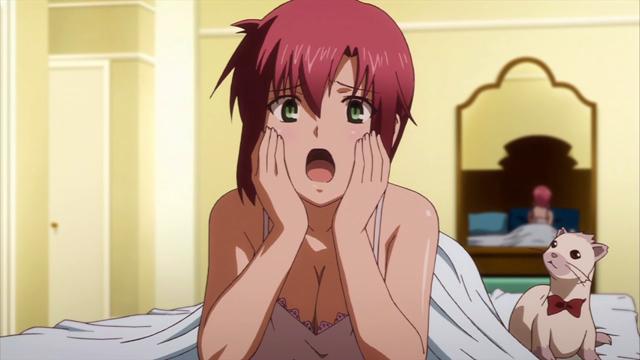 I guess what I'm trying to say is that I don't really have a reason for liking
RRG!
other than the awe-inspiring level of stupid that pervades every frame of the series. Anime, like everything else in life, doesn't have to be Art to be entertaining. In fact, I'd place
RRG!
as my second-favorite series of the Winter anime season, behind only
Puella Magi Madoka Magica
. It certainly ranks far above shows like
Fractale
and
Kore Wa Zombie Desu Ka
, two series that had a lot of promise that flamed out spectacularly.
RRG!
had no such pretensions, and rose above my expectations. To be fair, I had nothing but disdain for
RRG!
so that's no great achievement, but it's better than a kick in the teeth.
Oh, who am I kidding?
more...
Posted by: Wonderduck at 10:29 PM | Comments (6) | Add Comment
Post contains 594 words, total size 5 kb.
April 03, 2011
Rio Rainbow Gate! ep13
Captive's Log Day 89
: It's been nearly three months since I was last free. Nearly three months since the torture began. Nearly three months since my sanity began to fade. Nearly three months since I was first subjected to the nightmare that is
Rio Rainbow Gate!
. How was I to know what that first viewing would do to me, both short- and long-term? At first I resisted... I knew what the Production Staff was trying to do, and I refused to let them break me. Slowly, however, they weaseled their way under my barriers and I began to...
care
. Care about the show. Care about the characters. Care about the ultimate outcome. It was
Stockholm Syndrome
, a classic case if there ever was one. The bastards nearly had me then. Somehow, I got through it with some shreds of sanity and human decency left. Then I began to hate. I nurtured that hate and rage and anger as a way to get me through whatever they decided to do to me. It worked. I've managed to make it to the end. One last episode to go and then I'm a free man. There's nothing they can do to me that'll make the pain any worse, for I can see the end. I've done it. I'll have survived
Rio Rainbow Gate!
. Come, Production Staff, one last dance... for old time's sake. Then I'll quit you forever.
We pick up mere minutes after the end of Ep12, with the final Gate Battle still in progress. Our Heroine and her sister are locked in a cutthroat game of poker, the first to win fifteen hands is victorious. The winner gets all 13 Gates, becomes only the second Most Valuable Card Dealer ever, and will get to "see the rainbow," whatever that means. The loser? We'd rather not think about that, but it probably involves holographic flying sharks. When we last saw the game, Rina was up two games to zero. The situation has changed somewhat.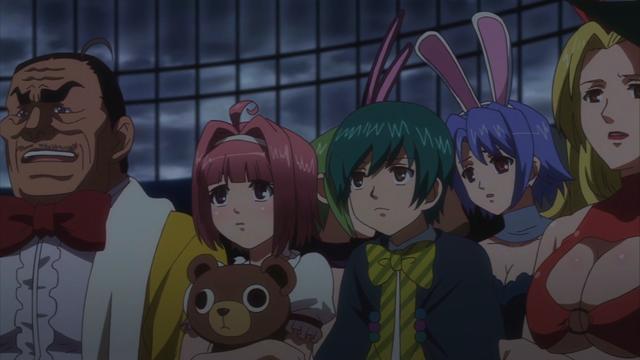 The looks on the faces of the Usual Suspects says it all. Stunned disbelief. Growing despair. A sense of loss, a sense of failure. Depression. Sadness. Hopelessness. In short, the entire
Rio Rainbow Gate!
experience, all in one screenshot. Our Heroine has lost thirteen hands in a row, and as we watch, the fourteenth goes to Rina as well.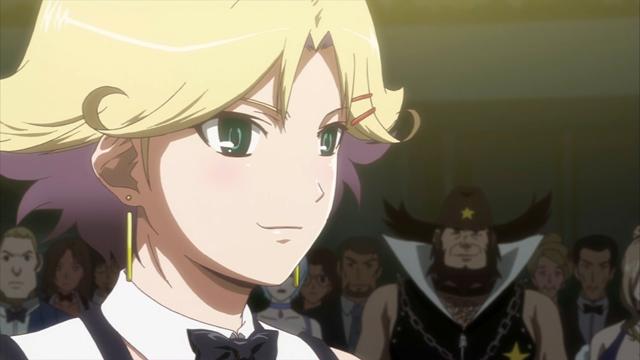 The amount of raw smug coming off of Rina is amazing as she mocks her sister's performance. The culmination of her life's ambition is at hand, her vengeance nearly complete.
And yet, for someone about to be completely embarrassed, Rio seems to be remarkably unconcerned... almost like she knows something nobody else does. In fact, her attitude begins to rankle Rina, who actually gets angry. The Owner yells from the crowd that Rio doesn't need to throw the game to make up for her past transgressions against her sister, that it's all right to win... and Rina goes full psycho, screaming accusations across the table. Rio just smiles and says something to the effect of "it's just the way the cards are falling. Isn't that the way casino games are supposed to work?" The final hand is dealt.
more...
Posted by: Wonderduck at 02:40 AM | Comments (10) | Add Comment
Post contains 2553 words, total size 20 kb.
54kb generated in CPU 0.0195, elapsed 0.302 seconds.
50 queries taking 0.2887 seconds, 262 records returned.
Powered by Minx 1.1.6c-pink.