April 30, 2008
Ikkitousen: Great Guardians!
This might be one of the greatest moments
EVER
here at The Pond...
Yes!!!

The third of the
Ikkitousen
series is scheduled to hit the airwaves this summer, but a preview clip on DVD was recently released in Japan. Thenceforth, it made its way to way to the 'net, and from there, to my computer.
And now, to you!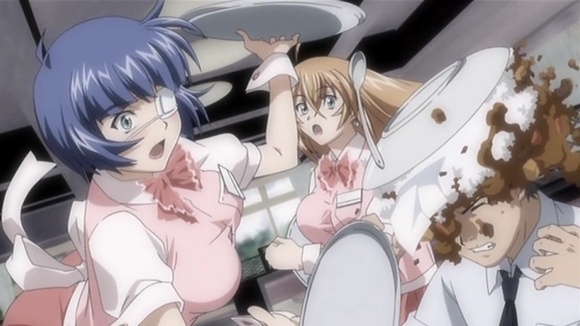 MY Mou-chan?

Clumsy

? Oh, h*ll no!
From the looks of it, it'll be picking up pretty much from where
Ikkitousen: Dragon Destiny
ended, though Mou-chan and Hakufu were working in a cosplay cafe at that time.
There's not much else you can tell from the preview, but it's entertaining to watch all the same!
Mou-chan commands you to click below!

NSFW past the click...
more...
Posted by: Wonderduck at 09:31 PM | Comments (6) | Add Comment
Post contains 346 words, total size 6 kb.
April 21, 2008
Clannad's End, or "Can I Get A Light Cue?"
It took me nearly two weeks to swallow down the trepidation and watch the last two episodes of
Clannad
. I knew that ep22 would finally show us Nagisa's play, and that filled me with dread... because, underneath everything that I've become over the years, there's still a part of me that wishes I could have followed my dream and become a lighting designer for the theatre.
Like the "Old Man", I had to let that dream go, though not for the same reasons.
In fact, recently
Clannad
had been punching some very touchy buttons in me, for reasons that will become clear later this week. It took some serious effort for me to finally open up ZoomPlayer and run the final eps.
So imagine my surprise when I found myself doing something I hadn't done in a long time...
more...
Posted by: Wonderduck at 12:46 AM | No Comments | Add Comment
Post contains 1187 words, total size 8 kb.
April 13, 2008
Bad Ideas for Anime Crossovers: KANONKON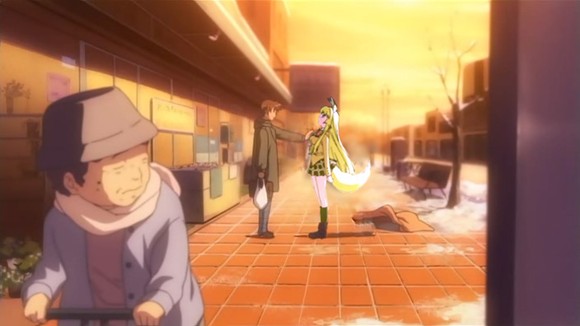 -
Kanonkon
, ep02
In this scene, Yuuichi meets fox-girl Chizuru for the first time in seven years.
I'm going to hell for this, aren't I?
Posted by: Wonderduck at 06:44 PM | Comments (2) | Add Comment
Post contains 30 words, total size 1 kb.
April 10, 2008
Random Anime Picture #18 and Trivia Question
...or Sloths In Anime, #1.
-
Special A
, ep01
Basic plot: Our Heroine is the best and the brightest. Except for one guy who's better at everything. Hijinks ensue.
Sounds fairly lame, but at least episode one was good enough for me to decide to keep watching.
And, hey, it's the second time there's been a sloth in anime. That's gotta count for something, right? (
Bonus Trivia Question
: what was the FIRST time?
Extra Special Bonus Trivia Question
: what's the link between the two, other than being sloths?)
UPDATE
:
Jeff Lawson
guessed "the sloth in CardCaptor Sakura", which is the right answer! See the comments below for the link betwixt them!
ANOTHER UPDATE
:
From
CardCaptor Sakura
, ep 13 ("Sakura and the Elephant's Test of Strength")
Posted by: Wonderduck at 01:02 AM | Comments (14) | Add Comment
Post contains 131 words, total size 1 kb.
April 09, 2008
Bamboo Blade Ganbatte!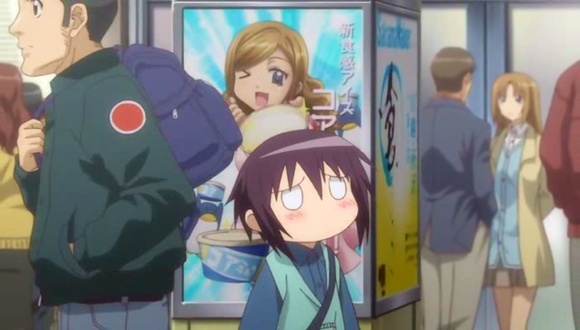 I feel the same way, Tama-chan.


So
Bamboo Blade
has come to an end. I'll admit to being kinda bummed about that.
Truthfully, and I'm going to have scorn heaped upon me for saying this, the adventures of Tama-chan and the gang have been the ones I've most eagerly awaited each week. More than
Kimikiss
, more than
Rosario+Vampire
(easily more!), more than
Spicy Wolf
... and dare I say, maybe even more than
Clannad
?
Please don't get me wrong,
BB
is hardly high art... more like high Fred, Art's younger, less talented, brother. In some ways, in fact, the show is kinda cheesy at times, sappy at others. The character designs, particularly Dan-kun and his egg-shaped cranium, take a little getting used to. The plot is nothing you haven't seen in a gazillion sports movies and anime before; the only difference is that our heroes are swinging kendo blades instead of baseball bats.
But yet...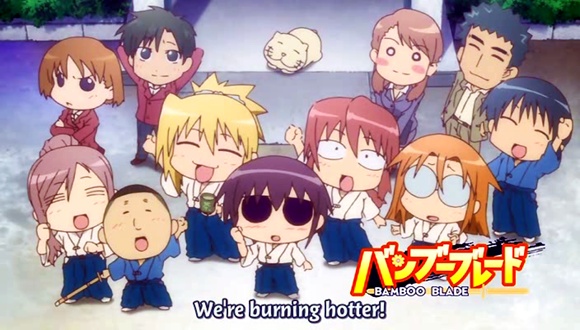 It's the characters that make any show, of course, and Tama, Kirino, Miya-Miya, Saya and Satori are a fun group to watch. Yuji and Dan are just sorta... eh. But, darn it, by the end of the series, I actually
liked
all of them.
Sure, the plot is hackneyed and cliche-ridden. Granted. I don't care.
Sure, the art isn't the greatest. Granted. I don't care.
Sure, there are better shows out there. Granted.
I don't care
.
Bamboo Blade
was some of the most fun I've had watching anime in a couple-three years, easy. Here's hoping for a second season!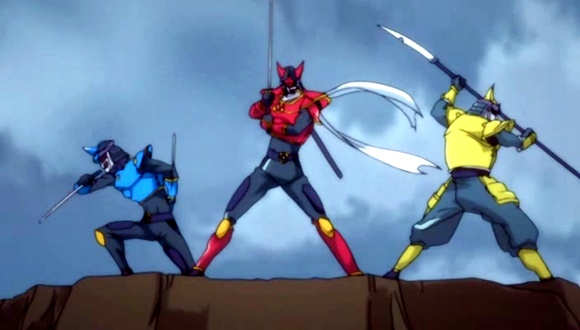 ...and more BLADE BRAVER!

Posted by: Wonderduck at 12:20 AM | Comments (4) | Add Comment
Post contains 260 words, total size 3 kb.
41kb generated in CPU 0.0323, elapsed 0.1164 seconds.
48 queries taking 0.0925 seconds, 255 records returned.
Powered by Minx 1.1.6c-pink.