July 13, 2012
The Next Series: Voting!
You've nominated shows. I've whittled them down to series I'd be willing to do, then added some titles as well. And now... you get to vote. But first, the final nominations:
GUNSLINGER GIRL
Perhaps a strange choice, since it's on
my list of favorite series of all time
, but oh, is it ripe for the pickin'! Little girls with terminal illnesses or severe injuries are taken away from their families, turned into cyborgs, trained as assassins and let loose on the enemies of Italy. That's about as perfect a setup for a Wonderduck Episodic Review ever.
HUMANITY HAS DECLINED
Humanity is fading away. The fairies have come. They're
weird
. There's skinned poultry running around. What more do you need to know? (note: I've gotten all this from reading other reviews, I have no first-hand knowledge of this show)
ELFEN LIED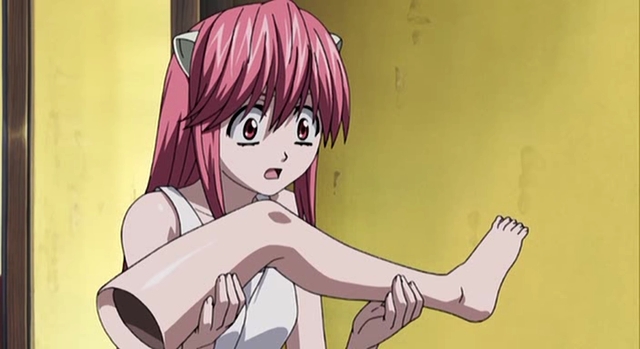 Happy-go-lucky nuclear family hijinks. No, wait, that's wrong. Let's try again... Dark. Grim. Violent. Cute. This is the way the world ends. I'm almost SCARED to try
Elfen Lied
, it could be the greatest review fodder ever... or the worst.
HIGH SCHOOL DxD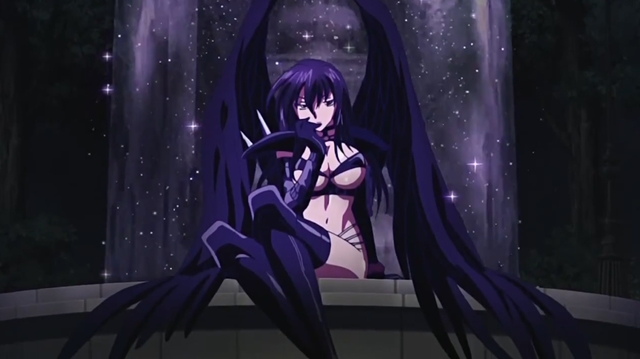 High school guy gets asked on a date by a beautiful classmate. Woo! Who then turns into a dark angel and kills him. Oh. He gets better. Yay! Because a devil brings him back to life as a servant. Oh. As far as shows go, it could be fun. It could suck. Either could make for good review stock!
BEN-TO
The best show about martial arts combat for half-priced bento you'll ever find. Fanservice, action, stupidity, cute girls, AND a surprisingly good story... it's nigh-on perfect for a review series! I really liked it, wouldn't mind visiting it again to savage in one of my patented episodic reviews... I mean, I didn't like it THAT much. Heh.
UPOTTE!
Girls with guns? That's for amateurs! In
Upotte!
, the girls
are
guns! Really, how can this be bad? It doesn't take itself seriously, except when talking tech-specs or everybody is shooting one another at short range. I watched the first six episodes or so then let it go, but it showed great promise as a review topic.
So there are the choices. It's up to you, my readers, now. Voting closes at 10pm Central Pond Time on Sunday, July 15th. One vote each, so make it count! And let the "best" show win.
Posted by: Wonderduck at 10:08 PM | Comments (19) | Add Comment
Post contains 398 words, total size 4 kb.
July 09, 2012
The Next Series: Nominations!
Well... the episodic reviews of
High School of the Dead
were a success, I think. What the heck, lets do it again! Last time, I chose the series you got to vote for... this time, I want your help! Give me the name of two series that you'd like to see me bring my special brand of reviewing magic to in the comments. I'll compile the list, add a couple of titles to it, THEN open it up for voting.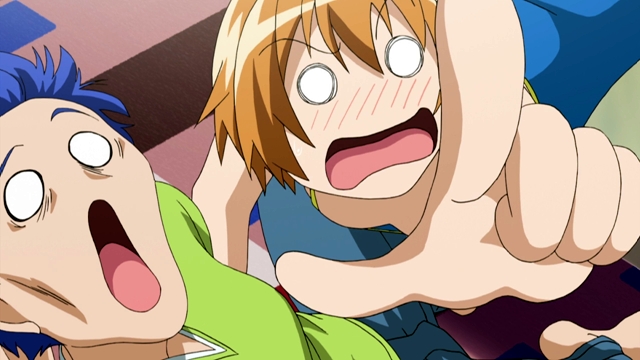 There are a few restrictions, though. I'd prefer 12 or 13 episode series over 24-26 eps. They need to be easily obtainable. I'm not opposed to older series, but I find newer "widescreen" series to be easier to work with, picture-wise. I'd also really like a show where things actually occur; I love the
ARIA
franchise, for example, but doing one of my episodic reviews for any of the three series would be pretty much impossible. Nominations are open until 10pm Central Pond Time on Friday, July 13th.
So let's hear it! What do
you
want me to do?
Posted by: Wonderduck at 08:28 PM | Comments (22) | Add Comment
Post contains 183 words, total size 1 kb.
July 01, 2012
High School Of The Dead OVA
Okay, this is against my better judgement, but if I don't do an episodic recap of this OVA, I'll feel like I've left the series incomplete... and I
hate
that. Unfortunately, this OVA is also one of the dumber things I've ever seen, so there's that going against it. In the end, I know that if I don't do it now, I'll end up doing it down the line, but only after its been dangling over my head like a zombie of Damocles. So, like tearing surgical tape off a hairy arm, it's best to get it over with quickly. Now that I've set your expectations low, let me explain something about this OVA. It's outside of continuity, meaning that whatever happens here doesn't
really
happen. If I was forced to jam it into the actual storyline from the series, it wouldn't even fall between episodes... the best (and most likely) solution I can come up with would be between 21:10 and 23:00 of Ep12... in other words, during the final credits sequence. Considering that it came packaged with Book 7 of the manga and never broadcast, I suppose we're lucky it could even be shoehorned in at all. It's not worth the trouble, though, trust me on this one. May as well get it over with...
Ladies and Gentlemen, the cast of
HSotD
is proud to present their version of
On The Beach
. The part of the nuclear submarine will be played by a wooden rowboat, Australia is played by a beach, and the fallout is played by zombies... war. War never changes. Oh, and the crew of the submarine will be played by a bunch of high schoolers. Other than that? Exactly the same.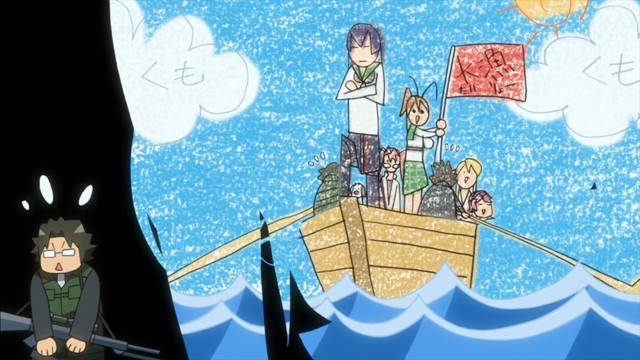 On the run from the undead, harried and cornered no matter where they turn, The Fellowship finds a
nuclear submarine
rowboat and heads for... um... the sea! Because the sea is perfectly safe at all times, no matter how small the boat you may be in! Why, there's never even once been a rainstorm, typhoon, tsunami or
flock of seagulls
that's done in boats or ships!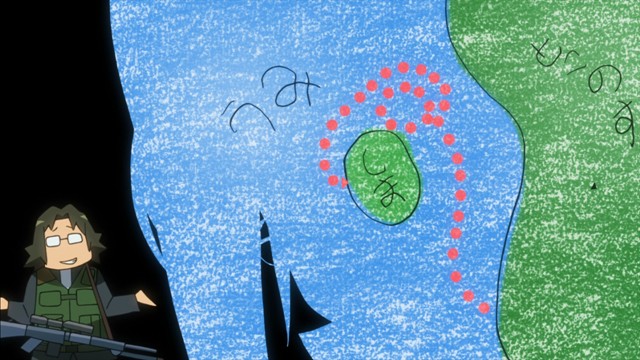 But Frodo and Hirano got tired of rowing. They've ended up on some island near the city... one that these lifetime residents of the city have never heard of! Wow, what are the odds? Good news, no zombies! Bad news, no nothing else either! No shelter of any sort.
After all, we can't take it easy on The Fellowship, can we now? Where's the fun in that?
more...
Posted by: Wonderduck at 10:51 PM | Comments (11) | Add Comment
Post contains 2269 words, total size 19 kb.
47kb generated in CPU 0.0206, elapsed 0.1438 seconds.
47 queries taking 0.1293 seconds, 277 records returned.
Powered by Minx 1.1.6c-pink.