August 22, 2010
Strike Witches 2 Loves Me
I just finished watching ep07 of
Strike Witches 2
, and while that particular episode was extraordinarily silly, it was the preview for ep08 that made me sit up and take notice. Certainly this was nice: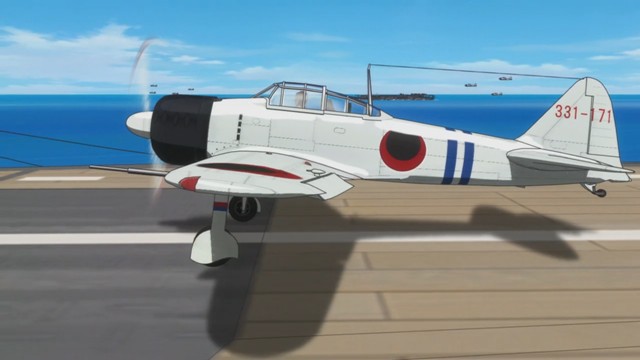 I mean, who doesn't like a good Mitsubishi Navy Type 0 fighter once in a while, right? Probably an A6M2, considering the year the show is set in.
But that wasn't what made me drool in anticipation. No, this one quick shot was what did it:
We already knew the
Yamato
was going to be showing up, so no surprise there. No, it's the other two ships in this screencap that got me excited. I am tentatively identifying them as the
Zuiho
on the left and the
Shoho
on the right. Note the lack of islands on the flight-decks, which do not appear to stretch the full length of the hull. While that alone doesn't preclude them from being one of the IJN's escort carriers (like the
Unyo
or
Taiyo
), which also have those same traits, you'll note on the lefthand carrier there is a wire mesh-like object extending out from the starboard side.
There's a similar object on the other carrier as well, though it's mostly hidden behind the
Yamato
. That's actually the ship's radio masts, which could be cranked down for flight operations. I don't
think
the escort carriers needed such a system. The true giveaway, though is that both ships look like they have "wings" off the stern end of their flight decks. That was a feature that allowed pilots to check their positioning out of the corners of their eye as they landed, and the Japanese CVEs didn't have those, but the
Zuiho
and
Shoho
did. We'll just need to wait for ep08 to be released to be sure... but I feel pretty confident.
Ladies and Gentlemen, this is what it's like being a Pacific War otaku.
Posted by: Wonderduck at 11:53 PM | No Comments | Add Comment
Post contains 321 words, total size 2 kb.
August 14, 2010
Funi Comes Through With Ga-Rei Zero!
I haven't been this excited about a licensing announcement since Nozomi announced it was going to be releasing the
ARIA
franchise! Ladies and Gentlemen, in early 2011
Funimation will be releasing

Ga-Rei Zero

!
Yomi & Kagura seem less than thrilled.
Of course,
I'm
thrilled, no matter what the Monochrome Schoolgirls think. I'd like to think that my episodic writeup of the show helped Funi make up their mind in some tiny way... I doubt it, but I'd like to think so.
I'm honestly surprised it took this long for a company to get the rights to the show; it seems tailor-made for the American market. Cute girls, swordplay, supernatural beasties, good story and artwork, cute girls, Pocky... really, what more could you ask for? And when it goes over-the-top, it
really
goes over-the-top... it's great!
Okay, it isn't the greatest anime ever, but it IS good, and it IS fun, and it WAS well worth the time I spent on the writeups. I'll be getting it as soon as it's available, for sure.
And if you'd like, here's the links for the episodic writeups, by entry:
ep01
ep02
ep03
ep04
ep05
ep06
ep07
ep08
ep09
ep10
ep11
ep12
I've been meaning to do that for a while now...

A tip o' the chapeau to commenter Siergen for the pointer!
Posted by: Wonderduck at 11:49 PM | Comments (1) | Add Comment
Post contains 225 words, total size 3 kb.
August 11, 2010
How Wonderduck Discovered He Had No Life
So I'm watching
Strike Witches 2
ep06 when
this
streaks across the screen:
My reaction to seeing it was "Huh. I didn't expect to see
that
in an anime." There just aren't that many people who have ever heard of the Macchi C.202, let alone know what one looks like or know why it was a good choice for the
Regia Aeronautica
Romagna airforce to be flying against the Neuroi.
My next reacton was akin to this:
...as I realized that there's a
reason
most people haven't heard of the C.202: most people don't have a fascination for the... shall we say
obscure?
...
planes used in WWII. Most people wouldn't even care. Hell, most of the people watching
Strike Witches 2
wouldn't care.
SW1

brought us the A5M
,
SW2
the C.202 and an
Emily
. I've geeked out with every new piece of military hardware they've brought us. I have no life.
Posted by: Wonderduck at 10:31 PM | Comments (6) | Add Comment
Post contains 158 words, total size 2 kb.
30kb generated in CPU 0.0136, elapsed 0.1455 seconds.
46 queries taking 0.1365 seconds, 232 records returned.
Powered by Minx 1.1.6c-pink.