July 10, 2015
Gakkou Gurashi!
One of the few shows I was honestly looking forward to this season was a little something called
Gakkou Gurashi!
, which more or less translates out to "Living at School!". It follows the hijinks of four students as they make their way through their highschool years in a slice-of-life manner. It had cute artwork, reportedly an outstanding story, and... well, heck, you know me: slice-of-life is right up my street. And so are spoilers, but you probably realized that already.
This is Yuki, our main character, and yes, she's supposed to look like that. She's specifically designed to take most of the best (worst?) characteristics of the super-cute uber-moe school girl and package them all in one person. Throw in "genki" and "bonkuras" and you've got Yuki. You expect her to bonk herself upside the head while winking at any moment, and god help you, you'll enjoy it... you might hate yourself every second, but you'll enjoy it anyway. Yep, she's like that.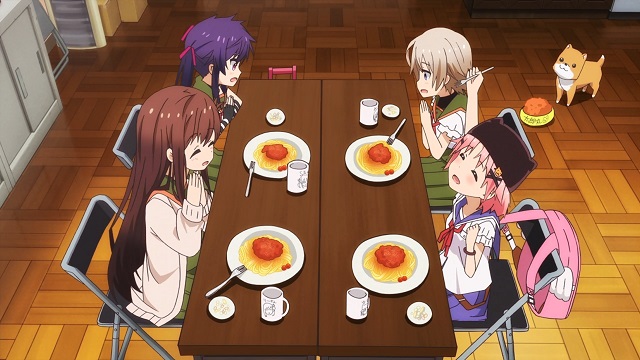 These are her friends at school. Yuri is the one in the sweater, Kurumi is the twin-tailed girl, and Miki is the blonde, who is Yuki's "protege". The puppy up there is Taroumaru, and he's basically Yuki's. Yes, that
is
spaghetti they're eating, and yes, it
is
the morning.
And before you ask, yes, yes they
are
at school. They're members of the "School Living Club," a bunch of kids who love school so much they never leave. Uhhhhh... okay. Though to be fair, I've seen stranger things in anime before. Still, the handwritten sign is a little... odd?
more...
Posted by: Wonderduck at 11:59 PM | Comments (3) | Add Comment
Post contains 1007 words, total size 8 kb.
22kb generated in CPU 0.0123, elapsed 0.1371 seconds.
45 queries taking 0.1292 seconds, 224 records returned.
Powered by Minx 1.1.6c-pink.