April 08, 2016
The Forever Incomplete Post: ARIA the Avvenire Ep01
Back in January, I finally got to watch the new episode from the
ARIA
franchise, the first of three being co-released with the new BD sets. Being the sort of person I am, after watching I immediately headed to The Pond and started writing.
Then deleted the post. It sucked, full of massive fanboying to degrees not seen since
Naruto/Dragonball Z
slashfic. So I waited another day or so and started again... and
that
post ended up in the bitbucket almost as quickly, and for much the same reason. A third post died a-bornin', because I tried to do it in a less passionate manner and it turned out to be dull and boring.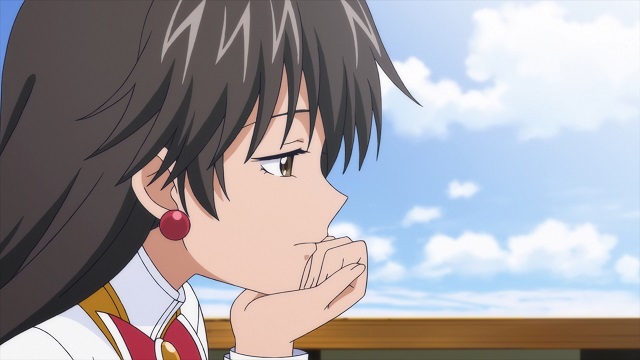 Then there was the fourth attempt.
It caught fire,

then

fell into the swamp
It began to turn into an episodic recap, which was not at all what I wanted to do, because really: I love the franchise too much to abuse it like that. Still, I didn't delete it, but let it simmer... some would say "fester"... all the while looking for some way to make it click.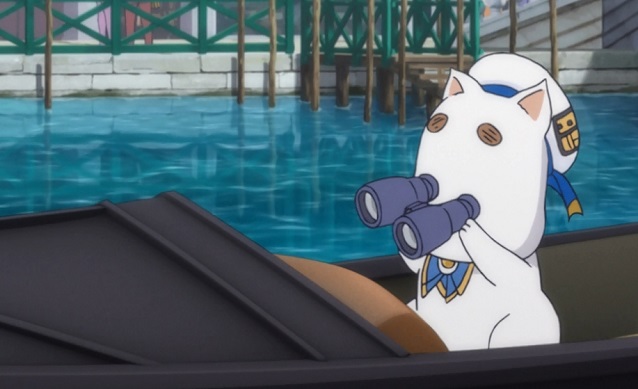 Until just this evening, when Steven Den Beste asked if I had seen
ARIA the Avvenire
Ep01 yet, I had not, in fact, managed to come up with anything of note. Until now... now, I'm just going to post what I have with this preamble that you're currently reading, and a followup postscript. So without further ado, here's what I managed to scrape out of the catbox.
------------------------

The
ARIA
franchise is very close to being my favorite anime of all time, coming in just behind
Kanon '06
and
Azumanga Daioh
.
ARIA
ran for three seasons, however, and could have easily continued for longer... but didn't.
It ended appropriately
, with multiple "passing of the torch" moments, but it was bittersweet. The world of Neo-Venezia was so attractive, so comfortable, so...
nice
, that it was hard to admit that it was over and that we'd never get to visit it again. I mean, of all the myriad stories we've been given via anime over the decades, the only one I'd ever want to live in was the one involving female gondolieri on Mars. Hell, I've even created my own backstory, running a a small shop somewhere off the Piazaa San Marco filled with attractive trinkets and gewgaws and books and coffee for the tourists and residents alike. Occasionally an undine might bring her charges by, spend some time there, then head out to other sights. Less commonly, one might stop by on her own for tea and conversation. The shop might even end up in an episode when one of the main characters passes by. And that'd be all I could ever want, a comfortable living in a wonderful place. But it was over, and that was that.
Except it wasn't. "That" changed in February of 2015 when it was reported that as part of a 10-year anniversary of the first season's broadcast we'd be getting new episodes! Nobody knew exactly what the format was... OVAs? A movie? A whole new series?... but that almost didn't matter: we were going back to Neo-Venezia! As it turned out, there would be three OVAs, first shown theatrically in September, then one would be included in the forthcoming BD releases of the original three series. The first OVA was released right around Christmas, and after a few weeks for the holidays, a fansub finally made its way to the usual places. I downloaded it late on a Monday night and spent the whole next day at work in anticipation of the joy that was about to come.
But at the back of my mind, there was... not fear, exactly, but trepidation... that the production staff would screw it up. It wouldn't be difficult to do; a tiny change in tone and
ARIA
would be ruined. The franchise has always had an air of wistful nostalgia to it. The slightest drift to maudlinity or mawkishness could push the cheese factor to 10... and with the death of both of Athena's voices the trigger was there. Then there was the obvious fact that this wasn't the same production staff: Hal Filmmaker went away in 2009. Its successor, TYO Animations, is handling the OVAs, but... well. Only one way to find out how it was.
more...
Posted by: Wonderduck at 09:37 PM | Comments (2) | Add Comment
Post contains 1261 words, total size 9 kb.
24kb generated in CPU 0.0119, elapsed 0.0955 seconds.
45 queries taking 0.0878 seconds, 223 records returned.
Powered by Minx 1.1.6c-pink.