May 19, 2016
When Anime Was Magical
No, this isn't going to be a "back in my day" post. Instead, it's a lamentation. Just over a year ago, I fell in love with
Hibike! Euphonium
, a little show about a girl and her band... brass, not rock.
Not just because the girls were cute and the art was pretty, but because the series was just that damn good. Full package, from animation to story to characters to sound, it just amazed me and made me wonder why it wasn't next week already. Before that, what show did I fall in love with last?
2011's
Rio Rainbow Gate!
fits that bill. The polar opposite of
HibEuph
, I wound up loving it while doing my series writeups. The animation isn't good, the characters are paper-thin, the story is dreadfully bad, but I'll be darned if it isn't going to be The Pond's "high water mark" down the line. After this, though? Sure there's 2006's
Kanon
, and 2007's
Hidamari Sketch
, and 2005's
Aria
and on and on... but there's just been nothing else recently.
I miss that. I miss falling head over heels with a series like
Noir
, which just completely blindsided me with its quality. Once every five years just isn't often enough. Oh, don't get me wrong, there's plenty of shows I've liked... one look at the "anime writeups" category will tell you that... but that's not the same thing. I need that magic again... and I don't see any chance that it's going to happen anytime soon. I know it's stupid to hope for a classic series to come down the pike, but there it is.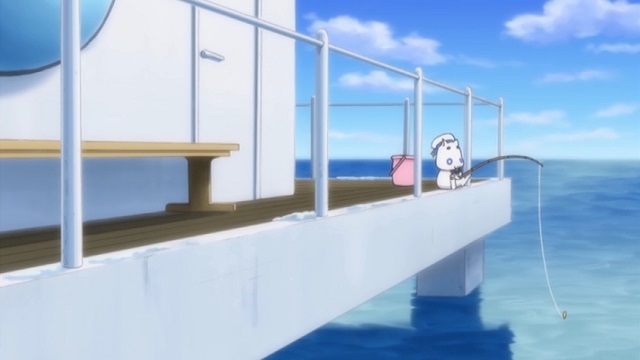 Otherwise, why are we watching?
Posted by: Wonderduck at 10:42 PM | Comments (4) | Add Comment
Post contains 278 words, total size 2 kb.
May 09, 2016
KonoSuba: The Review
After reading
Ubu's review of the first few episodes
of
KonoSuba
, I decided "Heck, let's give it a shot... it's not like there's anything else going on this season." I mean, a tongue-in-cheek look at the old "main character stuck in a RPG game" genre sounds like a load of fun: light-hearted, funny, all that sort of thing. I came to it after the show's run had ended, and people were generally enthusiastic about it, so it seemed perfect for me.
So now that I've watched the series, what do I think of it?
more...
Posted by: Wonderduck at 08:51 PM | Comments (4) | Add Comment
Post contains 1170 words, total size 8 kb.
May 03, 2016
It's Up To You!
Hello Disco Citizens! I'm
David Yarritu
Wonderduck, the host and proprietor of this here blog thing. In the past, I have occasionally asked you, the assembled masses I lovingly refer to as "The Pond Scum," for input into what you would like to see me write about. This time, however, the question is slightly different. I have two posts in mind right now, and I'd like
you
to tell me which you'd like to see first! Take a look at these:
1) A review of

Kono Subarashii Sekai Ni Syukufuku Wo!

, aka

KonoSuba.
After reading a "first impressions" post by The Crimson Splat, I thought
KonoSuba
would be just what I needed: funny, a little stupid, lighthearted. Something I could enjoy without having to think too hard about it. Well, I was wrong. I've thought a
lot
about
KonoSuba
, and it's time to hold my review up to the light and let y'all see it.
2) Fanservice, cheesecake and how one man's trash is another man's person.
A couple of days ago, a brief conversation over at SDB's place about the content of his prolific cheesecake posts got me to thinking about my lack of interest in doing similar here at The Pond. It has nothing to do with some "high-minded" attitude / prudery, but about how most cheesecake is either boring or outright tasteless to me. And what's the difference, anyway?
So there's your choices, dear readers. Your opinion will make the difference... let me know in the comments! It's up to you!
UPDATE
: Welp, sounds like the masses have spoken!
KonoSuba
it is...
Posted by: Wonderduck at 06:46 PM | Comments (7) | Add Comment
Post contains 269 words, total size 2 kb.
31kb generated in CPU 0.0205, elapsed 0.2096 seconds.
47 queries taking 0.1959 seconds, 240 records returned.
Powered by Minx 1.1.6c-pink.