December 25, 2019
Christmas 2019 - Haruhi Style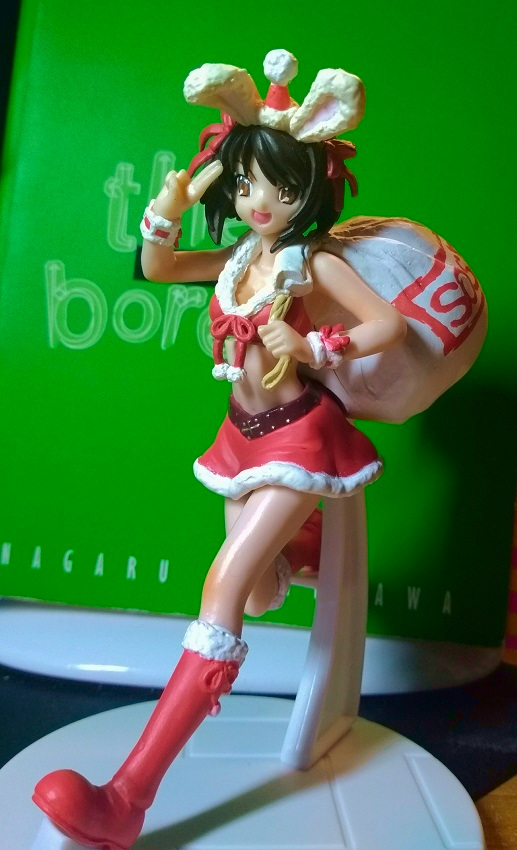 MUCH nicer Christmas than
last year's disaster
. Oh, the Christmas itself wasn't the problem, it was the leg injury that occurred for reasons that are still a mystery to me... and that led to me being
stuck in bed for 24+ hours
. From there, it's an easily-drawn line to where I am today.
None of that happened this year. Therefore, it was INFINITELY better. And it allegedly hit 61 degrees too. In December. On Christmas. In Duckford, IL. What in the blue blazes...? In any case... huge thanks go out to Ph.Duck and Rn.Duck for putting up with me for another year, and the annual bottle of lingonberry will die happy soon enough.
And of course, you... the proud members of the Pond Scum. I've been letting The Pond down over the past year, which I hate but haven't been able to do anything about. Hopefully, next year will be better in all sorts of ways! Merry Christmas!!!
I just started playing
Fate Grand Order
. I'm fairly sure an opening draw of three lancers (and one of them duplicated!) and an assassin is pretty cruddy. Welp, we'll just see where it goes from here.
Posted by: Wonderduck at 10:23 PM | Comments (8) | Add Comment
Post contains 199 words, total size 2 kb.
December 16, 2019
Today Is December 16th...
...and you know what THAT means:
The morning of December 16th... it was so cold... and I mean cold. That if you took an ice pick and plunged it into the ground, you'd shatter the Earth into a million pieces.
- Kyon,
The Disappearance of Haruhi Suzumiya
Posted by: Wonderduck at 01:54 AM | Comments (4) | Add Comment
Post contains 51 words, total size 1 kb.
30kb generated in CPU 0.0139, elapsed 0.1131 seconds.
46 queries taking 0.1037 seconds, 235 records returned.
Powered by Minx 1.1.6c-pink.