June 30, 2015
Your Weekly Asuka, Ep13
"It's a little sad, isn't it? We had so much fun, and now it's about to end."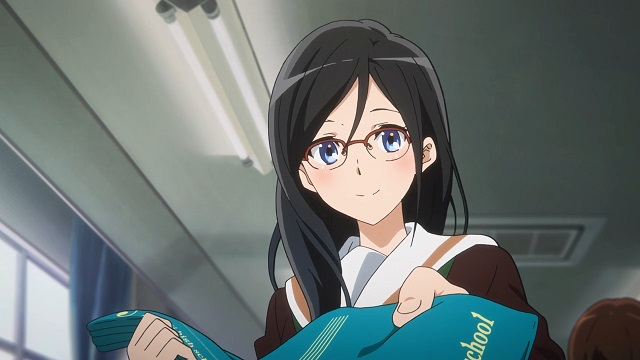 -Hibike! Euphonium
, Ep13
It's rare that a final episode of a show will make me immediately wish for more, but that's what just happened with
Hibike! Euphonium
. Oh, to be sure, the climax was what I mostly expected (the writers left
juuuuuust
enough room for doubt), but along the way the Goofy Cute showed yet another side of herself, and an unexpected one at that.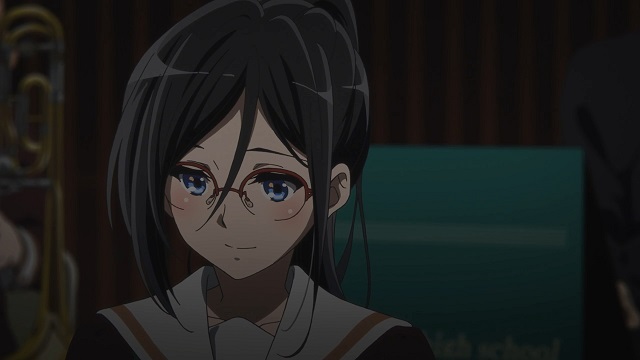 Melancholic Asuka. Sitting on the stage, amongst the classmates she's worked so hard for and with, ready to give what is potentially their final performance together, she gets quiet and introspective, and says the words at the very beginning (and very end) of this post. When she said them, I got very sad. Combine them with
the picture from Ep07
, and it's very hard not to see a prototypical (if not stereotypical) image of a "gifted child". An loner with just one or two friends that don't
really
know her, who in public tends to go a little overboard in the ebullience category, yet winds up sitting alone in her room studying a topic that none of her peers understand at a level anywhere near hers. Being in the concert band has to be something close to the only normal relationship she has... she's given so much to it, and now comes the moment she's both anticipated and feared since the moment everybody decided to try for Nationals. There's every chance in the world that the group she's helped create over the past three years will be no more after this performance... and she'll end up back in the bedroom, alone, studying a topic that none of her peers understand at a lever anywhere near hers. Melancholic? If that's
all
she is, she's got a stronger will than most.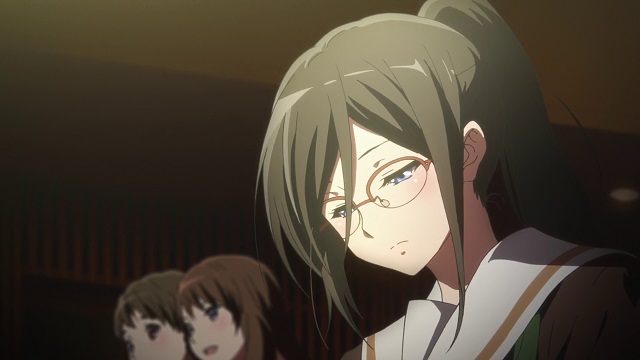 (thanks to friend Ben for the screenshot... I could

not

get my player to pause at the right spot to save my life)
When the announcement finally comes down, revealing that all their hard work... all HER hard work... has paid off, we get this look. Around her, the members of the Kitauji High School Concert Band and its auxiliary team is celebrating... and Asuka is entirely, hopelessly alone. There may very well be a different story than the one I've told behind her reaction. In some ways, I suspect I'm reading way too much into this from not enough information. But in other ways? I know I'm right, at least to a certain point. Her reactions are much too familiar to me for them to just be a coincidence. Longtime readers of The Pond know that I have a background in theatre, specifically lighting design and scenic work. I've worked on countless shows, almost entirely in a behind the scenes capacity, and while everybody else on cast and crew celebrated their performances, it wasn't uncommon at all for me to react like Asuka... and yes, I was a so-called "gifted child," both musically and book learnin'. Or, at least, the school district thought so. Anyway, what I'm saying is that my reaction to Asuka isn't just pulled out of thin air here... there's too many parallels from my own history for me to miss them. It would explain a great many things, looking back at her through that lens. Unfortunately, this is all just conjecture. We've seen the final episode of the series, there's been no announcement of a season two as of yet, and, while there's an OVA coming sometime in the future, I expect something other than an Asuka episode from that. We may never know exactly what makes Our Goofy Cute tick. If that's true, it would be perhaps the only major failing of
Hibike! Euphonium
. As of right now, it's the Series of the Year, and its only competition is likely the forthcoming
ARIA
sequel. Bravo, Kyoto Animation. And thank you for introducing us to Asuka.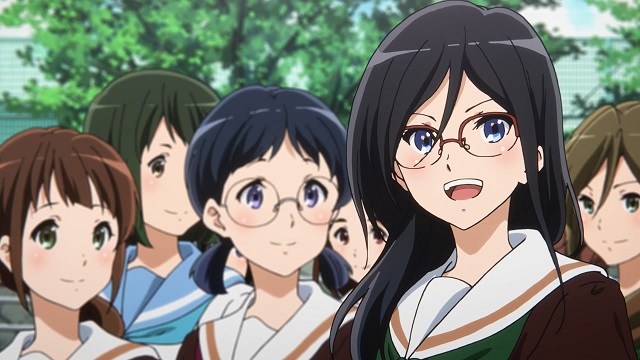 "I wish summer would go on forever."
Posted by: Wonderduck at 11:00 PM | Comments (3) | Add Comment
Post contains 673 words, total size 5 kb.
1
What's bugging me is this possibility: the sadness in conjunction with the exchange with Kumiko. "it's not over, we've still got the national competition." "Oh. Right. Sure." I'm worried KyoAni may be building drama that never pays off.
If you take the possibility that this leads to another storyline out, then the goal for Asuka has been to make it to nationals. Now that the goal has been accomplished (and she expected it would be, clearly), her journey is over. To realize that ahead of time, or even while it's happening, is incredibly sad.
We've only had a couple of glances into her private life: the parent-teacher meeting that was incredibly short, implying no involvement from a parent. The shot of Asuka studying music at home, in a sparse, undecorated room. There are a lot of hints that, as you say, the concert band is quite possibly the only thing she had.
Dammit.
Posted by: Ben at July 01, 2015 12:11 PM (S4UJw)
2
Speaking of the ep07 shot, that looks to be the traditional six-mat room, and I'm not sure that's a bed/cupboard on the left. Looks like it might be boxes.
Posted by: Eadwacer at July 01, 2015 06:53 PM (d0iSl)
3
I have FINALLY had the chance to sit down and watch the last episode properly. Whew.
Given the sports-anime arc of the series, this was exactly the arc-concluding episode we required. Note-perfect, as it were. I won't say this was a flawless series, but KyoAni swung for the fences here and it shows. More like this, guys!
Asuka: That look, when the announcement is made. Wow. One gets the feeling this is one of those "if you were familiar with the source material you'd get it" moments, because we're only given hints that the melancholy is there, but nothing at all as to why. Not really. Mystery abounds!
Posted by: GreyDuck at July 10, 2015 10:40 AM (/zxpg)
30kb generated in CPU 0.0137, elapsed 0.3666 seconds.
49 queries taking 0.3585 seconds, 281 records returned.
Powered by Minx 1.1.6c-pink.