June 30, 2015
Your Weekly Asuka, Ep13
"It's a little sad, isn't it? We had so much fun, and now it's about to end."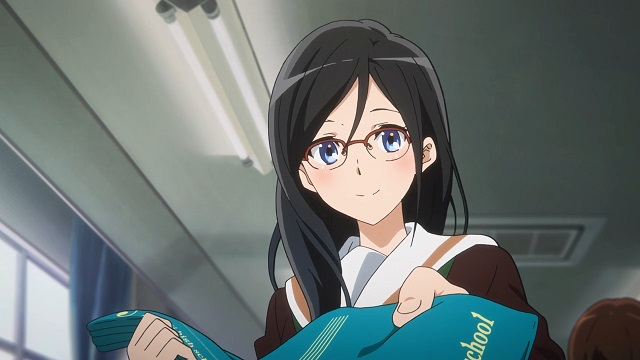 -Hibike! Euphonium
, Ep13
It's rare that a final episode of a show will make me immediately wish for more, but that's what just happened with
Hibike! Euphonium
. Oh, to be sure, the climax was what I mostly expected (the writers left
juuuuuust
enough room for doubt), but along the way the Goofy Cute showed yet another side of herself, and an unexpected one at that.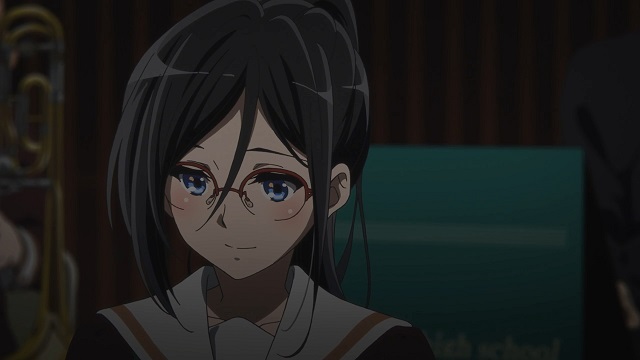 Melancholic Asuka. Sitting on the stage, amongst the classmates she's worked so hard for and with, ready to give what is potentially their final performance together, she gets quiet and introspective, and says the words at the very beginning (and very end) of this post. When she said them, I got very sad. Combine them with
the picture from Ep07
, and it's very hard not to see a prototypical (if not stereotypical) image of a "gifted child". An loner with just one or two friends that don't
really
know her, who in public tends to go a little overboard in the ebullience category, yet winds up sitting alone in her room studying a topic that none of her peers understand at a level anywhere near hers. Being in the concert band has to be something close to the only normal relationship she has... she's given so much to it, and now comes the moment she's both anticipated and feared since the moment everybody decided to try for Nationals. There's every chance in the world that the group she's helped create over the past three years will be no more after this performance... and she'll end up back in the bedroom, alone, studying a topic that none of her peers understand at a lever anywhere near hers. Melancholic? If that's
all
she is, she's got a stronger will than most.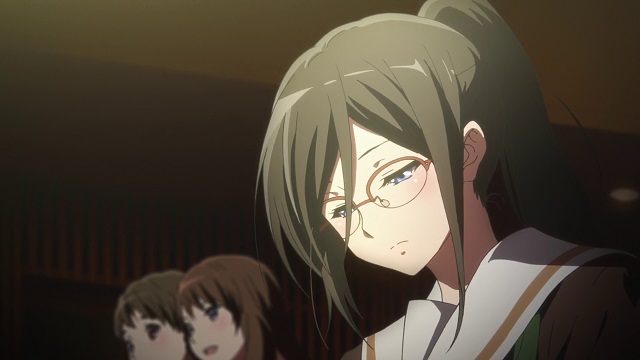 (thanks to friend Ben for the screenshot... I could

not

get my player to pause at the right spot to save my life)
When the announcement finally comes down, revealing that all their hard work... all HER hard work... has paid off, we get this look. Around her, the members of the Kitauji High School Concert Band and its auxiliary team is celebrating... and Asuka is entirely, hopelessly alone. There may very well be a different story than the one I've told behind her reaction. In some ways, I suspect I'm reading way too much into this from not enough information. But in other ways? I know I'm right, at least to a certain point. Her reactions are much too familiar to me for them to just be a coincidence. Longtime readers of The Pond know that I have a background in theatre, specifically lighting design and scenic work. I've worked on countless shows, almost entirely in a behind the scenes capacity, and while everybody else on cast and crew celebrated their performances, it wasn't uncommon at all for me to react like Asuka... and yes, I was a so-called "gifted child," both musically and book learnin'. Or, at least, the school district thought so. Anyway, what I'm saying is that my reaction to Asuka isn't just pulled out of thin air here... there's too many parallels from my own history for me to miss them. It would explain a great many things, looking back at her through that lens. Unfortunately, this is all just conjecture. We've seen the final episode of the series, there's been no announcement of a season two as of yet, and, while there's an OVA coming sometime in the future, I expect something other than an Asuka episode from that. We may never know exactly what makes Our Goofy Cute tick. If that's true, it would be perhaps the only major failing of
Hibike! Euphonium
. As of right now, it's the Series of the Year, and its only competition is likely the forthcoming
ARIA
sequel. Bravo, Kyoto Animation. And thank you for introducing us to Asuka.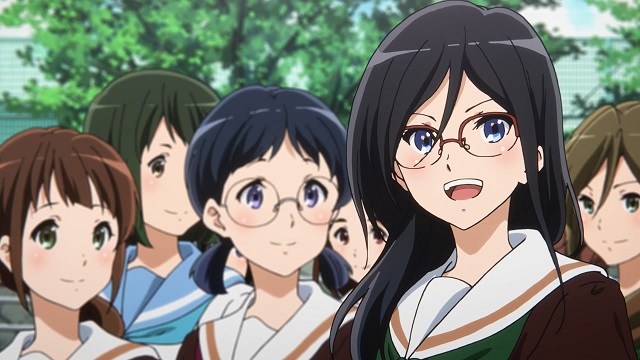 "I wish summer would go on forever."
Posted by: Wonderduck at 11:00 PM | Comments (3) | Add Comment
Post contains 673 words, total size 5 kb.
June 25, 2015
Your Weekly Asuka, Ep12
Dammit, we
need
an Asuka-centric episode. I say that not because it would make writing
Your Weekly Asuka
a lot easier, but because KyoAni has stopped using her as an actual character.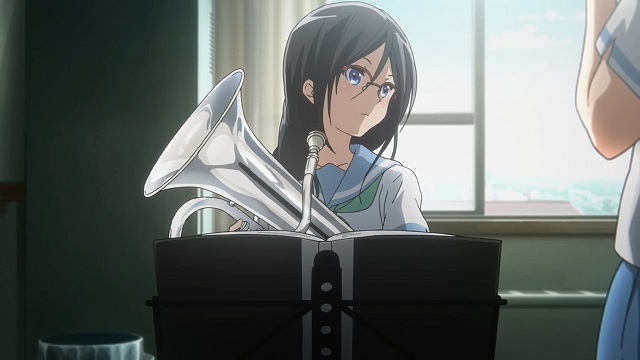 -Hibike! Euphonium
, Ep12
In this, what will probably end up being the penultimate broadcast episode for this season, the euphoniums are asked to lend their sound to a particular fragment of music that sounded empty being played by just the contrabass. It's a tough passage, the musical equivalent of making
Rio: Rainbow Gate!
funny.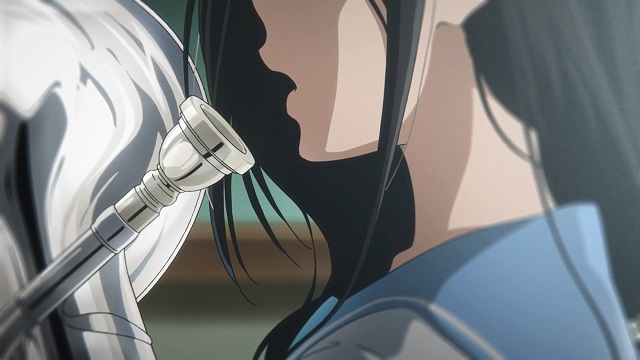 Of course, Asuka barely glances at the sheet music and plays it flawlessly. Worse, she makes it look and sound
easy
. So when it comes time for Our Hero to give it a go, she sounds awful. Worse than awful, she sounds clumsy. Embarrassed for no good reason, she grabs her music stand, says "I'm going to go practice", and the events of the episode are put into motion.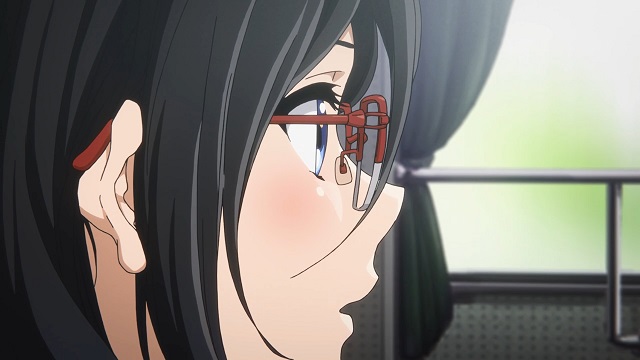 And that would be fine if that's all Asuka had ever been, just some musical goal to reach for. But she's been a major character in this show, just one small step behind the "big four" (and arguably ahead of one or two of
them
as well!), and light-years more important than most. Worse, she's been a character with
character
, and a distinctive one at that. And now KyoAni has turned her into a mere plot point. I've been saying all along that, in a sense, this has been Asuka's show and in a way Ep12 proves that: her skill at playing the euphonium makes the episode happen. But that's really not what I meant. It
is
, however, how Kyoto Animation has decided to use her. Damn shame, and quite possibly their biggest waste of a personality since
Tomoyo
in
Clannad
... the non-OVA version, that is. Well, with the release of the first BD in Japan this week, they did give us a little bit of a pat-on-the-head... a two minute omake that included this image:
Obviously she needs a rubber duck. I'm not surprised she doesn't have one, though... disappointed, but not surprised. Really, Sapphire seems to be more likely to own a rubber duck.
UPDATE
: I just noticed that this is the 400th post in the anime category. That's gotta earn a "wow".
Posted by: Wonderduck at 09:36 PM | Comments (3) | Add Comment
Post contains 384 words, total size 3 kb.
June 18, 2015
Your Weekly Asuka, Ep11
There's one problem with having a weekly feature that follows a secondary character: sometimes they don't do a whole lot and that makes it hard to write coherently about them.
-Hibike! Euphonium
, Ep11
Or, as in the case of the Goofy Cute this week, she stays as guarded and evasive as ever. Even when Kaori asked her point-blank
twice
who she thought was better suited to play the solo trumpet part, Asuka deftly danced and deflected the question.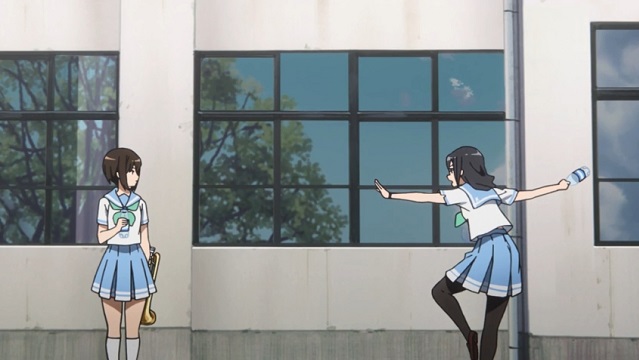 I'll admit that I'm beginning to understand why some people dislike this part of her personality. I'm fairly certain that she's dodging all the drama intentionally... she
knows
that she's got influence in the band club. The last thing she wants to do with that influence is use it in public; she wants the band to sound the best it can. If that means arranging matters so that there's a second audition for trumpet solo, so be it. That it'll help her friend, Kaori, is merely a side-note.
We desperately need an Asuka episode, but with two broadcast eps and an OVA remaining in this season, I'm pretty sure it's not going to happen. Which means we may never find out what makes her tick, and that disturbs me more than anything right now. I'm sure
Ben's forthcoming writeup
over at his place will cover the events of this ep in depth; he actually
thinks
about the show which puts him a step up on me.
Posted by: Wonderduck at 02:37 AM | Comments (8) | Add Comment
Post contains 248 words, total size 2 kb.
June 10, 2015
Your Weekly Asuka, Ep10
She's back! The Goofy Cute is back!
-Hibike! Euphonium
, Ep10
But only for a few moments, after which she is gone is a cloud of seriousness and puppetmastering. For as mentioned weeks ago, whatever Asuka wants for the band club, Asuka gets.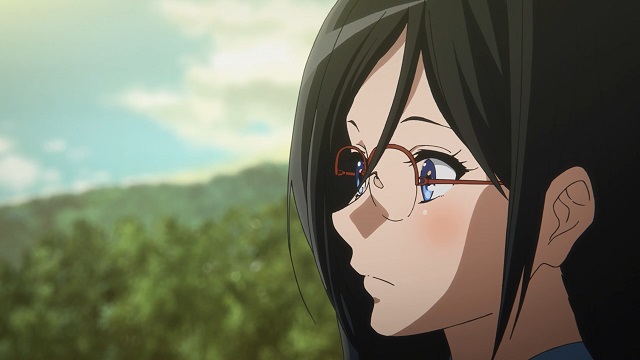 This week, we had drama in that many of the 2nd and 3rd year students were outraged that a first year student, Reina,
could possibly beat a popular 3rd year, Kaori, for the trumpet solo honors
... to the point that a sense of discontent and back-biting has arisen. Sides have been taken, with Team Kaori being both loud and sneaky. Rumors are floated that the Conductor has known Reina for years, and that favoritism played a major part in his decision during auditions.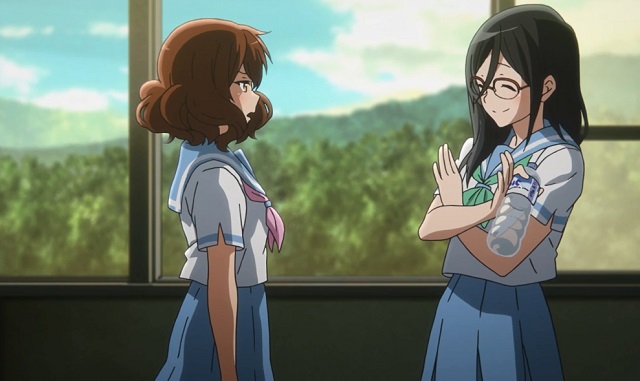 Kumiko, the POV character for the series, is perturbed by the way the band is disintegrating... and that her friend Reina is the proximate cause of the problems. She hears Kaori practicing the trumpet solo part, and winds up wanting to find out what Asuka's opinion on the solo situation is. "No comment", since she's the Vice-President and all. Kumiko ain't havin' it, so she presses the matter with Goofy Cute, asking for her personal opinion, off the record.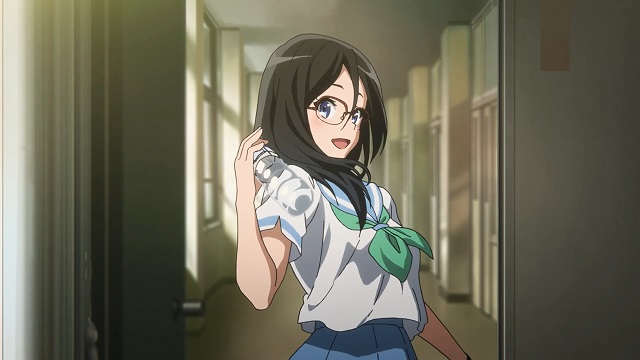 "I don't care. I couldn't give a damn." And then she traipses away, leaving an angry and depressed Kumiko behind. She knows Asuka has an opinion, but there's way too much mask and armor to penetrate to find out what it really is. Later, the rumor-mongering and backbiting becomes so bad that the Conductor allows for a second audition for anybody unsatisfied with the results of the first audition. Only one person wants a redo: Kaori, the 3rd Year trumpet player.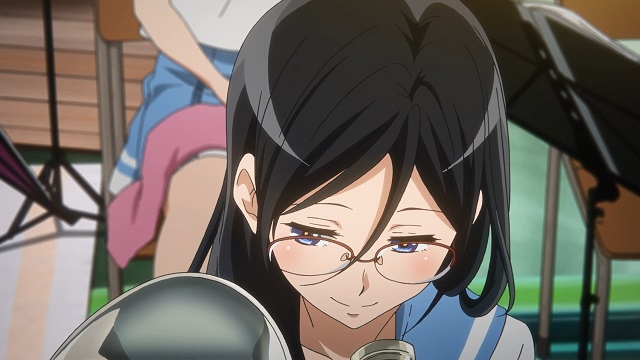 ...and Asuka smiles. Which leads me to believe that she was the driving force behind the rumors of favoritism. We already know she's devoted to music. We've seen that she's extremely knowledgeable about the world of music (for example, when their playlist for the upcoming contest is handed out, she knows quite a lot about the obscure composer that created one of the tunes, just off the top of her head). We've learned that the Conductor is rather well-known as a music educator, and that Reina's father, a well-known trumpet player himself, has known him for years. It seems likely to me that this is all information that Asuka would know. If she was dissatisfied with the results of the solo auditions, she could certainly say something casually where the wrong ears would hear... and the rumors would spread.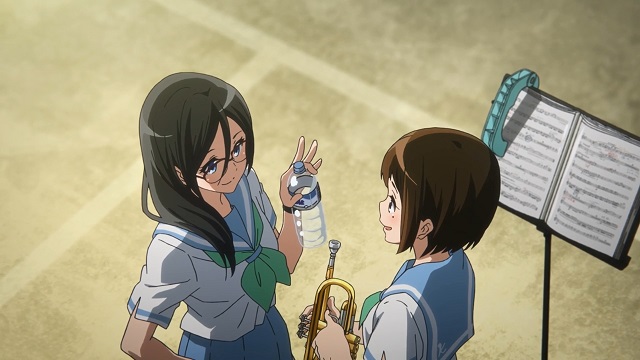 And Asuka gets what Asuka wants.
I'm willing to bet, though, that the audition next week will be done blind, with the soloists behind screens. The winner is going to be chosen by a show of hands, and if they're behind screens, it won't devolve into a popularity contest. Mark my words.
Posted by: Wonderduck at 09:22 PM | Comments (6) | Add Comment
Post contains 480 words, total size 3 kb.
June 03, 2015
Your Weekly Asuka, Ep09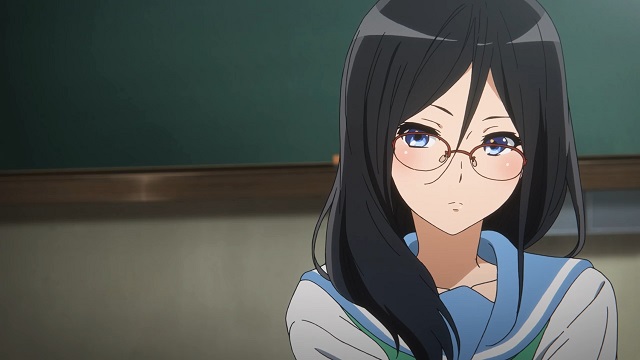 -Hibike! Euphonium
, Ep09
Stress is neither a good nor a bad thing in life. It is simply something that is omnipresent in our world. Some forms of stress can be enjoyable for one person, yet a horrible experience for the next... roller coasters, for example. Some stressors are almost uniformly negative, like the death of a loved one. One fact of life, however, is that everybody reacts to stress differently. Some people can't sleep, or have digestive problems, or the index finger on their right hand twitches uncontrollably in a manner guaranteed to creep people out when they see it. And some, like Our Goofy Cute Obsession here, become short-tempered. While she surely has nothing to worry about from this episode's auditions, Asuka clearly is feeling the stress from them.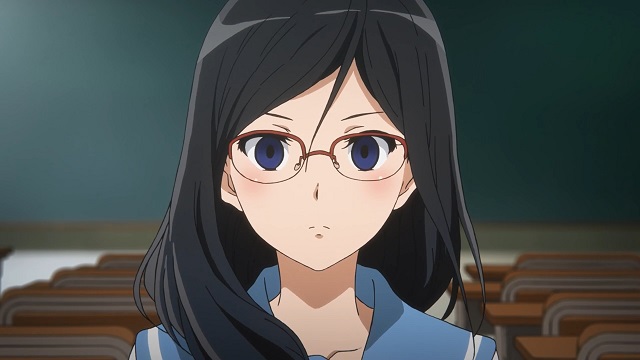 The way she bites off Sapphire's head and bathes in her blood might have been a little over the top, but her anger at the way the contrabass player was moping through the rehearsal was completely in character for Asuka. We've seen that she's devoted to her music and can be
quite the hard-driving taskmaster
... throw in the added stress of auditions, and you get the dead eyes of a pissed off euphonium player.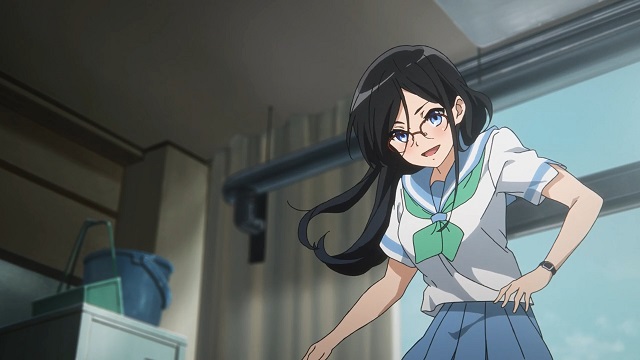 Fortunately she doesn't stay that way the entire episode, and by the end she's back to her bouncy self... and it's no surprise that she didn't have anything to worry about from the audition process. What I've found interesting is the online reaction to her this episode. Practically overnight she went from The Most Popular Girl In The Room to despised, just because she got short-tempered about people's attitudes. Quite astonishing, and entirely unexpected.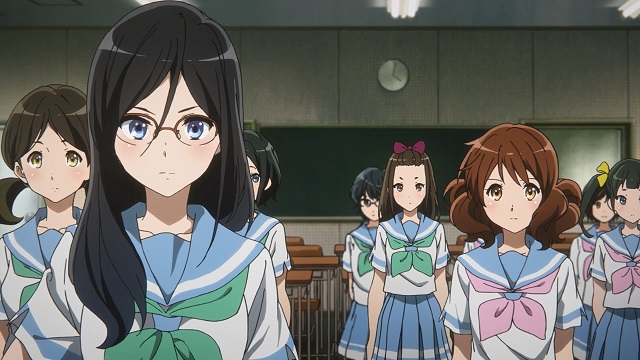 I suspect she wouldn't give a tinker's damn if she knew, as long as the band played well.
Posted by: Wonderduck at 09:24 PM | Comments (2) | Add Comment
Post contains 300 words, total size 2 kb.
54kb generated in CPU 0.0545, elapsed 0.2056 seconds.
49 queries taking 0.1618 seconds, 251 records returned.
Powered by Minx 1.1.6c-pink.